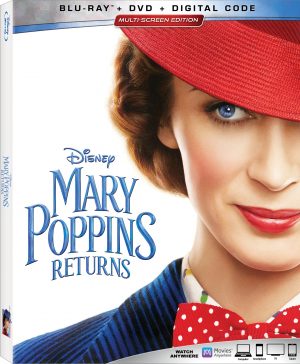 By ANGELA DAWSON
Front Row Features
Movies
Mary Poppins Returns
Disney's "Mary Poppins Returns," the timeless sequel based on the Mary Poppins stories by P.L. Travers, arrives on 4K Ultra HD, Blu-ray and DVD Tuesday March 19. The musical also is available now on Digital 4K Ultra HD and Movies Anywhere.
The 2018 musical was a box office hit, earning to date more than $347 million worldwide, and garnering four Academy Award nominations for best original song, best original score, best costume design and best production design.
Directed by Academy Award winner Rob Marshall, who helmed screen adaptations of "Chicago," "Nine" and "Into the Woods," the film stars Emily Blunt, Golden Globe-nominated for her role as practically-perfect English nanny, and Oscar nominee Lin-Manuel Miranda ("Moana") as charming lamplighter Jack.
Michael Banks (Ben Whishaw), who was just a child when Mary Poppins first visited 17 Cherry Tree Lane in the 1964 original film starring Julie Andrews and Dick Van Dyke, is now a grown man raising his children Annabel (Pixie Davies), John (Nathanael Saleh) and Georgie (Joel Dawson) with help from his sister Jane (Emily Mortimer). Times are tough in Depression-era London but the winds begin to change and the enigmatic governess, whose unique magical skills can turn any ordinary task into a fantastic adventure, enters the lives of the Banks family once again, having not aged a single day. Teaming up with an old friend, Jack, they take the Banks children on a series of whimsical adventures, encountering colorful characters like Mary's eccentric cousin Topsy (Meryl Streep), Jack's lovable band of leeries and bank executives William Weatherall Wilkins (Colin Firth) and Mr. Dawes Jr. (Van Dyke, in a new role)—bringing life, love and laughter back into the home.
Bonus material explores the making of "Mary Poppins Returns," going behind the scenes with the star-studded cast and crew who collaborated to make even the impossible possible. Extensive extras include a trip down Cherry Tree Lane with original cast member Van Dyke, a sing-along version including the heartfelt Academy Award-nominated "The Place Where Lost Things Go," bloopers, deleted scenes, a deleted song and filmmaker commentary.
Features also reveal the magic and moxie that went into creating large-scale musical production numbers, such as "Trip a Little Light Fantastic," a rousing song-and-dance number led by Jack and his fellow lamplighters; "The Royal Doulton Music Hall" and "A Cover Is Not the Book," showcasing the musical talents of Blunt and Miranda; "Turning Turtle," an upside-down sequence featuring Meryl Streep as Mary's eccentric Cousin Topsy; and "Can You Imagine That?" an underwater adventure with Mary Poppins and the Banks children.
"Mary Poppins Returns" will be packaged and released in several different formats, giving viewers the flexibility to watch it on different devices. The film can be instantly watched on Digital UHD, HD and SD or audiences can bring home a physical copy of the film as the Ultimate Collector's Edition (4K UHD, Blu-ray and Digital Code), Multi-Screen Edition (Blu-ray, DVD and Digital Code), a single DVD or a Digital Bundle with both "Mary Poppins Returns" and the 1964 classic "Mary Poppins."
Spider-Man: Into the Spider-Verse
Academy Award winning "Spider-Man: Into the Spider-Verse" (Best Animated Feature Film) swings onto 4K Ultra HD Combo Pack, Blu-ray Combo Pack and DVD Tuesday March 19, from Sony Pictures Home Entertainment and Sony Pictures Animation. The film also is available now on Digital.
From Phil Lord and Christopher Miller, the creative minds behind "The Lego Movie" and "21 Jump Street," the animated action-adventure offers a fresh vision of the Spider-Man universe with a groundbreaking visual style that's the first of its kind.
To date, the film has grossed more than $350 million worldwide. It introduces Brooklyn teen Miles Morales, and the limitless possibilities of the Spider-Verse, where more than one can wear the iconic mask.
The voice cast includes Shameik Moore as Miles Morales alongside Jake Johnson ("New Girl") as Peter B. Parker, Hailee Steinfeld ("Bumblebee") as Gwen Stacy/Spider-Gwen, Mahershala Ali ("Green Book") as Miles' Uncle Aaron, Brian Tyree Henry ("Atlanta") as Jefferson Davis, Lily Tomlin ("Grace and Frankie") as Aunt May, Luna Lauren Velez ("How To Get Away with Murder") as Rio Morales, Zoe Kravitz ("Big Little Lies") as Mary Jane, John Mulaney ("Big Mouth") as Spider-Ham, with Nicolas Cage ("The Croods") as Spider-Man Noir, Kathryn Hahn ("Hotel Transylvania 3: Summer Vacation") as Doc Ock and Liev Schreiber ("Ray Donovan") as the villain Kingpin.
"Spider-Man: Into the Spider-Verse" includes numerous bonus materials that are fun for the whole family and give fans even more of the unique comic book style action that saw in theaters with more than 90 minutes of bonus content. In his very own original short, "Spider-Ham: Caught in a Ham," fan favorite Spider-Ham defeats his greatest foe, delivers sidesplitting puns, and get sucked into another dimension. In the thrilling "Alternate Universe Mode" fans can view the film in an entirely new way to discover alternate scenes, plotlines, characters and more with the filmmakers as their guide. Also included is "The Spider-Verse Super-Fan Easter Egg Challenge," where fans are challenged to find every single Easter Egg hidden within the Spider-Verse.
Explore the character design in the visually stunning film including specific looks at the now-iconic Spider-Ham character as well as the classic villains who inhabit the Spider-Verse. Additional special features include a celebration of the diversity in the film and the idea that anyone can wear the mask in a feature called "We Are Spider-Man," a featurette called "Spider-Verse: A New Dimension," where fans can hear from the artists and filmmakers who pushed the boundaries of the comic book art form to create a visual experience unlike anything done in animation before, a showcase of all the amazing fan-favorite characters featured in the Spider-Verse and the actors who bring them to life, and a touching tribute to comic legends Stan Lee and Steve Ditko, who originally created the Spider-Man character. Other bonus materials include two lyric videos featuring "Sunflower" by Post Malone and Swae Lee and "Familia" by Nicki Minaj and Anuel AA (featuring Bantu).
"Spider-Man: Into the Spider-Verse" is directed by Bob Persichetti ("The Little Prince"), Peter Ramsey ("Rise of the Guardians") and Rodney Rothman ("22 Jump Street"), and screenplay by Phil Lord and Rodney Rothman from a story by Lord.
PawParazzi
A fast-rising Hollywood starlet learns that people are more important than possessions in "PawParazzi," arriving on DVD, Digital, and On Demand Tuesday March 19 from Lionsgate. The cushy life of Latte the Hollywood dog is turned upside down when her owner, superstar actress London Bridges, heads to the boonies to make a new film.
The cushy Hollywood life of Latte the dog is turned upside down when her owner, superstar actress London Bridges, heads to the boonies to make a new film. The pampered pooch tries to stop thieves from stealing London's diamond necklace from a farmhouse, but they escape with the jewels. With the help of hunky farmer Tom, London must track down the priceless stones before a scandal breaks out. This wild family adventure also stars Emmy nominee Jay Mohr ("Last Comic Standing").
Winner of the Dove Seal of Approval for all ages, "PawParazzi" the film also stars Sara Fletcher, with Kristy Swanson as the voice of Latte. It will be available on DVD with special features including the "Hot Off the Press with 'PawParazzi'" featurette for the suggested retail price (SRP) of $14.98.
The Quake
"The Quake" arrives on Blu-ray, DVD & Digital HD Tuesday March 19, from Magnolia Home Entertainment.
In 1904, a 5.4 magnitude earthquake shook Oslo, Norway. Its epicenter was in the "Oslo Graben" which runs under the Norwegian capital. Smaller earthquakes still occasionally rattle the area today. Geologists cannot be sure, but there are signs that indicate a major second big earthquake is coming. When it will strike, no one can say. Maybe in 100 years, maybe in 10 years, maybe tomorrow.
In "The Quake," Norwegian geologist Kristian Eikjord (Kristoffer Joner, "The Wave") studies the daily quakes and proves that it's no longer a matter of if, but when the next catastrophic event will strike. "Kristian makes a perilous attempt to help his wife, daughter and others escape a crumbling skyscraper when nature takes its course.
Special features include featurettes on set design, stunts, the film's visual effects and more.
The Blu-ray will be available for $29.98 (SRP) and the DVD will be available for $26.98 (SRP).
Out of Love
Director Paloma Aguilera Valdebenito's feature film debut, "Out of Love, arrives on DVD and Digital Tuesday March 19, from Omnibus Entertainment.
When Nikolai (Danil Vorobyev) spots Varya (Naomi Velissariou) from an open kitchen of his restaurant, it is love at first sight. The Greek woman with a Russian name and the Russian Nikolai find each other in an indefinable city, and from that moment on, the dynamics of their turbulent relationship are set in motion. Their love is challenged as lust and desire turn to pain and despair.
Valdebenito was nominated for a trio of awards at the Rotterdam International Film Festival, and she received a nomination for the Grand Jury Prize for Best Picture at the 2017 Riviera International Film Festival. "Out of Love" is available for $24.95 (SRP).
Ritual—A Psychomagic Story
"Ritual—A Psychomagic Story" arrives on DVD and Digital Tuesday March 19, from Omnibus Entertainment.
An official selection at the Fantasia Film Festival, this feature film debut of co-directors Giulia Brazzale and Luca Immesi, tells the story of Lia (Desiree Giorgetti), who once had a strong, passionate relationship with her lover Viktor (Ivan Franek), but a series of traumatic events sends her spiraling into a dark depression. Desperate to find a cure, she visits her aunt Agata (Anna Bonasso) at her creepy 18th century villa in Mason, a small Italian village steeped in magic, popular beliefs, traditional culture, myths and legends.
Passionate about psychomagic and popular medicine, Agata is the local healer who has learned these methods form Fernando (Alejandro Jodorowsky), her dead Chilean husband. Ilia is taken on a powerful psychomagic journey to liberate her unconscious mind from its emotional turmoil. "Ritual—A Psychomagic Story" is available for $24.98 (SRP).
Attention all Disney fans! Not only is Front Row Features giving away a copy of "Mary Poppins Returns" on Blu-ray/DVD Combo Pack next week, but we're also giving away a Mary Poppins compact mirror with digital messaging to one lucky reader. To enter the contest, simply email socalmovieeditor@aol.com by March 25 for your chance to win the prize pack. Good luck!