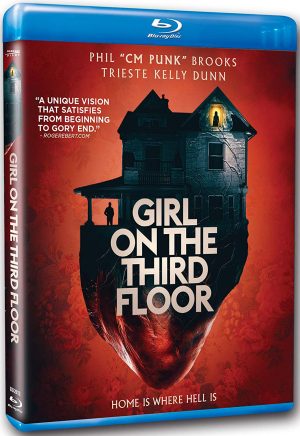 By ANGELA DAWSON
Front Row Features
Movies
Girl on the Third Floor
"Girl on the Third Floor" arrives on Blu-ray and DVD Tuesday Jan. 7, from Dark Sky Films.
Bursting pipes, rotting walls and unidentifiable slime were not what Don Koch (WWE legend Phil "CM Punk" Brooks) expected when he convinced his wife, Liz (Trieste Kelly Dunn), that he could rehab their new Victorian home himself. In over his head, under duress, and tempted by his old weaknesses, Don soon discovers that the house has its own dark, sordid history and won't be so easy to renovate after all.
Travis Stevens directed the horror film from a script he wrote. The Blu-ray is available for the suggested retail price (SRP) of $28.98 and the DVD is available for $24.98 (SRP).
Joker
The acclaimed "Joker" arrives on 4K UHD Combo Pack, Blu-ray Combo Pack and on DVD Tuesday Jan. 7, from Warner Bros. Home Entertainment and DC.
Directed, co-written and produced by Oscar nominee, Todd Phillips, "Joker" stars Joaquin Phoenix in this character study of a man struggling to find his way in Gotham City's fractured society.
Forever alone in a crowd, Arthur Fleck (Phoenix) longs for any light to shine on him. Trying his hand as a stand-up comic, he finds the joke always seems to be on him. Caught in a cyclical existence between apathy and cruelty and, ultimately, betrayal, Arthur makes one bad decision after another that brings about a chain reaction of escalating events.
Three-time Oscar nominee Phoenix ("The Master," "Walk the Line," "Gladiator") stars in the titular role alongside Oscar winner Robert De Niro ("Raging Bull," "The Godfather: Part II"). The film also stars Zazie Beetz ("Atlanta," "Deadpool 2"), Frances Conroy ("American Horror Story," "Castle Rock"), Brett Cullen ("42," "Narcos"), Glenn Fleshler ("Billions," "Barry"), Bill Camp ("Red Sparrow," "Molly's Game"), Shea Whigham ("First Man," "Kong: Skull Island"), Marc Maron ("Maron," "GLOW"), Douglas Hodge ("Red Sparrow," "Penny Dreadful"), Josh Pais ("Going in Style") and Leigh Gill ("Game of Thrones").
Phillips directed the film from a screenplay he co-wrote with Oscar-nominated writer Scott Silver ("The Fighter"), based on characters from DC. The Blu-ray Combo Pack features a Blu-ray disc with the film and special features in hi-definition, a DVD with the film in standard definition and a Digital version of the movie.
The 4K Ultra HD Blu-ray disc of "Joker" will feature Dolby Vision HDR that dramatically expands the color palette and contrast range and uses dynamic metadata to automatically optimize the picture for every screen, frame by frame.
The Ultra HD Blu-ray disc of "Joker" will feature a Dolby Atmos soundtrack remixed specifically for the home theater environment to place and move audio anywhere in the room, including overhead. The film also is available now on Digital.
The 4K UHD Combo Pack is available for $44.95 (SRP); the Blu-ray is available for $35.99 (SRP) and the DVD is available for $28.98 (SRP).
The Nightshifter
"The Nightshifter" will be released on DVD Tuesday Jan. 7, from RLJE Films, a business unit of AMC Networks.
The horror film stars Daniel de Oliveira ("Jean Charles"), Fabiula Nascimento ("S.O.S.: Women to the Sea 1 & 2"), Bianca Comparato ("3%") and Marco Ricca ("Delicate Crime"). Dennison Ramalho ("ABCs of Death 2") directed the film which he co-wrote the with Cláudia Jouvin ("Alone Man") and Marco de Castro ("Ninjas").
Stênio (Oliveira) works the graveyard shift in the morgue of a vast, violent city. Each night he prepares the lifeless corpses for examination, but he's never alone. For Stênio can talk to the dead—and they talk back. But when the whispers of the dead reveal secrets of his own life, Stênio unleashes a curse that brings forth unimaginable danger and darkness.
RLJE Films will release "The Nightshifter" on DVD for $27.97 (SRP).
The Shed
RLJE Films, a business unit of AMC Networks, will release the horror flick "The Shed" Tuesday Jan. 7 on DVD and Blu-ray.
Stan and his best friend Dommer have put up with bullies their entire lives. All of that changes when Stan discovers he has a murderous vampire living in his shed. Seeing the bloodshed and destruction the monster is capable of, Stan knows he has to find a way to destroy it. But Dommer has a much more sinister plan in mind.
Frank Sabatella ("Blood Night") wrote and directed the film starring Jay Jay Warren ("Bosch"), Cody Kostro ("City on a Hill"), Sofia Happonen ("Woman of a Certain Age"), Frank Whaley ("Pulp Fiction"), Siobhan Fallon Hogan ("Men in Black") and Timothy Bottoms ("The Last Picture Show").
"The Shed" will be available on DVD for $27.97 (SRP) and on Blu-ray for $28.97 (SRP).
Wrinkles the Clown
The documentary "Wrinkles the Clown" arrives on DVD Tuesday Jan. 7, from Magnolia Home Entertainment.
In late 2014, a low-res video of a person in a clown mask emerging from underneath a sleeping child's bed appeared on YouTube. The description below the video claimed that the clown's name is "Wrinkles" and he lives in southwest Florida. He's been hired by the child's parents to frighten her for misbehaving. The video goes viral. Soon, more mysterious videos of Wrinkles scaring children appear online, along with a phone number to hire him for "behavioral services." Wrinkles becomes internet lore—a whole genre of YouTube videos of kids filming themselves calling him appears online, and over a million messages are left at the number.
Voicemails range from disturbing to hilarious to terrifying: parents use the number to terrify their children, kids who are obsessive fans of creepy clowns reach out to make a new friend, children threaten to inflict wildly creative violence if he comes anywhere near them. But who is Wrinkles, and why is he doing this? With incredible access to the mastermind behind the mask, "Wrinkles the Clown" is a cryptic and playful exploration of these questions, as well as an inside look at myth-building and the unpredictable spread of imagination in the Internet age.
"Wrinkles the Clown," which includes deleted scenes, will be available for $26.98 (SRP)
TV Shows
Big Little Lies: The Complete Second Season
HBO's smash-hit "Big Little Lies" returns for more drama, secrets, and seduction than ever before with the release of "Big Little Lies: The Complete Second Season' on DVD and Blu-ray from Warner Bros. Home Entertainment Tuesday Jan 7, from Warner Archives Collection.
Three-time Academy Award winner Meryl Streep ("Sophie's Choice") joins the second season of the acclaimed series alongside fellow Academy Award winners Reese Witherspoon and Nicole Kidman. The series also stars Shailene Woodley, Laura Dern and Zoё Kravitz.
In Season Two, on the surface, everything seems the same in the seaside town of Monterey, California: mothers continue to dote, husbands support, children are adorable, houses are beautiful. But the night of the school fundraiser changed all that, leaving the community reeling as the "Monterey Five" bond together to pick up the pieces of their shattered lives. Meanwhile, Perry's grieving mother Mary Louise Wright (Streep) comes to town in search of answers after son's death.
The DVD contains all seven episodes from the second season, where viewers can go behind-the-scenes with an all-new featurette titled, "The Lies Revealed: A Conversation with the Cast." Big Little Lies: The Complete Second Season will be available on a two-disc DVD set for $29.98 SRP ($34.99 in Canada), and is also will be available to own on Digital via purchase from all major digital retailers.
"Big Little Lies: The Complete Second Season" on Blu-ray release includes all the same content as on DVD, and also can be purchased at wb.com/warnerarchive or your favorite online retailer.
The series is a critical and awards success, garnering 16 Emmy nominations and eight wins, including Limited Series, Lead Actress in a Limited Series or Movie for Kidman, and Supporting Actress in a Limited Series or Movie for Dern. The series also garnered four Golden Globes, including acting wins for Kidman and Dern.
A four-disc "Big Little Lies: Seasons 1 & 2" DVD twin-pack also will be available for $49.99 (SRP).
The Cry
Acorn features the DVD debut of the British psychological thriller and Sundance Now Original Series "The Cry" Tuesday Jan. 7.
Based on the novel of the same name by Helen Fitzgerald, "The Cry" stars Jenna Coleman ("Victoria," "Doctor Who") as Joanna Lyndsay, a schoolteacher whose four-month old baby disappears while she and her fiancé (Ewen Leslie, "Top of the Lake," "Janet King") are visiting family in Australia. Nominated for an International Emmy for Best Actress (Coleman), this small-town mystery is similar in tone to the likes of "Broadchurch." Now featured in a two-disc DVD set, this four-part series previously premiered exclusively on Sundance Now, AMC Networks' premiere streaming service for true-crime stories, dramas and thrillers from around the world.
"The Cry" chronicles the collapse of a marriage in the aftermath of a tragedy and explore the myths and truths of motherhood. The abduction of a baby from a small coastal town in Australia is the catalyst for a journey into the disintegrating psychology of a young woman as she and her husband deal with an unthinkable tragedy, under both the white light of public scrutiny and in their private lives.
The limited series also stars Asher Keddie ("X-Men Origins: Wolverine"), Alex Dimitriades ("The Slap"), Sophie Kennedy Clark ("Philomena") and Markella Kavenagh ("Picnic at Hanging Rock").
"The Cry" is available for $34.99 (SRP).