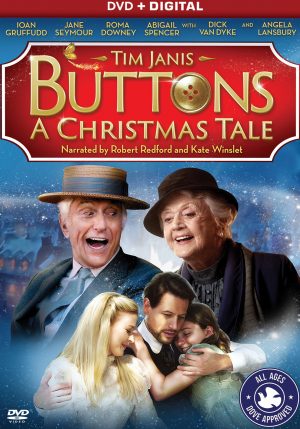 By ANGELA DAWSON
Front Row Features
Movies
Buttons: A Christmas Tale
Discover the magical story that shows believing can be the greatest gift of all when "Buttons: A Christmas Tale" arrives on DVD Tuesday Dec. 3, from Paramount Home Entertainment. The holiday film also is available now on Digital.
This family-friendly film features an all-star cast including Jane Seymour, Roma Downey and Abigail Spencer, along with screen legends Dick Van Dyke and Angela Lansbury. It is narrated by Oscar winners Kate Winslet and Robert Redford.
From creator/director/writer/composer Tim Janis, who has sold millions of albums and worked with a wide array of artists, comes this touching story of hope. "Buttons: A Christmas Tale" follows the heartwarming journey of two orphan girls whose only wish is to find a home for Christmas. With a little help from their guardian angels (Van Dyke and Lansbury), they discover that miracles really can happen when you find the power to believe. The DVD includes bonus songs, a music video and a photo gallery.
Go Fish
A fun, heartwarming under-the-sea journey for the entire family, "Go Fish" is available now on DVD, Digital and On Demand, from Lionsgate.
All his life, plucky parrotfish Alex has dreamed of being a superhero. He gets his chance when a mysterious flood of black goop erupts near his coral reef. As Alex and his pals—a seahorse, an eel and a blowfish—swim off to confront the menace and save their home, they discover a sunken ship filled with hidden treasure, an abandoned airplane, angry sharks and an undersea volcano.
"Go Fish" features the voices of Mark Hamill ("Star Wars" franchise), iJustine ("The Annoying Orange") and Ron Perlman ("Hellboy" franchise).
A winner of the Dove Seal of Approval for all ages, this family friendly film is about friendship, adventure and helping the environment. The "Go Fish" DVD will include a music video for "Go Fish (Side by Side)"—an original song performed by pop singer Kate Steinberg—and a digital comic book and will be available for the suggested retail price (SRP) of $14.98.
The Goldfinch
Nothing is ever exactly as it seems when "The Goldfinch" arrives on Blu-ray, DVD and Digital Tuesday Dec. 3, from Warner Bros. Home Entertainment.
The last time 13-year-old Theo Decker (Oakes Fegley, "Pete's Dragon")) saw his mother, she was gliding away from him into another gallery of the Metropolitan Museum of Art. Seconds later, a terrorist bomb exploded destroying priceless pieces of art and shattering Theo's life forever. The tragedy changes the course of his life, sending him on a stirring odyssey of grief and guilt, reinvention and redemption, friendship, and even love.
The grown-up Theo (Ansel Elgort, "Baby Driver") secretly clings to a single, precious object—his one tangible connection to the mother he lost on that terrible day—a priceless painting of a tiny bird chained to its perch: The Goldfinch.
Directed by BAFTA Award winner John Crowley ("Brooklyn"), the film features a cast Academy Award winner Nicole Kidman ("The Hours") as Mrs. Barbour, Aneurin Barnard ("Dunkirk") as Boris, Finn Wolfhard ("Stranger Things") as Young Boris, Sarah Paulson ("American Crime Story") as Xandra, Luke Wilson ("The Royal Tenenbaums") as Larry and Jeffrey Wright ("Westworld") as Hobie. The screenplay is by Oscar nominee Peter Straughan ("Tinker Tailor Soldier Spy"), based on the novel by Donna Tartt.
The Blu-ray features a disc with the film and special features in hi-definition and a digital version of the movie. It is available for $35.99 (SRP). The DVD features the film in standard definition and a digital version of the movie. It is available for $28.98 (SRP). "The Goldfinch" will also be available on Movies Anywhere and fans can purchase the film from digital retailers.
Low Tide
A thrilling adventure heads to shore when "Low Tide" arrives on DVD and Blu-ray Tuesday Dec. 3, from Lionsgate.
Alan, Red and Smitty spend high summer on the Jersey Shore roving the boardwalk and getting into trouble. But the discovery of good old-fashioned treasure sets the friends on an escalating course of suspicion and violence in this atmospheric thriller.
Written and directed by Kevin McMullin in his directorial debut, "Low Tide "stars Keean Johnson, Alex Neustaedter, Daniel Zolghadri and Jaeden Lieberher. The "Low Tide" DVD includes a featurette that goes behind the scenes with filmmakers and cast and will be available on DVD for $19.98 (SRP).
The Miracle of the Little Prince
"The Miracle of The Little Prince," arrives on DVD and Digital Tuesday Dec. 3, from Film Movement.
Antoine de Saint-Exupéry's celebrated philosophical children's book "The Little Prince," is one of the world's most widely translated literary works. Originally published in 1943, the book's enigmatic story of an angelic child who befriends a stranded pilot in the North African desert has been debated for years. Translated into more than 375 languages, the book has been embraced across a vast swath of culture, especially by people whose languages and cultures are endangered, and for them, this timeless tale of friendship, alienation, loneliness, and eternal life resonates, understood by those who are themselves outcasts and exiles.
In this documentary, director Marjoleine Boonstra visits the people who have translated this little masterpiece from French into Tibetan, Tamazight (North Africa), Sámi (northern Finland and Scandinavia) and Nawat (El Salvador). All of these languages are under threat. Passionately enthusiastic language researchers, teachers and translators talk about how the observations of an alien prince on earth are interpreted in their own culture. They also recall the first time they read the book, and, naturally enough, discuss the linguistic challenges they faced such as translating words that do not exist in that language.
The DVD and Digital are available for $24.95 (SRP)
Ready or Not
The sanctity of marriage goes south when a young bride (Samara Weaving) competes in a time-honored family tradition with her new husband (Mark O'Brien) and his insanely rich and eccentric Le Domas family (Adam Brody, Henry Czerny and Andie MacDowell) in "Ready or Not," available on DVD and Blu-ray Tuesday Dec. 3, from 20th Century Fox Home Entertainment.
The bride's wedding night takes a turn for the worst when she realizes she is at the center of a lethal game of Hide and Seek and must fight her not-so-loveable in-laws for her own survival. The in-home release includes special features as writers Guy Busick and R. Christopher Murphy give insight on their script's exploration of the Faustian bargain made by the Le Domas family.
Directors Matt Bettinelli-Olpin and Tyler Gillett along with producer Chad Villella explain how they used practical effects to deliver an authentically bloody film. "Ready or Not" is available digitally on Movies Anywhere.
Semper Fi
Loyalty, brotherhood, and sacrifice take center stage when "Semper Fi" arrives on Blu-ray Combo Pack (plus DVD and Digital) and DVD Tuesday Dec. 3, from Lionsgate. The film is now available on Digital and On Demand.
From producer Karina Miller ("To the Bone") and Oscar-nominated producer David Lancaster ("Whiplash"), "Semper Fi" is a blend of heartwarming drama and blistering action. Directed and written by Henry-Alex Rubin and co-written with Sean Mullin, Semper Fi stars Jai Courtney ("Suicide Squad"), Nat Wolff ("Paper Towns"), Finn Wittrock ("American Horror Story"), Beau Knapp ("Seven Seconds"), Arturo Castro ("Broad City") and Leighton Meester ("Gossip Girl").
Cal (Courtney) is a by-the-book police officer who, along with his close-knit group of childhood friends, makes ends meet as a Marine Corps reservist. When Cal's reckless younger half-brother, Oyster (Wolff), is arrested after a bar fight and given an unfair prison sentence, Cal—driven by his loyalty to family and fierce code of honor—fights for Oyster in this gripping tale of brotherhood and sacrifice.

Included are two making-of featurettes and an audio commentary with the writer-director. The "Semper Fi" Blu-ray Combo Pack and DVD will be available for $24.99 (SRP), and $19.98 (SRP), respectively.
That Pärt Feeling: The Universe of Arvo Pärt
"That Pärt Feeling: The Universe of Arvo Pärt" is available Tuesday Dec. 3, from Film Movement.
Arvo Pärt is the most performed living composer in the world, but he is considered to be something of a recluse, and his person and work have rarely been documented on film.
In "That Part Feeling: The Universe of Arvo Pärt," viewers get to know the acclaimed composer as an artist combining an incredible sensitivity with humor and energy in his work. His reputation stems from his deeply-held belief that it's not through words that a great artist communicates, but simply through music. Though he may seem reclusive in his person, what he wants to say and what he means is written in notes.

Pärt is known for his minimalistic style that employs his self-invented compositional technique "tintinnabuli." It is this harmonious, spiritual and minimalistic approach to music that creates a feeling of wholeness, beauty and essence of being, embraced by millions of persons all around the world. Pärt's intense collaboration with the Cello Octet Amsterdam is at the heart of this documentary, which sheds a bright light on Pärt's universe. A universe not only inhabited by classical musicians like Tõnu Kaljuste, Candida Thompson or Daniel Reuss, but also by choreographers like Jiří Kylián, filmmakers like Alain Gomis and young musicians like Kara-Lis Coverdale. They are all looking for "that Pärt feeling."
The DVD and Digital are available for $24.95 (SRP).
TV Shows
Game of Thrones, Season 8
Rally the realm on Tuesday Dec 3 as HBO releases Season 8 and the complete collection of all eight epic seasons of one of the most popular shows in TV history; "Game of Thrones." The epic final run of the television phenomenon will be released on Blu-ray and DVD, including special bonus features including "Game of Thrones: The Last Watch," a documentary in two parts by filmmaker Jeanie Finlay chronicling the making of the final season.

The show features a stellar cast, including Kit Harington, Emilia Clarke, Maisie Williams, Sophie Turner, among others. Bringing in some of the biggest viewing figures for any television event ever, the show will now come to a close and be available in its entirety for fans to own.

Ahead of the holidays, the DVD and Blu-ray will make the perfect present for any "Game of Thrones" fan, and for those who have never seen the show, the chance to look forward to nearly 75 hours of viewing.

Based on the best-selling novel series by George R.R. Martin, "Game of Thrones" holds the record as the most awarded series in television history, earning a total of 161 Emmy nominations and 59 wins to date. The megahit drama also stands as HBO's most-viewed program ever, with the final season averaging a record-setting 44 million viewers in the U.S.

HBO will release collectible packaging editions, including the "Game of Thrones: The Complete Collection" which is packaged in a visually stunning wooden shadow box case, featuring beautiful, multi-layered panel designs by Robert Ball (the artist behind the "Beautiful Death" series) that summarize the "Game of Thrones" story. Each season is represented by a different layer, showcasing iconic characters and memorable moments from the show, all clambering toward the Iron Throne. The set also contains a Hand of the King pin clasp, which holds all nine custom plated disc sleeves. HBO will also release "Game of Thrones: Season 8" in a stunning 4K Ultra HD and Blu-ray Steelbook, and the single-season DVD/Blu-ray. Additionally, "Game of Thrones: The Complete Series" will also be available on DVD/Blu-ray Combo without the collectible packaging.
Sesame Street 50th Anniversary Celebration
It's "Sesame Street's" 50th anniversary—time to celebrate the street where the air is sweet. On Tuesday Dec. 3, Shout Kids and Sesame Workshop presents a star-studded birthday bash with the home entertainment release of "Sesame Street 50th Anniversary Celebration" on DVD and Digital.
The exciting special comes to DVD and digital download following its broadcast presentation on HBO and on PBS.
Join host Joseph Gordon-Levitt and the residents of Sesame Street—humans and monsters alike—to celebrate 50 years of learning, laughter, and love. Familiar felt faces like Roosevelt Franklin, Don Music, Sherlock Hemlock, and The Amazing Mumford join original Sesame Street cast members and celebrity guests like Norah Jones, Nile Rodgers, Sterling K. Brown, Meghan Trainor, Patti LaBelle, Elvis Costello and more in this heartwarming special.
"Sesame Street's 50th Anniversary Celebration" reimagines classic segments and songs as the "Sesame Street" gang gets ready for a big party to celebrate the neighborhood's 50th birthday. When the famous street sign goes missing before the party, it's up to Elmo, Rosita, Grover, and Abby to track it down, while Big Bird and Snuffy plan a surprise of their own. The special will feature fresh performances of beloved songs like "People in Your Neighborhood" and "Bein' Green," plus retrospective flashbacks to fan-favorite moments. This music- and memory-filled event celebrates how relevant and beloved this iconic show continues to be today all over the world.
Sesame Street's yearlong 50th anniversary celebrates the timeless lesson that "Sesame Street" has always taught: everyone, no matter who they are or where they are from, is equally deserving of respect, opportunity, and joy. Throughout the year, families have joined all their furry and feathered friends in celebrating "Sesame Street's" past, present and future with a nationwide road trip, celebrity- and fan-fueled social media campaigns, and new social impact initiatives, and this star-studded primetime special that will kick off the show's 50th season. Fans are encouraged to share their favorite Sesame Street memories across social media this year using the hashtag #ThisIsMyStreet.