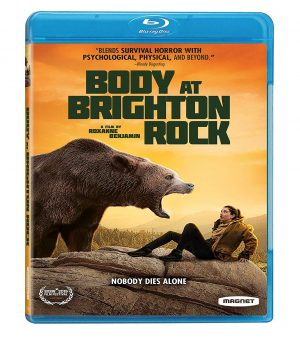 By ANGELA DAWSON
Front Row Features
Movies
Body at Brighton Rock
"Body at Brighton Rock," which tells the story of a woman's will to survive the night, arrives on Blu-ray, DVD and Digital HD Tuesday July 30, from Magnolia Home Entertainment under the Magnet Label.
When Wendy (Karina Fontes) discovers a corpse in the middle of the woods, she must put her fear aside to secure the crime scene until sunrise. What lies ahead is a night full of paranoia and horror as Wendy realizes she may not be alone.
Extras include a commentary with Fontes and director Roxanne Benjamin, and the featurettes "A Wild Place to Film," "A Walk in the Woods" and "Working with a Bear," along with a photo gallery and the theatrical trailer.
The "Body at Brighton Rock" is available on Blu-ray for a suggested retail price (SRP) of $29.98 and on DVD for $26.98 (SRP).
Creating Woodstock
Although it looks like the Woodstock 50th anniversary music festival won't be happening, there's still a way to gain a deeper understanding of the original "Three Days of Peace and Music," which also was plagued by uncertainty, last-minute venue changes, a lack of headliners and permits. It almost didn't happen but somehow it did.
Filmmaker Mick Richards, who attended the 1969 festival as a teenager, sets the record straight with "Creating Woodstock," available Tuesday July 30 on DVD and streaming Aug. 13.
For three days in August 1969, nearly a half-million young people descended upon Max Yasgur's farm in upstate New York for the rock 'n' roll event that defined a generation. The filmmaker culled from more than 70 hours of interviews with Woodstock producers, planners and performers, offers a comprehensive examination of how the festival came to be using original interviews with key figures, rare archival footage and unearthed photographs.

The founders of Woodstock Ventures—John Roberts, Joel Rosenman, Michael Lang and Artie Kornfeld—along with the best production talent on either coast, including John Morris, Bill Belmont, Mel Lawrence and Chip Monck recall moments from the initial idea for the festival, to the search for a suitable site and then the race to build a venue, promote the event and, most importantly, book the bands.

Richards explores how The Grateful Dead wanted a "do over" and Crosby, Stills & Nash weren't going to show up, why The Who refused to play and Jimi Hendrix almost didn't make it, and how it turned into a free concert. Richie Havens, Arlo Guthrie, and Leslie West recount their experiences, including performing on a stage that nearly collapsed, and learn how a 15-year-old girl may have saved the festival from being shut down entirely.
Bonus features include a cut scene of Arlo Guthrie walking on stage, the making of the Woodstock posters, issues that arose with New York City police working the festival and more.
The Intruder
The thriller "The Intruder" arrives on DVD and Blu-ray Tuesday July 30. When a young married couple (Michael Ealy ("Think Like a Man"), and Meagan Good, "Shazam!") buys their dream house in California's bucolic Napa Valley, they think they have found the perfect home to take their next steps as a family. But when the strangely attached seller (Dennis Quaid, "Great Balls of Fire") continues to infiltrate their lives, they begin to suspect that he has hidden motivations beyond a quick sale.
Bonus features include an alternate ending from the theatrical release, deleted scenes, commentary, a gag reel and more.
Missing Link
Twentieth Century Fox Home Entertainment presents the animated comedy "Missing Link," available now on Digital, Blu-ray and DVD.
Hugh Jackman, Zoe Saldana and Zach Galifianakis lead an all-star voice cast in this globetrotting adventure from Laika, the makers of "Coraline" and "Kubo and the Two Strings." Jackman voices the character of Sir Lionel Frost, a brave and dashing adventurer who considers himself to be the world's foremost investigator of myths and monsters. The trouble is no one else seems to agree. Galifianakis is Mr. Link. As species go, he's as endangered as they get; he's possibly the last of his kind, he's lonely, and he believes that Sir Lionel is the one man alive who can help him. Along with the independent and resourceful Adelina Fortnight (Saldana), who possesses the only known map to the group's secret destination, the unlikely trio embarks on a riotous rollercoaster ride of a journey to seek out Link's distant relatives in the fabled valley of Shangri-La.
Bonus features including a commentary by director Chris Butler, a visual effects breakdown reel, in which the stop-motion animation creation is explored, creating Mr. Link and more.

UglyDolls
Unconventionality rules in "UglyDolls," the humorous and quirky animated musical debuting on Blu-ray Combo Pack, DVD and On Demand Tuesday July 30, from STXfilms and Universal Pictures Home Entertainment. It also is now available on Digital formats.
Centered on the adorably unique town of Uglyville, the film follows Moxy and her friends as they confront what it means to be different and discover that you don't have to be perfect to be amazing. Inspired by the global plush phenomenon and based on the UglyDoll characters created by David Horvath and Sun-Min Kim, "UglyDolls" is filled with colorful and adorable characters and packed with powerful messages of inclusion and empowerment. Join the fun and keep the party going with the music-filled comedy on Blu-ray, DVD and Digital showcasing an exclusive, all-new sing-along edition and stuffed with exciting bonus features allowing fans everywhere to dive deeper into the world of Uglyville.

Featuring a star-studded voice cast including Kelly Clarkson ("The Star," "The Voice"), Nick Jonas ("Jumanji: Welcome to the Jungle", Janelle Monáe ("Hidden Figures," "Rio 2"), Blake Shelton ("The Angry Birds Movie," "The Voice"), Pitbull ("Empire," "Epic"), Wanda Sykes ("Black-ish," "Bad Moms") and Gabriel Iglesias ("Ferdinand"), the heartwarming comedy comes home with vibrant bonus content such as featurettes that reveal how the talented cast brought their characters to life, hilarious games with the cast and a sneak peek of the exclusive sing-along edition's interactive entertainment.

TV Shows
Murdoch Mysteries: Season 12
Acorn TV features the DVD and Blu-ray debut of the hit Canadian period mystery "Murdoch Mysteries: Season 12" (a.k.a. "The Artful Detective") Tuesday July 30. Garnering an impressive 45 Gemini and Canadian Screen Award nominations from the Academy of Canadian Cinema & Television during its run and one of Acorn TV's most popular series, the series has found a substantial audience for its period charm, entertaining mysteries, and likeable characters.
Set in Toronto in the late 1890s and early 1900s during the age of invention and starring Yannick Bisson, the mystery series centers on William Murdoch, a methodical and dashing detective, who enlists radical (for the time) forensic techniques like fingerprinting, ultraviolet light, and trace evidence to solve some of the city's most gruesome murders. The 12th season finds Murdoch and his wife, Dr. Julia Ogden (Hélène Joy, "Durham County") living in a modern new house, but they soon discover their home has mysteries of its own. Constable Crabtree (Jonny Harris, "Still Standing") helps Higgins (Lachlan Murdoch, "Copper") prepare for his wedding, while Inspector Brackenreid (Thomas Craig, "Coronation Street") confronts someone from his past who could jeopardize his relationship with his family.
In Season 12, Murdoch and his team tackle cases involving a seemingly invisible man, the killing of a French diplomat, a possible alien invasion, and one of their own suspected of murder. During their investigations, they encounter architect Frank Lloyd Wright, entrepreneur Elizabeth Ardenand inventor Nikola Tesla. Guest stars include Sophie McShera ("Downton Abbey"), Peter Keleghan ("Workin' Moms"), Sebastian Pigott ("Being Erica") and Colin Mochrie ("Whose Line Is It Anyway?").
The five-disc DVD and four-disc Blu-ray sets feature all 18 episodes of the season as well as bonuses, including "The Murdoch After Show" and a making of featurette ($59.99, Amazon.com).
"Murdoch Mysteries: Season 12" made its U.S. premiere last December and ran through the spring of this year on Acorn TV. It has been renewed for a 13 season.
Acorn TV is North America's most popular and largest streaming service focused on British and international television.
Murdoch Mysteries: Seasons 9-12
On Tuesday July 30, Acorn will release a value-priced DVD and Blu-ray set, "Murdoch Mysteries: Seasons 9-12 Collection," which includes 72 episodes. ($149.99, Amazon.com).
Detective Murdoch encounters historical figures like Mark Twain, Helen Keller, Alexander Graham Bell, Theodore Roosevelt, H.P. Lovecraft, and more. Guest stars in this collection of Seasons 9-12 include William Shatner ("Star Trek"), Samantha Bond ("GoldenEye"), Tamzin Outhwaite ("New Tricks"), and others.
Vidago Palace
Acorn TV unveils the DVD release of the romantic period drama "Vidago Palace" Tuesday July 30. Hailed as the very first drama co-production between Portugal's RTP and Spain's TVG, the six-part series stars Mikaela Lupu, David Seijo and Pedro Barroso.
Set against the backdrop of an exclusive luxury hotel and health resort at the beginning of the 20th century, two young people of different classes long to be together but must overcome many obstacles thrown in their path. The two-disc DVD set features six hour-long episodes ($39.99, Amazon.com).
"Vidago Palace" made its U.S. premiere last December on Acorn TV.
In 1936 Portugal, the opulent Vidago Palace hotel is a haven for Europe's elite from the Spanish Civil War erupting across the border. Beautiful young aristocrat Carlota (Mikaela Lupu) arrives at the resort to plan her wedding to the wealthy César (Pedro Barroso), which will save her family from bankruptcy. But her heart is preoccupied with thoughts of Pedro (David Seijo), the handsome son of the hotel's concierge. The illicit lovers have been separated by social class and war, but when a fateful chain of events brings them together again, Carlota must decide her destiny.
"Vidago Palace" tells the story of a young woman and her quest to conquer not only what her heart dictates but, beyond what is expected of her, evolving from an obedient child into a woman fighting to control her own destiny. In a world that is collapsing, changing and swarming in danger, she chooses to stand up for herself. It is the story of Carlota, a woman ahead of her time.
Nominated for numerous European TV awards, this sumptuous saga is filled with romance, gorgeous scenery and incredible period detail. The two-disc DVD set features all six episodes of the series and is available for $39.99 (SRP).