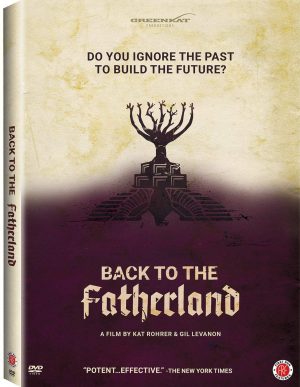 By ANGELA DAWSON
Front Row Features
Movies
Back to the Fatherland
The documentary "Back to the Fatherland" arrives on DVD and VOD Tuesday March 24, from First Run Features. The film is directed by Kat Rohrer and Gil Levanon.
Gil and Kat have been friends since college. Gil is from Israel and the granddaughter of Holocaust survivors; Kat is from Austria, and her grandfather was a Nazi officer. Through them we meet other young men and women whose grandparents were murdered or persecuted during the war, and whose families fled Germany and Austria. What's interesting is that many have decided to move back to "The Fatherland," a choice their families don't agree with or understand. Why do they choose to return?

"Back to the Fatherland" explores the challenges and opportunities for reconciliation and understanding between the generations on both sides of the Shoah. The home entertainment editions are available for a suggested retail price (SRP) of $24.95.


The Cranes Are Flying
"The Cranes Are Flying," a landmark film by the virtuosic Mikhail Kalatozov is available Tuesday March 24 on DVD as well as a newly restored Blu-ray edition from Criterion.
When it was released in 1957, the film was heralded as a revelation in the post-Stalin Soviet Union and the international cinema community alike. It tells the story of Veronica and Boris, a couple who are blissfully in love until the eruption of World War II tears them apart. With Boris at the front, Veronica must try to ward off spiritual numbness and defend herself from the increasingly forceful advances of her beau's draft-dodging cousin. Winner of the Palme d'Or at the 1958 Cannes Film Festival, "The Cranes Are Flying" is a superbly crafted drama with impassioned performances and viscerally emotional, gravity-defying cinematography by Kalatozov's regular collaborator Sergei Urusevsky.
The new 2K digital Blu-ray restoration has uncompressed monaural soundtrack, a new interview with scholar Ian Christie on why the film is a landmark of Soviet cinema, an audio interview from 1961 with director Kalatozov, "Hurricane Kalatozov," a documentary from 2009 on the Georgian director's complex relationship with the Soviet government, a segment from a 2008 program about the film's cinematography, featuring original storyboards and an interview with actor Alexei Batalov, and more.
The Blu-ray edition of "The Cranes Are Flying" is available for $39.95 (SRP); the DVD is available for $29.95 (SRP).
Cunningham
The stunning documentary "Cunningham," arrives on DVD and Digital Tuesday March 24, from Magnolia Home Entertainment.
The film, from Alla Kovgan ("Nora"), traces modern dance pioneer Merce Cunningham's artistic evolution over three decades of risk and discovery (1944–1972), from his early years as a struggling dancer in postwar New York to his emergence as one of the world's most visionary choreographers. The documentary weaves together Merce's philosophies and stories, creating a visceral journey into his innovative work. A breathtaking explosion of dance, music and never-before-seen archival material, Cunningham is a timely tribute to one of the world's greatest modern dance artists.
The DVD + Digital will be available for $26.98 (SRP).
Hunter's Moon
A home invasion thriller with unexpected horror twists and turns, "Hunter's Moon" arrives on DVD, Digital and On Demand Tuesday March 24, from Lionsgate.
From director Michael Caissie and an executive producer of "Live Free or Die Hard" and "Hostage," "Hunter's Moon" stars Thomas Jane, Jay Mohr and Sean Patrick Flanery.
Jane ("The Mist") and Mohr ("Suicide Kings") star in this chilling home invasion horror thriller. When their parents leave town, three teenage girls decide to throw a party in their new country home. But when a gang of dangerous local boys with sinister intentions turn up, the women are forced to not only defend themselves from the evil inside of the house, but an unseen bloodthirsty predator that is hunting them one by one outside of the house.
The "Hunter's Moon" DVD will be available for $19.98 (SRP).
Leave Her to Heaven
Another classic comes available on Blu-ray and DVD Criterion edition on Tuesday March 24. "Leave Her to Heaven" will be available on 2K digital restoration by Twentieth Century Fox, the Academy Film Archive, and The Film Foundation, with uncompressed monaural soundtrack on the Blu-ray.
Novelist Richard Harland (Cornel Wilde) seems to have found the perfect woman in Ellen (Gene Tierney), a beautiful socialite who initiates a whirlwind romance and steers him into marriage before he can think twice. Yet the glassy surface of Ellen's devotion soon reveals monstrous depths, as Richard comes to realize that his wife is shockingly possessive and may be capable of destroying anyone who comes between them.
A singular Hollywood masterpiece that draws freely from the women's picture and film noir alike, "Leave Her to Heaven" boasts elegant direction by melodrama specialist John M. Stahl, blazing Technicolor cinematography by Leon Shamroy, and a chilling performance by Tierney, whose Ellen is a femme fatale unlike any other: a woman whose love is as pure as it is poisonous.
Other extras include a new interview with critic Imogen Sara Smith, an essay by novelist Megan Abbott and a trailer.
The "Leave Her to Heaven" Blu-ray is available for $39.95 (SRP) and the DVD is available for $29.95 (SRP).
1917
"1917," the critically acclaimed, multi-award winning action spectacle including Academy Award winner for Best Cinematography arrives on 4K Ultra HD, Blu-ray and DVD Tuesday March 24, from Universal Pictures Home Entertainment. The universally acclaimed film combines groundbreaking filmmaking, memorable performances, and an unforgettable insight into the human experience against the shattering background of war. "1917" also won an Oscar for Best Visual Effects and Best Sound Mixing. It also is available now on Digital.
At the height of the World War I two young British soldiers, Schofield (George MacKay) and Blake (Dean-Charles Chapman) are given a seemingly impossible mission. In a race against time, they must cross enemy territory and deliver a message that will stop a deadly attack on hundreds of soldiers—Blake's own brother among them. The home entertainment edition comes with bonus content showcasing the incredible craft and artistry behind the immersive feature, including a detailed look into the production design, how the film engineered a one shot, 360-degree format and interviews with the cast and crew.
"1917" is directed by Academy Award-winning director Sam Mendes ("American Beauty," "Spectre") brings his Golden Globe and BAFTA award-winning directorial performance to a script co-written alongside Krysty Wilson-Cairns ("Penny Dreadful"). In addition to breakout stars Mackay ("Captain Fantastic," "Pride") and Chapman ("Game of Thrones"). Accompanying Mackay and Chapman are standout performances by Mark Strong ("The Imitation Game"), Andrew Scott ("Sherlock," "Spectre"), Richard Madden ("The Bodyguard", "Game of Thrones"), Colin Firth ("The King's Speech," "Kingsman") and Benedict Cumberbatch ("Sherlock, "Dr. Strange").
The Song of Names
Tim Roth and Clive Owen star in "The Song of Names," an emotional detective story spread over two continents and a half century. The film is available on Blu-ray, DVD and Digital Tuesday March 24.
Beneath the film's stunning and pulsing musical revelations burn the horror of a war and the lost souls extinguished from history.
Bonus material includes a featurette with interviews with director François Girard and producer Robert Lantos on how they brought Norman Lebrecht's acclaimed novel to life and interviews with Howard Shore ("The Lord of the Rings" trilogy), the film's music composer.