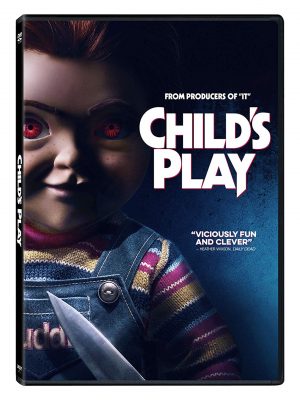 By ANGELA DAWSON
Front Row Features
Movies
Child's Play
Get ready for childhood dreams of talking toys to go completely sideways when Chucky, the sinister killer doll, comes home on Blu-ray and DVD in "Child's Play," Tuesday Sept. 24 from Orion Pictures and Twentieth-Century Fox Home Entertainment.
A re-imagining of the 1988 horror classic, the new horror flick is sure to elicit screams from a whole new generation of viewers. Realizing that her son Andy (Gabriel Bateman) is lonely, Karen (Aubrey Plaza) buys him a seemingly innocent, AI-enhanced Buddi doll that he names Chucky. But Chucky's safety restrictions have been disabled, and soon, a gruesome series of events unfolds. Unable to convince his mom that the doll is responsible for the carnage, Andy becomes the target of the bloodthirsty Chucky.
Produced by Seth Grahame-Smith and David Katzenberg, who also produced "It," "Child's Play" is written by Tyler Burton Smith and based on characters created by Don Mancini. The film also stars Bryan Tyree Henry as Detective Mike Norris, and features Mark Hamill as the voice of Chucky.
Bonus features include an audio commentary by director Lars Klevberg, the making-of "Child's Play," "Bringing 'Child's Play's' Chucky to Life," the soundtrack trailer, "Lee Hardcastle Claymations," a gallery and the theatrical trailer.
A Score to Settle
RLJE Films will release "A Score to Settle" Tuesday Sept. 24, on DVD and on Blu-ray.
Written by John Newman ("Proud Mary") and directed by Shawn Ku ("Beautiful Boy"), the action film stars Academy Award winner Nicolas Cage ("Mandy," "Leaving Las Vegas"), Noah Le Gros ("Depraved"), Karolina Wydra ("Agents of Shield"), Mohamed Karim ("A Facebook Romance") and Benjamin Bratt ("Miss Congeniality").
Diagnosed with a fatal condition, Frankie Carver (Cage) is released from prison after serving 19 years of hard time. With only a short time left to live, Frankie must desperately try to make amends with the son he left behind while he plots a bloody course of revenge – tracking down his old gang to make them pay one by one.
Extras include a featurette on the story and character, a behind-the-scenes look and a featurette called "Sins of the Father."
"A Score to Settle" will be available on DVD for a suggested retail price (SRP) of $29.96 and on Blu-ray for $29.97 (SRP).
Shaft
The newest big screen iteration of classic urban detective story "Shaft" arrives on Blu-ray Combo Pack, DVD and Digital Tuesday, Sept. 24, from New Line Cinema. The action comedy was directed by Tim Story ("Ride Along" and "Think Like a Man" franchises).
"Shaft" stars Oscar nominee Samuel L. Jackson ("Pulp Fiction," "Captain Marvel"), Jessie T. Usher ("Independence Day: Resurgence," "Almost Christmas"), Regina Hall ("Girls Trip," "Little"), Alexandra Shipp ("X-Men: Apocalypse," "Love, Simon"), Matt Lauria ("Kingdom," "Friday Night Lights"), Titus Welliver ("Argo," "Bosch"), Cliff "Method Man" Smith ("Peppermint," "Trainwreck") and Richard Roundtree, the original John Shaft.
JJ, aka John Shaft Jr. (Usher), may be a cyber security expert with a degree from MIT, but to uncover the truth behind his best friend's untimely death, he needs an education only his dad can provide. Absent throughout JJ's youth, the legendary locked-and-loaded John Shaft (Jackson) agrees to help his progeny navigate Harlem's heroin-infested underbelly. And while JJ's own FBI analyst's badge may clash with his dad's trademark leather duster, there's no denying family. Besides, Shaft's got an agenda of his own, and a score to settle that's professional and personal.
"Shaft" was produced by John Davis under his Davis Entertainment banner. Kenya Barris ("Girls Trip," "Black-ish") and Alex Barnow ("The Goldbergs") wrote the screenplay based on the character John Shaft from the novel by Ernest Tidyman.
The Blu-ray Combo Pack features a Blu-ray disc with the film and special features in hi-definition, a DVD with the film in standard definition and a digital version of the movie. "Shaft" also will be available on Movies Anywhere Tuesday, and the film is now available via purchase from digital retailers.
The Tracker
Dolph Lundgren ("The Expendables" franchise, "Rocky IV") stars in the high-octane action film "The Tracker," arriving on Blu-ray +Digital, DVD, and Digital Tuesday Sept. 24, from Lionsgate.
Lundgren stars as a troubled warrior who returns home to solve the mystery of his family's murder — and punish those he finds guilty. "The Tracker" Blu-ray, DVD, and Digital release will be available for the suggested retail price (SRP) of $21.99 for the Blu-ray and $19.98 for the DVD.
Yesterday
The Beatles' music-inspired film "Yesterday," arrives on 4K Ultra HD, Blu-ray, DVD and On Demand Tuesday Sept. 24. "Yesterday" also is available now on digital formats.
Jack Malik is just another struggling songwriter … but that was yesterday. After a mysterious blackout, Jack (Himesh Patel, "EastEnders") discovers he is the only person on earth who remembers The Beatles. As he rockets to fame by passing off the Fab Four's songs as his own, Jack risks losing Ellie (Lily James, "Mamma Mia! Here We Go Again," "Cinderella")—the one person who has loved him and believed in him from the start.
"Yesterday" on 4K Ultra HD, Blu-ray, DVD and digital comes with several bonus features including deleted and extended scenes, live performances at the iconic Abbey Road Studios, an alternate opening and ending and several featurettes with the filmmakers and cast that take fans further into the charming story.
"Yesterday" is a rock-n-roll comedy about music, dreams, friendship, and the long and winding road that leads to the love of your life. The movie's release coincides with the 50th Anniversary of The Beatles' Abbey Road album.
Kate McKinnon ("Saturday Night Live") and musician Ed Sheeran also star in this romantic rock 'n' roll comedy from Academy Award-winning director Danny Boyle ("Slumdog Millionaire," "Trainspotting") and Academy Award-nominated screenwriter Richard Curtis ("Four Weddings and a Funeral," "Love Actually").
The soundtrack is available on digital/streaming services as well as CD from Capitol Records/Polydor Records. The album also is available on vinyl.
TV Shows
DC's Legends of Tomorrow: The Complete Fourth Season
The world's most epic race against time continues as Warner Bros. Home Entertainment releases "DC's Legends of Tomorrow: The Complete Fourth Season on Blu-ray and DVD Tuesday Sept. 24.
After defeating the demon Mallus by cuddling him to death last season, DC's Legends of Tomorrow join John Constantine and Ava Sharpe's Time Bureau to save their world—and their legacy—from magical creatures from myths, fairy tales and legends who have escaped and infected history. As the Legends time-travel across historical events and encounter famous figures, they now have to contend with an added shot of magical craziness.
Viewers can get up to speed with all 16 captivating episodes from the fourth season, plus those that purchase a Blu-ray copy can enjoy timeless special features including an epic purchase a Blu-ray copy can enjoy timeless special features including an epic storytelling featurette, deleted scenes and a gag reel.
"DC's Legends of Tomorrow: The Complete Fourth Season" is priced at $24.98 (SRP) for the DVD ($30.99 in Canada) and $29.98 SRP for the Blu-ray ($39.99 in Canada), which includes a digital copy (available only in the U.S.) It also is available on digital formats via digital retailers.
Pitching In
Acorn TV features the DVD debut of the new heartwarming BBC family drama and Acorn TV Original Series "Pitching In" Tuesday Sept. 24.
On the scenic and serene north Wales coast, the residents of Daffodil Dunes are content with their cozy, if somewhat outdated, camping-park community. Then owner Frank makes the surprising announcement that he plans to sell the park and retire. But when his strong-willed daughter, Carys, returns home for the first time since her mother's death 18 months ago, she attempts to change his mind.
Carys plans events from medieval reenactments to fitness retreats to draw new visitors and increase income. But she may be in over her head as she contends with her disgruntled teenage son, her ex-fiancé's new girlfriend, and another woman in her father's life: enticing estate agent Iona (Hayley Mills), who has her own plans for Daffodil Dunes—and for Frank himself—in this endearing family dramaThe series stars British actor Larry Lamb ("New Tricks," "EastEnders") as Frank Hardcastle, a man who runs a holiday park on the idyllic North Wales coast and finds his peace and quiet disrupted when his flighty daughter (Caroline Sheen) and grandson move back home.
Filmed entirely on location in Anglesey in beautiful Wales, the four-part series also co-stars the charming, Oscar and Golden Globe winning actress Hayley Mills ("The Parent Trap," "Wild at Heart") and Melanie Walters ("Gavin & Stacey"). The two-disc DVD set features four episodes, plus bonus behind-the-scenes featurettes ($39.99, Amazon.com). "Pitching In" made its U.S. premiere in May on Acorn TV. Acorn TV is North America's most popular and largest streaming service focused on British and international television.