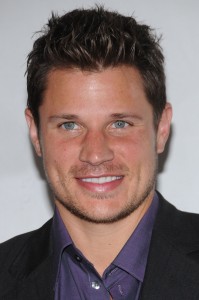 From a Front Row Features Report
HOLLYWOOD—After months of rumors and speculation circulating on the Internet, LiveNation has confirmed that 98 Degrees will reunite for the first time ever after a decade-long hiatus. Their reunion is set to take place during the Summer Mixtape Festival 2012, at  Hershey Park Stadium in Hershey, Pa. The boy band will perform on Saturday, August 18. This is the group's first and only scheduled appearance together.
"We are so excited to reunite and be a part of the Summer MixTape Festival," said band member Nick Lachey. "It's been over 10 years since we last performed together and there's nothing that makes us more excited than being on stage as a group.  This will be a chance for us to see old fans and meet new ones all while singing the songs we know people love to hear.  We couldn't think of a better place and time to do this."
Fans can purchase single-day tickets starting at 10 a.m. ET, June 22 at www.mixtapefestival.com, ticketmaster.com, the GIANT Center Box Office, HersheyEntertainment.com or by phone 800-745-3000.
Summer MixTape Fest also announced the addition of three new acts to the festival stages. Headliners New Kids on the Block, Kelly Clarkson, The Fray and LL Cool J will also be joined by r&b/pop/rock artist The Ready Set, alternative rock band Carolina Liar, and none other than viral video sensation Carly Rae Jepsen, who is currently sitting at No. 1 on the Billboard Top 200 Charts for her smash hit "Call Me Maybe."  Fans can expect more additions to the list of acts for the two-day festival.
Festival organizers also announced that after their sold out arena tour in 2011 the New Kids on the Block and the Backstreet Boys will reunite onstage as NKOTBSB for their only North American performance together in 2012. This is currently their last scheduled joint appearance and can very well be the last chance to see this record-setting hit-filled super group perform together.
For additional information on tickets and festival packages go to www.mixtapefestival.com.
Here is the artist line up to day (subject to change):
Friday:
Kelly Clarkson
The Fray
New Kids on the Block
DJ Pauly D
Steel Panther
Carolina Liar
Saturday:
NKOTBSB
98 Degrees
LL Cool J featuring Z Trip
The Wanted
The Dan Band
The Ready Set
Carly Rae Jepsen