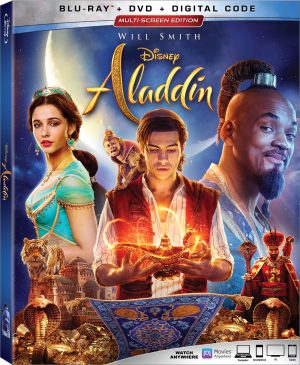 By ANGELA DAWSON
Front Row Features
Movies
Aladdin (live action)
Disney's "Aladdin," the live-action adaptation of the studio's animated classic, lands in homes on 4K Ultra HD, Blu-ray and DVD Tuesday Sept. 10. Fans of all ages will enjoy the exciting, humorous tale of the lovable "street rat," Aladdin (Mena Massoud), courageous and self-determined Princess Jasmine (Naomi Scott) and the larger-than-life Genie (Will Smith) with all-new bonus features.
The release of the live-action adventure directed by Guy Ritchie ("Lock, Stock and Two Smoking Barrels") coincides with the addition of the original animated classic to the celebrated Walt Disney Signature Collection—giving "Aladdin" fans the opportunity to own both movies. The film also is available now on Digital in HD, 4K Ultra HD and Movies Anywhere.
Extras explore elements of "Aladdin" that audiences adore, from the film's treasured, iconic award-winning music to its beloved characters and their hilarious antics on and off screen. Viewers get the first look at an all-new song "Desert Moon," deleted from the final film, written by eight-time Academy Award winning composer Alan Menken and Oscar-and Tony Award-winning songwriters Benj Pasek and Justin Paul ("The Greatest Showman," "La La Land").
Features document Ritchie's stylish approach to directing; Smith's fresh take on the infamous shape-shifting blue entity confined to an oil lamp; Scott's powerful performance as the spirited princess who yearns to lead the people of Agrabah; and the indescribable feeling of playing Aladdin chronicled personally by Massoud. Deleted scenes and a blooper reel round out the fun.
In addition, early owners of "Aladdin" gain access to exclusive bonus features. Fans who pre-purchase will receive a feature showcasing the making of the massive musical number "Prince Ali," and those who bring home the film first on digital will secure an exclusive extra detailing the creation of Jasmine's new female empowerment-driven ballad "Speechless."
A digital bundle includes both the Walt Disney Signature Collection edition of the original animated classic "Aladdin" and the live-action adaptation, is also available for early purchase. A physical copy of the film will be released as a 4K Ultimate Collector's Edition (4K Ultra HD, Blu-ray and digital code), a Multi-Screen Edition (Blu-ray and digital code) and a single DVD.
Aladdin (1992 Disney animated original)
Embark on a magic carpet ride with the entire family when Disney's original animated classic "Aladdin" soars into the celebrated Walt Disney Signature Collection, with a humorous action-packed adventure and Academy Award–winning music (1992: Best Music, Original Song, "A Whole New World," Original Score) for the first time in 4K Ultra HD. The Signature Collection Edition of "Aladdin" lands on 4K Ultra HD and Blu-ray Tuesday Sept. 10 — with a brand-new sing-along version; all-new bonus features, including original cast recordings; and classic bonus material.
The arrival coincides with the in-home release of 2019's live-action film adaptation "Aladdin," granting fans everywhere the opportunity to own both magical movies. It also is available now on 4K Ultra HD, Digital in HD and Movies Anywhere.
The Signature Collection Edition invites viewers to join Genie, Aladdin and Jasmine to belt out the unforgettable songs from "Aladdin"—such as "A Whole New World," "Friend Like Me" and "Prince Ali" — through a new sing-along version. Other new features include a walk down memory lane with Scott Weinger (speaking voice of Aladdin) as he reflects on his personal journey portraying the diamond-in-the-rough and meeting with the original cast and filmmakers, and one jump into the recording booth during the original recording sessions.
Digital exclusive features legendary animator Eric Goldberg reminiscing about drawing Genie. Also included are hours of classic bonus gems, from humorous outtakes with the legendary Robin Williams (voice of Genie) to an in-depth discussion with directors John Musker and Ron Clements.
Disney's tale of the lovable "street rat," Aladdin, self-determined Princess Jasmine and the all-powerful Genie has remained a family favorite for over a quarter of a century. It all began with the animated classic "Aladdin," the highest-grossing film of 1992 and a two-time Academy Award–winner, and continued with the hit Broadway musical "Aladdin" and 2019's live-action film adaptation.
"Aladdin" is the 10th title to join the Walt Disney Signature Collection, which includes groundbreaking films created or inspired by the imagination and legacy of Walt Disney, featuring timeless stories and characters that have touched generations.
Curious George: Royal Monkey
Curious George makes his royal debut in the new feature-length animated movie, "Curious George: Royal Monkey," arriving on Digital, DVD and streaming on Hulu Tuesday Sept. 10, from Universal 1440 Entertainment, the original content production arm of Universal Pictures Home Entertainment, and Imagine Entertainment.
Filled with delightful antics, gentle humor and heartfelt emotion that have captivated the hearts of families around the world, the majestic film follows George as he trades places with the royal monkey of Simiana by mistake.
Taking audiences on a colorful grand adventure with exciting new locations and a fresh cast of adorable characters, "Curious George: Royal Monkey" features returning voice cast Emmy Award winners Frank Welker ("Scooby-Doo!" franchise) and Jeff Bennett ("Johnny Bravo" TV series) and showcases five original songs including a single by award-winning recording artist and songwriter Andy Grammer. For a limited time only, the DVD also comes with an exclusive sticker sheet, available at retailers nationwide.

Join your favorite monkey as he takes on his most regal role yet in "Curious George: Royal Monkey." After disrupting a meeting with a stuffy royal family, George accidentally trades places with the king's snooty monkey, Philippe. While Philippe puzzles Ted with his flawless manners, George travels to the castle where his fun-loving antics raise eyebrows and bring shy Princess Isabel out of her shell. This family-friendly adventure reminds viewers that doing what you love is the key to happiness.

The Dead Don't Die
A quiet town finds itself under attack from the undead with the greatest zombie cast ever disassembled in the comedy, "The Dead Don't Die," arriving on Blu-ray, DVD and On Demand Tuesday Sept. 10, from Universal Pictures Home Entertainment. Showcasing exclusive bonus features not seen in theaters including insight from the cast and filmmakers, as well as a closer look at the making of the film.
Starring Academy Award winner Bill Murray ("Lost in Translation," "Ghostbusters"), Adam Driver ("Star Wars" Sequel Trilogy, "BlacKkKlansman") and Chloe Sevigny ("The Act," "Boys Don't Cry"), "The Dead Don't Die" is an irreverent film.

Directed by indie filmmaker Jim Jarmusch ("Paterson," "Only Lovers Left Alive"), the film features an ensemble cast including Tilda Swinton ("Suspiria", "Trainwreck"), Steve Buscemi ("Hotel Transylvania," "Fargo"), Danny Glover ("Proud Mary," "Lethal Weapon"), Caleb Landry Jones (Three Billboards Outside Ebbing, Missouri"), Rosie Perez ("Pure," White Men Can't Jump), Iggy Pop ("Gimme Danger," "Coffee and Cigarettes"), Sara Driver ("Stranger than Paradise"), RZA ("Snowfall," "The Man with the Iron Fists 2"), Selena Gomez ("Hotel Transylvania," "Spring Breakers"), Carol Kane ("Unbreakable Kimmy Schmidt," "Dog Day Afternoon"), Austin Butler ("The Intruders," "Arrow"), Luka Sabbat ("Grown-ish") and Tom Waits ("The Ballad of Buster Scruggs")In the sleepy small town of Centerville, something is not quite right. The moon hangs large and low in the sky, the hours of daylight are becoming unpredictable and animals are beginning to exhibit unusual behavior. No one foresees the strangest and most dangerous repercussion that will soon start plaguing the town: the dead don't die, they rise from their graves and savagely attack and feast on the living, and the citizens must battle for their survival.
The Mad Adventures of Rabbi Jacob
The 1973 comedy "The Mad Adventures of Rabbi Jacob," a cult classic riot of frantic disguises and mistaken identities, is available on Blu-ray, DVD and Digital Tuesday Sept. 10, from Film Movement.
Victor Pivert (Louis de Funes), a blustering, bigoted French factory owner, finds himself taken hostage by Mohammed Larbi Slimane (Claude Giraud), an Arab rebel leader. The two dress up as rabbis as they try to elude not only assassins from Slimane's country, but also the police, who think Pivert is a murderer. Pivert ends up posing as Rabbi Jacob, a beloved figure who's returned to France for his first visit after 30 years in the U.S. Adding to the confusion are Pivert's dentist-wife, who thinks her husband is leaving her for another woman, their daughter, who's about to get married, and a Parisian neighborhood filled with people eager to celebrate the return of Rabbi Jacob (Marcel Dario).
A roller-coaster of plot twists and slapstick shenanigans culminating in a chaotic, fun climax, "The Mad Adventures of Rabbi Jacob" was a showcase for de Funes, one of the most popular French comic actors of the era.
Helmed by French filmmaker Gerard Oury, who co-wrote a 1958 film that Barbra Streisand later adapted for "The Mirror Has Two Faces," the film was nominated in the Best Foreign Film category at the 1974 Golden Globe Awards.
An interview with co-screenwriter Daniele Thompson and a new essay from author Phoebe Maltz Bovy are included in this version.
The Blu-ray is available for a suggested retail price (SRP) of $39.95 and the DVD is available for $29.95 (SRP).
Mayday
What starts off as a seemingly normal flight from Los Angeles to London quickly turns into a terror-filled experience as passengers mysteriously start to disappear without a trace in "Mayday," arriving on DVD, Digital, and On Demand Tuesday Sept. 10, from Lionsgate.
In this dark, edge-of-your-seat thriller, Michael Pare ("Gone") plays an air marshal trying to keep the peace on a red-eye flight after random passengers begin to vanish into thin air. From an executive producer of "Lee Daniels' The Butler" and "Left Behind," the "Mayday" DVD will be available for $19.98 (SRP).
The Third Wife
In 19th century rural Vietnam, 14-year-old May becomes the third wife of wealthy landowner Hung. Soon she learns that she can only gain status by asserting herself as a woman who can give birth to a male child. May's hope to change her status turns into a real and tantalizing possibility when she gets pregnant. However, her path is fraught with danger when May starts to develop an attraction for Xuan, the second wife. As she observes the unfolding tragedy of forbidden love and its devastating consequences, she must make a choice: to either carry on in silence and safety, or forge a way towards personal freedom.
With collaboration from artistic advisor Tran Anh Hung (director of "The Scent of Green Papaya"), Ash Mayfair's debut feature signals the emergence of a young female director-writer. "The Third Wife" has garnered acclaimed throughout its festival and theatrical run.
Bonus features include a director's commentary as well as Mayfair's short film "Grasshopper," which is in Vietnamese with English subtitles and an interview with the filmmaker at NYAFF.
"The Third Wife" is available on DVD and Digital for $24.95 (SRP).
TV Shows
Supernatural: The Complete Fourteenth Season
The thrilling and terrifying journey of the Winchester brothers continues as Warner Bros. Home Entertainment unveils "Supernatural: The Complete Fourteenth Season on Blu-ray and DVD Tuesday Sept. 10. The set contains all 20 exhilarating episodes from Season 14, including the landmark 300th episode "Lebanon," featuring the return of Sam and Dean's father John Winchester (Jeffrey Dean Morgan).
The discs are loaded with over two hours of bonus content including two all-new featurettes, deleted scenes, a gag reel, and audio commentaries from the cast and producers. "Supernatural: The Complete Fourteenth Season" is priced at $44.98 (SRP) for the DVD ($52.99 in Canada) and $49.99 (SRP) for the Blu-ray, which includes a digital copy ($57.99 in Canada, where the Digital copy not available).
"Supernatural: The Complete Fourteenth Season," the longest running sci-fi series in U.S. TV history, also is available to own on Digital via purchase from digital retailers.
The Winchester brothers' harrowing journey into the heart of darkness continues as Supernatural enters Season Fourteen. Sam (Jared Padalecki) and Dean (Jensen Ackles) have matched wits with monsters, demons, Heaven and Hell. But last season, the Winchesters and Castiel (Misha Collins) stumbled upon a terrifying alternative universe: an apocalyptic world where they were never born, all while training Jack (Alexander Calvert), the son of Lucifer, and trying to save their mother, Mary Winchester. The final battle with Lucifer and the Archangel Michael altered the Winchesters' lives forever … and created an even greater threat for Sam and Dean. The boys are back and willing to risk everything for their loved ones in all twenty thrilling new adventures, including a Winchester family reunion never to be forgotten.
Calling all Disney fans! Front Row Features is giving away an "Aladdin" prize pack that includes a copy of the classic animated film's new Walt Disney Signature Collection release as well as a copy of the new live-action adaptation–both on Blu-ray/DVD Combo Pack–to three lucky readers. To enter the contest, simply email socalmovieeditor@aol.com by Sept. 16 for your chance to win with your favorite "Aladdin" character in the subject line (we won't judge you if you say Hot Jafar). Good luck!