By ANGELA DAWSON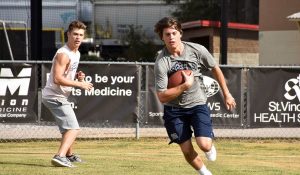 Front Row Features
HOLLYWOOD—Director Chris Dowling recalls the day when his friend, producer Darren Moorman, called him to gauge his interest in helming a film project he was developing.
"He said, 'I've got a football movie project. Tim Tebow's involved. Do you want to take a look?'" he recalls, from a hotel conference room overlooking Hollywood Boulevard.
Dowling, known for directing and producing faith-based films including "Where Hope Grows" and "The Remaining," knew he couldn't say 'no,' especially after he read the inspirational script by Jake McEntire.
What sealed the deal for him—aside from the faith-element—was that "Run the Race" tells the story of two brothers, who face substantial obstacles in their young lives but never lose faith in each other, even when one of them questions his faith in God. Dowling is a Christian, who grew up in Texas playing football.
There is, of course, the Tebow factor. Tim Tebow, a Heisman trophy winner and former NFL star turned baseball player is widely known for his firm Christian beliefs. He and his older brother Robby Tebow serve as executive producers on the film, along with a handful of other producers widely known in the faith-based film community—Moorman, Ken Carpenter and Bill Reeves.
"Growing up with my brother, he was my best friend," says Dowling, who was born in Mississippi and raised near Dallas. "This is a coming-of-age story, and anything that's about coming-of-age, I'm in. There's so much that you can layer in with what they're dealing with, on top of the odds stacked against them because of where they are and what's happened to them. For me, it was an easy thing to get involved with."
In "Run the Race," two teenage brothers are grieving the loss of their mother, who has died from cancer. Their father has become an alcoholic and has moved out of their small Florida home as a result. The boys are pretty much left to fend for themselves, although they do have a small support team of adults in town, including the local grocer, their pastor and their high school coaches. Frances Fisher ("Titanic"), Mario Van Peebles ("Ali") and Kristoffer Polaha star (CW's Life Unexpected"), alongside up-and-coming actors Tanner Stine and Evan Hofer, who play Zach and Dave Truitt, respectively.
The Truitt boys are promising high school athletes but a head injury has sidelined Dave, who subsequently suffers occasional seizures. His slightly older brother Zach knows it's now up to him to earn a football scholarship to the University of Florida if they are ever to escape their small town, and improve their economic circumstances. Zach's plans come crashing down when he suffers a knee injury, and his already shaky faith in God is further tested. Still committed to his brother's physical recovery, Zach helps Dave train for a new sport, track and field, while Dave tries to help heal Zach's soul and restore his faith in God.
Tanner Stine (Zach) and Evan Hofer (Dave) have a brotherly onscreen chemistry that was bolstered by the fact that the actors were also roommates for the entire five-week shoot in Bessemer, Ala. (subbing for Florida).
"They asked if we would do that and we were game," says Stine, who starred in the HBO series "Here and Now." "I think they were surprised by how dynamic a relationship we had onscreen. The relationship that developed between me and Evan is very much the relationship that is between Zach and Dave. We found our way there."
Adds Hofer, "I've always wanted an older brother—I have an older sister, and she's great, but I always wanted an older brother—and this played into it really well.
"I've always wanted to have that experience with that person who's always there for you unconditionally, and that's what they are for each other," says the 21-year-old, best known for starring on Disney XD's "Kickin' It." "That was really fun to do."
Stine, 23, who hails from Denver, says signing up for "Run the Race" was a no-brainer.
"It was appealing because the Tebows were a part of it. Obviously, they're credible names and so you know it's going to be a quality project."
Dowling concurs.
"The Tebow brand speaks for itself and it's a trusted brand," he says. "People love Tim and Tim's an authentic dude. He is who he says he is. That speaks volumes."
It was Tim's older brother, Robby, an athlete in his own right who served as an area director for the Fellowship of Christian Athletes and now runs a sports marketing film, who was intricately involved in "Run the Race's" day-to-day production, especially in choreographing the football sequences.
"Robby was with us every day," notes Dowling. "Robby was on this before I was on this and, by extension, Tim. Tim had read it but he was so busy with baseball and (co-hosting) SEC Nation. He came through a couple of times but Robby was on the ground running with us. We want to make sure the football (scenes) are authentic, and Robby was there with us doing that."
One of the ways the former NFL star came through was securing the University of Florida's stadium for a key scene of the movie. Making all the football scenes look authentic was important to Dowling as it was to others on the modestly budgeted production. One of the high school games was shot at a local high school, which graciously accommodated the production.
"The high school we were using as a location was having their championship game was the first day of our shooting," Dowling recalls. "So, we got our actors suited up on the sidelines and had (actor) Mykelti Williamson as the head coach standing next to the team's real coach. We had four camera crews out there, and my actors were running in and out of the huddles.
"When their team scored, my guys were in there jumping up and down with them. We had people in the crowd. It was really crazy. It was the most chaotic way to start a shoot. My script supervisor had the boards to show me all the shots, and about 10 minutes into the first quarter we threw them away and I just told the four camera operators what to get. It goes back to authenticity. If you watch it, you can't tell the difference between the overnight shoots we set up and the actual stuff that was real gameplay."
Co-stars Van Peebles, who plays the Truitts' caring pastor, says being part of a faith-based film was appealing to him, after starring in and directing mainstream Hollywood fare for the past few decades.
"They reached out to me because they knew I like to do films that entertain and have a little nutritional value," says the actor who played civil rights activist Malcolm X in the historic drama "Ali." "You've got to find a way to reach folks and give them something that sticks. It can be political, spiritual, whatever. That was part of the attraction. They gave me room to spread out."
For Fisher, the idea of playing the boys' surrogate mom, a grocery store operator, in the absence of their actual parents, was appealing.
"I's a story about people who experience great tragedy, and how do you lift yourself up out of that and keep going," the titian-haired actress says. "But that's what we all have to do. I love Mykelti Williamson's line, 'Those kids don't need a coach, they need a father.' So many kids today are in need of guidance. Where do they look for it?"
For director Dowling, he hopes that answer partly is in seeing an inspiring film like "Run the Race," which is aimed at both Christians and peoples of other faiths.
"If I can make my characters feel real and there's a layer in them that's the faith-layer, I think that resonates," he says. "It doesn't turn you off. You've got to give the audience credit. A lot of faith-based films, not dogging anyone out in particular, don't give the audience credit. They have to tell you something and tell you again, and a lot of times it turns into a rah-rah pep rally. But life is messy and it doesn't always turn out well. What attracts me is the layers, and not so much a message-movie."