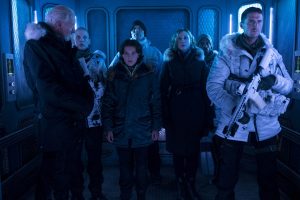 By ANGELA DAWSON
Front Row Features
HOLLYWOOD—Fans of the sci-fi series "Stranger Things" know 15-year-old actress Millie Bobby Brown as the character Jane Hopper a.k.a. Eleven/EI, a girl with psychokinetic and telepathic abilities.
Though still too young to drive a car, the British actress already has racked up a Primetime Emmy nomination as well as two Screen Actors Guild nominations for her performance on that popular Netflix series.
The charismatic brunette now makes her feature film debut in "Godzilla: King of the Monsters," a sequel to 2014's hit "Godzilla" and the 35th film in the iconic "Godzilla" monster movie franchise. She plays Madison Russell, the brainy and resourceful daughter of two bickering scientists who are at odds over how to respond to the emergence of a deadly ancient species of monsters that threaten the very existence of Mankind. When she and her mother (Vera Farmiga, "Bates Motel") are kidnapped by a group of eco-warriors, her father (Kyle Chandler, "Bloodline") mounts an effort to rescue them. That effort is complicated when Madison's mom, a paleo-biologist with a history of environmental activism, appears to be complying with her "captors." All heck breaks loose when the ancient creatures emerge and battle each other for domination, including Mothra, Rodan, the three-headed King Ghidorah and, of course, the titular prehistoric lizard-like monster. The film is directed by Michael Dougherty, from a screenplay he penned with his "Krampus" co-writer Zach Shields.
Arriving for an interview, Brown appears confident and excited about her pending big screen debut. She sings the first few lines of the Burt Bacharach-penned "I Say a Little Prayer," then quips, "About last night…" referring to the first press screening of the big action-packed film.
Q: How did you prepare to play this character and what was it like to work with a creature that was added as a special effect in post-production?
Brown: There was not much preparation. I physically trained for this role. I have a lot of running in the movie. Running takes a toll. I needed to prepare emotionally so I could run uphill and make sure I wouldn't be out of breath before I got to the top of the hill. First time around I was like (she makes a gasping sound) so I kept practicing. I was training every day. So I trained physically for the role.
And, as far as acting with something that's not there? You just do it. You just get there and you just do it. You imagine like something is there and you go "Ohhhh." There you go, and it came out pretty good.
Q: Can you talk about your love for—or indifference to—Godzilla prior to making this film?
Brown: I'll be honest—I was definitely not a fan of Godzilla, which is a good thing because my character isn't either. She's just a teenage girl. She's learning about Godzilla and the Titans as she goes along. She doesn't really know how she feels about him. But I think her love and affection toward him grows in the movie and then also in (the next film in the franchise) "Godzilla vs. King Kong."
Q: Are you in that?
Brown: Yes, I am. It was amazing.
Q: What did you think of how Godzilla looked on the big screen when you finally saw the film complete with the visual effects?
Brown: I would say, I was nervous about what the movie was going to be because I do that with everything. I just go into everything really negative. It's kind of like guilty until proven innocent. It's like, "It's going to be bad. It's going to be bad. (And then), Oh my God, it's really good." That was me. I don't like to be let down so I went in there with a mindset like, "It's going to be fine." It's like I trust everyone else except myself.
There are many things I'd like to change about my performance because I'm just like that, but I really like the movie. I think the CGI, the monster is (great) and everybody's acting. There is so much human emotion that I really enjoyed in the movie that's never been seen before.
Q: Which of the Titan monsters did you like best?
Brown: I think Mothra.
Q: Because you get to touch her?
Brown: Don't be jealous. (She laughs.) I also think Rodan has a pretty cool entrance. But, for me, it's Mothra because she's the only girl and she's such a hero. She'll be like, "What up, guys? Who needs me?" She's got her nails done. She's great. I love her. She's gorgeous. She's a pretty lady.
Q: What was it like working with writer-director Michael Dougherty?
Brown: He's a little crazy but one of the things that I love is that he stayed true to the story. I think that's important especially in such a legacy (film). You don't want to just go AWOL with a story that people just absolutely love and cherish and wait for. Before I was on board, I went to a meeting with him and he said, "Vera Farmiga is attached to the project." I said, "Vera Farmiga? I love her." Actually, none of us were attached to the project but that's what you have to do.
From the very beginning, he knew what was going to happen. He didn't change a thing about it either. Our scripts never really changed drastically whereas some of the things I've been on were like, "Okay, the full storyline turns." It was never like that with him. He knew what every monster was going to look like. He had everything planned; all the artwork and immediately I was like, "Wow! He knows what he's doing." There's no questioning what he's doing. I wanted to see this guy try and kill it, and he killed it.
Q: What was it like working alongside Vera Farmiga?
Brown: Vera is a very talented woman. She has two amazing kids and she's an incredible mother to her kids. She has this maternal instinct that comes extremely natural to her so to play her daughter was a breeze. You're working alongside a seasoned, phenomenal actress. I could never fill the footsteps. I was just watching her and thinking, "Hi. Be my friend." She was awesome. You could tell we were a family unit and that was one of the things that we wanted to make sure happened onscreen, and it did.
Q: But there's big conflict in your family.
Brown: Big conflict, yeah, but I can't elaborate. I've been here (in spoiler territory) before. (She laughs.)
Q: Have you been getting a lot of movie offers since the success of "Stranger Things?" Do you just get offered a lot of genre (sci-fi or horror) films?
Brown: Do you want to go check my e-mails? I don't know. That's what my team deals with. I get brought information. They're like, "Okay, well we think this is best," and I usually make my sister read the script. I trust my sister's instinct. She'll tell me, "Okay, you know what? You're going to love it." Then I'll read it and if I love it and I want to do it, then I'll do it but if I read it and I'm like "This is not going to be for me," then I don't. I get offered all different genres. I get offered comedies, thrillers, horror. It doesn't matter about the genre for me. If I feel like I have a connection with the character then I'll do it. Most of my stuff lately has been things I've actually found. There is a book series. I'm actually filming called "Enola Holmes Mysteries" (by Nancy Springer) with Legendary this summer. She's Sherlock Holmes' little sister. There is a book series about who she is and her journey. I actually found that and we are making it and I'm the producer on it. I don't know how but I really want to be part of the creative process. It's so important to help youth and to inspire young people to understand that there's no boundary, no age to what you can accomplish.
Q: Can you say anything about the third season of "Stranger Things?"
Brown: "Stranger Things" season three is coming out July 4th and we're so excited for everyone to see it. We've worked really hard on it. We filmed this movie two years ago—right after we were filming season three and season three is bigger, better and stranger. That was a good one.
Q: How many more seasons do you think "Stranger Things" will run?
Brown: I don't know. I'm not the creator. Ask the Duffer brothers. I hope for a long time.