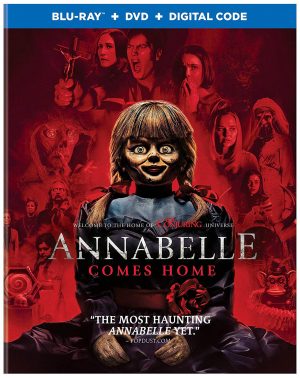 By ANGELA DAWSON
Front Row Features
Movies
Annabelle Comes Home
New demonic entities are unleashed when New Line Cinema's "Annabelle Comes Home" arrives Tuesday Oct. 8 on Blu-ray Combo Pack, DVD and Digital. "Annabelle Comes Home" is the third installment of New Line Cinema's hugely successful "Annabelle" films starring the infamous, sinister doll from the "Conjuring" universe. Gary Dauberman, screenwriter of the "Annabelle" films, "IT" and "The Nun," makes his directorial debut in "Annabelle Comes Home." The horror film is produced by Peter Safran and "Conjuring" universe creator James Wan.
An Atomic Monster/Peter Safran Production, "Annabelle Comes Home" stars Mckenna Grace ("The Haunting of Hill House," "Captain Marvel") as Judy, Madison Iseman ("Jumanji: Welcome to the Jungle," "Goosebumps 2: Haunted Halloween") as her babysitter Mary Ellen and Katie Sarife ("Youth and Consequences," "Supernatural") as troubled friend Daniela. Patrick Wilson ("Aquaman," "The Conjuring" films) and Vera Farmiga ("The Conjuring" films, "Godzilla: King of the Monsters") reprise their roles as Ed and Lorraine Warren. Dauberman directed the film from a screenplay he wrote, from a story by Dauberman and Wan.
The Blu-ray Combo Pack features a Blu-ray disc with the film and special features in hi-definition, a DVD with the film in standard definition and a Digital version of the movie. Bonus features include a behind-the-scenes featurette, deleted scenes and more.
"Annabelle Comes Home" will also be available on Movies Anywhere. Fans can also own "Annabelle Comes Home" via purchase from digital retailers.
The Blu-ray Combo Pack is available for a suggested retail price (SRP) of $35.99; the DVD is available for $28.98 (SRP).
Gwen
Eleanor Worthington-Cox plays a young farm girl eking out a living with her mother and younger sister in the remote mountainous range of Wales' Snowdonian in the folk tale drama "Gwen," which arrives on Blu-ray and DVD Tuesday Oct. 8, from RLJE Films.
The 18-year-old British actress plays the title character, a young woman whose already difficult life in the small community is exacerbated by her father being away at war and her mother becoming ill with the pressure of managing the small family farm. Vulnerable, Gwen's mother is hounded by the owners of the local quarry to give up ownership of her land. Teenage Gwen makes do, caring for the sheep with her younger sister, Mari, feeding the chickens and basically doing household and farm chores morning to night.
The only respite from the daily workload is taking the long arduous walk through the rocky terrain to the village chapel for mass each morning, as expected. The film by first-time feature filmmaker William McGregor is highly atmospheric and grim and yet shows the indomitable spirit of a young Welsh woman determined to survive.
Though set some 170 years ago, the film depicts some of the same patriarchal attitudes that persist today. The actress depicted young Maleficent in that that 2014 live-action Disney film, has appeared in several British TV series and currently stars on the historical fantasy series "Britannia" as Cait. Her haunting performance in "Gwen" earned her a Rising Star award at last year's Toronto International Film Festival.
Written and directed by William McGregor ("Misfits"), the film also stars Maxine Peake ("The Theory of Everything").
Extras on the Blu-ray and DVD include interviews with Peake and Worthington-Cox. RLJE Films will release "Gwen" on DVD for $27.97 (SRP) and on Blu-ray for $28.97 (SRP).
The Ice King
John Curry transformed ice skating from a dated sport into an exalted art form. Coming out on the night of his Olympic win in 1976, he became the first openly gay Olympian in a time when homosexuality was not even fully legal. With a mix of new interviews, crisp footage and a treasure-trove of archival materials, "The Ice King," from Emmy-nominated documentarian James Erskine takes viewers on an emotionally resonant journey through Curry's remarkable life. It is available Tuesday Oct. 8 on Digital and DVD.
Toxic yet charming; rebellious yet elitist; emotionally aloof yet spectacularly needy; ferociously ambitious yet bent on self-destruction, Curry was a man forever on the run: from his father's ghost, his country, and even his own self. Above all, he was an artist and an athlete whose body time and time again – sometimes against his will – became a political battlefield. This documentary uses Curry's life and accomplishments to chart both the evolution of competitive ice skating and of the gay movement of the '70s and '80s that culminated in the onslaught of AIDS, which he was diagnosed with in 1987 and which contributed to his death in 1994. The DVD includes a featurette and a Q&A with the director. The DVD with digital copy is available for $24.95 (SRP).
Light of My Life
Academy Award winner Casey Affleck ("Manchester by the Sea") writes, directs and delivers in the survivalist thriller "Light of My Life, on Blu-ray and DVD Tuesday Oct. 8, from Paramount Home Entertainment.
A decade after a plague has wiped out nearly all of the world's female population, a father (Affleck) and daughter live on the outskirts of what's left of civilization as they once knew it. Disguising his daughter as a boy, the father struggles to protect her from newfound threats as they are forced from their home into dangerous territory. Prepared to defend his daughter at all costs, their bond and the character of humanity is tested. "Light of My Life" also stars newcomer Anna Pniowsky. The "Light of My Life" Blu-ray includes access to a Digital copy of the film. The film also is available on digital formats and On Demand.
Vikings: Season 5, Vol. 2
From Metro Goldwyn Mayer (MGM) and Twentieth Century Fox Home Entertainment comes "Vikings: Season 5, Vol. 2," which will debut on Blu-ray and DVD Tuesday Oct. 8.
Catch up on the latest of the popular franchise before the new season premieres later this year and enjoy special features including extended and unrated episodes, deleted scenes, audio commentary with series creator Michael Hirst and Vikings star Gustaf Skarsgard.

As the explosive second half of Vikings Season Five begins, Ivar the Boneless' tyrannical reign as king of Kattegat ushers in a new Dark Age for Scandinavia. And while Bjorn and Lagertha flee Ivar's murderous forces with Bishop Heahmund, Duke Rollo's return brings even more upheaval. Meanwhile, Floki battles the elements-as well as his settlers' thirst for revenge-in beautiful, desolate Iceland. Ultimately, the sons of Ragnar and old sworn enemies must become allies to challenge the despot Ivar, who has declared himself a god. The gut-wrenching action and dramatic plot twists reach a fever pitch as the season unfolds.


The Wedding Guest
"The Wedding Guest," the propulsive, globetrotting thriller from acclaimed director Michael Winterbottom, is a breathless tour through the shadowy underworlds and hidden realms of Pakistan and India. Jay ("Slumdog Millionaire's" Dev Patel) is a man with a secret who travels from Britain to Pakistan to attend a wedding—armed with duct tape, a shotgun and a plan to kidnap the bride-to-be (Radhika Apte, "Sacred Games").
Despite Jay's cool efficiency, the scheme quickly spirals out of control, sending Jay and his hostage on the run across the border and through the railway stations, back alleys and black markets of New Delhi – as all the while attractions simmer, loyalties shift and explosive secrets are revealed. Pulsating with the sights and sounds of the Indian subcontinent, "The Wedding Guest" by the prolific and provocative director of "The Killer Inside Me" and "Welcome to Sarajevo"—conjures a colorful world where danger lurks at every turn and nothing is as it seems.
The DVD is available for $24.98 (SRP) and the Blu-ray for $29.80 (SRP).
TV Shows
China Beach: The Complete Series
From the moment "China Beach" debuted in 1988, with its iconic opening credits set to the Supremes' "Reflections" as its theme song, it was hailed as groundbreaking television. In an era of testosterone-driven war movies, the series, created by award-winning journalist and Vietnam vet William Broyles Jr. and John Sacret Young, delivered the Vietnam war from a unique perspective: that of the women, military personnel and civilians who were present during the conflict. Starting Tuesday Oct. 8, "China Beach: The Complete Series" will be available on DVD. The 19-disc set features all 62 episodes from the Golden Globe-winning series, and more than five hours of bonus programming, including audio commentaries, exclusive interviews, highlights from the 25th anniversary reunion and more.
Part EVAC hospital, part USO entertainment center, China Beach, also known as the 510th Evacuation Hospital and R&R center, was an outpost of craziness and compassion that captured an extraordinary group of characters‑U.S. Army doctors and nurses, officers, soldiers, Red Cross volunteers and civilian personnel—in a unique, exotic place where so many things came together: horror and laughter, heroism and sacrifice.
Many episodes and story lines were based on real-life stories of those who served, stories brought to rich life by a supremely talented ensemble cast featuring many actors beginning to make their marks on the industry, including Dana Delany (First Lieutenant/Captain Nurse Colleen McMurphy), Marg Helgenberger (K.C. Koloski), Michael Boatman (SP4 Sam Beckett), Robert Picardo (Captain Dr. Dick Richard) and Ricki Lake (Holly Pelegrino).
The other side of the camera boasted such accomplished talents as multiple Emmy Award-nominee writer/director/executive producer John Sacret Young and producer John Wells, who would go on to executive produce "ER" and "The West Wing."
Additionally, one of the hallmarks of the series was the use of music—iconic, emotional music from the '60s and '70s featuring everyone from Bob Dylan and Joan Baez, to Aretha Franklin and Stevie Wonder and dozens of other popular performers. Time Life spent more than a year clearing the rights to hundreds of musical copyrights, so that the DVD collection would be released with nearly all of the original classic rock and soul music songs from the original broadcasts. The 300-plus songs featured throughout the series include "Ain't Nothing Like the Real Thing" by Marvin Gaye and Tammi Terrell, "Nowhere to Run" by Martha and the Vandellas, "Baby, I Need Your Loving" by the Four Tops, "My Girl" by the Temptations, "I Got You (I Feel Good)" by James Brown, "Do Wah Diddy Diddy" by Manfred Mann, "Brown Eyed Girl" by Van Morrison, "Piece of My Heart" by Big Brother & the Holding Company, "I Got You Babe" by Sonny & Cher, and the iconic theme "Reflections" by Diana Ross & the Supremes.
A critically-acclaimed fan favorite during its four year run (1988-1992), the highly touted show and its cast were the recipients of numerous industry accolades and awards including one Golden Globe for Best Drama (1990), two Best Actress Emmy Awards for Delany (1989, 1992), a Best Supporting Actress award for Helgenberger (1990), a People's Choice Award for "Favorite New Dramatic TV Program" (1989), a prestigious Peabody Award, a Humanitas prize, a Writers Guild award, and a total of 29 Emmy Award nominations. The DVD box set is available for a suggested retail price (SRP) of $64.95.
The Toys That Made Us: Seasons 1 & 2
"The Toys That Made Us" is an American television series created by Brian Volk-Weiss. The first four episodes of the series began streaming on Netflix in 2017, and the next four were released the following year. The two seasons are available now for the first time on Blu-ray from Screen Media.
The eight-episode documentary series, as it was originally touted, focused on the history of important toy lines. The first four episodes focus on the Star Wars, He-Man and G.I. Joe toy lines with subsequent episodes featuring LEGO, Transformers, Hello Kitty, and Star Trek.
More than 15 bonus features including featurettes on show creator Brian Volk-Weiss, Barbie '80's Marketing, More Stories that Made Us: GI Joe The Story of COBRA, Todd McFarlane on Lego and Star Trek, a tour of Hideki Yoke/Takara, deleted scenes and more interviews.
The Blu-ray box set is available for $39.98 (SRP).