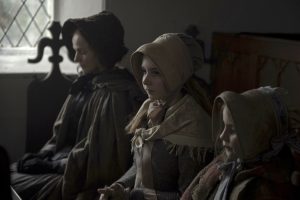 By ANGELA DAWSON
Front Row Features
HOLLYWOOD—Eleanor Worthington-Cox plays a young farm girl eking out a living with her mother and younger sister in the remote mountainous range of Wales' Snowdonian in the folk tale drama "Gwen."
The 18-year-old British actress plays the title character, a young woman whose already difficult life in the small community is exacerbated by her father being away at war and her mother becoming ill with the pressure of managing the small family farm. Vulnerable, Gwen's mother is hounded by the owners of the local quarry to give up ownership of her land. Teenage Gwen makes do, caring for the sheep with her younger sister, Mari, feeding the chickens and basically doing household and farm chores morning to night.
The only respite from the daily workload is taking the long arduous walk through the rocky terrain to the village chapel for mass each morning, as expected. The film by first-time feature filmmaker William McGregor is highly atmospheric and grim and yet shows the indomitable spirit of a young Welsh woman determined to survive. "Gwen" arrives in theaters and on VOD and Digital HD Friday, Aug.16.
Though set some 170 years ago, the film depicts some of the same patriarchal attitudes that persist today, Worthington-Cox observes. The actress depicted young Maleficent in that that 2014 live-action Disney film, has appeared in several British TV series and currently stars on the historical fantasy series "Britannia" as Cait. Her haunting performance in "Gwen" earned her a Rising Star award at last year's Toronto International Film Festival.
Q: How did the film come your way?
Worthington-Cox: I got sent the script by my agent and fell in love with it immediately. I couldn't help it. There's just so much about this film that I couldn't help but fall in love with it. I went in for a meeting with Will, the director. Almost right after that, I was asked to meet with the producers. We went through some scenes and talked in-depth about the script. It all just clicked into place and it snowballed from there.
Q: You shot this on location in Wales, right?
Worthington-Cox: Yes. We were extremely lucky. We shot in Snowdonia, which is in northern Wales. It was all in location and it was all shot in the area where the film is set so I couldn't have felt more connected to the story and the character. It felt like I was being let into a well-kept secret. Wales is one of the most scenic places and we've barely scratched the surface from a filmmaking point-of-view. I couldn't have filmed in a more atmospheric, incredible place.
Q: It certainly was beautiful, but it also looked very cold and windy.
Worthington-Cox: It was!
Q: You're 18. Did you imagine what life would have been like for a young woman your age two centuries ago?
Worthington-Cox: I knew from the beginning of the project that it was going to be something that I really wanted to sink my teeth into because however many differences there are of a woman living in the 1800s and a woman living now—especially a young woman—there are way too many similarities, especially with the feeling of being weighed down by a patriarchal society and stepping a foot out of line. You don't want to be judged. You just want to live a peaceful life and for your family to be well. That's something a lot of people can relate to, unfortunately, nowadays.
Q: How did you connect with your character?
Worthington-Cox: I thought it was so relevant to actually start on this journey and become this character. To be rooted to the period with the landscape I was in and the costumes that I was in and the weather. It transports you and puts you into the headspace of somebody much less fortunate than you in many ways. So, it was deeply humbling in that sense.
Q: Gwen's life is harsh even before her mother begins having epileptic fits and the animals start dying. It seems like the one light in her life is her younger sister, Mari. Did you have fun with Jodie Innes (the actress that portrays Mari) on set?
Worthington-Cox: She is a little ray of sunshine. I feel like we were very lucky to have that reflected in the film. We bonded so strongly. I see her as often as I can. Her older sister comes to stay with me sometimes too. We're so close with her family. To be able to bond with such an incredible young girl and to really try and nurture her and make her feel safe and supported on what could have been a bleak set, but ended up being one of the most incredibly fun projects I've ever been a part of, especially with a little six-year-old—she was six at the time—twerking and dancing and doing the splits between in-between takes, it's hard to be weighed down by the subject matter when you've got this ray of sunshine bouncing around you.
Q: You've also got a great chemistry with your onscreen mother played by Maxine Peake.
Worthington-Cox: She is a phenomenal woman and somebody I've always looked up to as a role model, so to be able to form such a special and complicated and really beautiful mother-daughter relationship with such a highly regarded actor, that was invaluable for me. I don't think there could have been anybody better for her part. She is an amazing person.
Q: This story is fictional but is it based on actual historical events?
Worthington-Cox: A lot of our story is true in the sense that it was a community being taken over by the mining companies and people trying to completely remodel the landscape and take away their ancestral homes. In that regard, it's true but actually Wales was a lot more accepting of witchcraft and folk stories and folk horror that was being practiced at that time. We took a lot of artistic license with that. I spoke a lot to Will about that in detail. Obviously, the fact that it's a young woman struggling to keep her family safe and alive in a community full of patriarchal standards and people pressuring them to sell their homes, that is very much true. So, we focused on that element.
When we premiered "Gwen" in Wales, we were absolutely humbled by the people at the screening who told us that we were telling the story of their ancestors—maybe not the exactly specific story of their life—but we were representing a part of their culture that hadn't been shown before on film. It made me cry because you see these people who have been through so much. Wales has such a rich culture that hasn't been explored on film before so to have that explored and be recognized for that, it was so precious to them. I have family from Wales so to even experience a six-week shoot and explore what it was like to live back then and to be part of a community that you didn't feel safe in, that was incredible.
Q: What are you working on now?
Worthington-Cox: My most recent project, "Britannia: Series 2," comes out this autumn. It's a Sky Atlantic series and I really can't wait for people to see it. (Season One aired in the U.S. on Amazon Prime Video. No announcement yet when Season 2 will premiere here.)