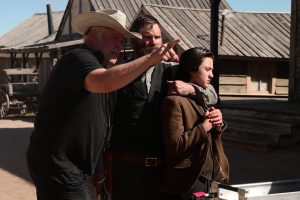 By ANGELA DAWSON
Front Row Features
HOLLYWOOD—Emmy nominated actor Vincent D'Onofrio headed back in time to the Old West to make his feature film directorial debut with "The Kid," about legendary outlaw Billy the Kid, but overlaid with a fictional account of a boy coming to terms with his own life choices.
The acclaimed actor turned to some of his high-powered friends—namely fellow "The Magnificent Seven" cast mates Ethan Hawke and Chris Pratt—to join him on that journey. Additionally, he cast Dane DeHaan ("The Amazing Spider-Man 2," "Kill Your Darlings") to play the charismatic but deadly outlaw. He cast rising star Leila George "Mortal Engines," "Mother, May I Sleep with Danger"), who also happens to be his daughter with one-time partner Greta Scacchi. Newcomer Jake Schur, who admires beat poetry and Daniel Day-Lewis, was cast as Rio, a boy who is forced to make a split-second decision to save a family member and then must face the consequences. D'Onofrio also has a cameo in the film as sheriff.
Shot on location in New Mexico, where the actual Billy the Kid and his band of bank robbers tried to outrun Sheriff Pat Garrett (played by Hawke) nearly 140 years ago, "The Kid" also tells the parallel story of a (fictional) 14-year-old boy and his few years older sister (George) who inadvertently crosses paths with Billy, shortly before he is taken into custody and escorted back to town to face justice. The siblings also are being pursued by their fearsome uncle (a heavily bearded Pratt), who is eager to dispense some frontier justice of his own. Young Rio has to decide whether he wants to follow the exciting but dangerous path of his hero or walk the path of righteousness.
On the eve of the film's release, D'Onofrio spoke by phone about directing and co-writing the film, which echoes similar themes he dealt with as a youth.
Q: Did making "The Magnificent Seven" a couple of years ago pique your interest in doing a Western, or is it something you've long wanted to do?
D'Onofrio: You could say that. I've always wanted to make a Western, if I was going to direct something. This is really a kind of coming-of-age story. The truth is that I wrote a western a couple of years ago, and it never really got off the ground, because it got tied up in "lawyer land." So, I started to think, because I'm getting older, I've been thinking a lot about my life when I was younger, and the kind of people that influenced my life—some not in good ways, and others in really great ways, especially the men.
I was pretty clear about the women that have influenced me, but the men were always a question, because I had a really good stepfather. He really kind of took me off the streets and did the right thing for me, but there were also other men in my life who I thought were really cool, free and kind of outlaw-ish, but the truth about them is that, in the end, they were leaving a path of destruction behind them. They were ruining their lives and other people's lives, and they weren't really free. They were caught up in their own kind of cage and could never escape stuff that stuff and put that past behind them. So, I thought that I should make a coming-of-age story, and put it in a time where there were kind of like outlaws that thought they were out there living free, but meanwhile, they were destroying people's lives. I took this kind of fictional character of Rio, a 14-year-old boy, and put him in the middle of these two factual characters, Billy the Kid and Pat Garrett, and let him learn from who they are, and how they're going to affect him.
Q: Did you work closely with your co-screenwriter, Andrew Lanham, to kind of build in that element of having these two parts: the young boy going the straight and narrow, or following the outlaw?
D'Onofrio: No. There was no script. I wrote all that down, and figured out how it was kind of to be structured in a loose kind of way. And then I had to find a writer that would join me on it, and actually write the screenplay, and work with me, sort it all out, so to speak, and that's when I was able to find Andrew, who's amazing, and he came in and looked into the pages, and we would talk, and he would deliver more pages, until we got the screenplay done, after two drafts or something. So, it started from a story, and then turned into a screenplay.
Q: When you were writing this, were you thinking about who would play these characters?
D'Onofrio: Dane DeHaan (who plays Billy the Kid) was the only one who came in later, but I always wanted Ethan (Hawke) to play Pat Garrett. If you're going to make a romanticized version from a young man's point of view of Pat Garrett, I thought, "There's nobody better than Ethan Hawke for that." And so he would have had a tough time getting away from me, to not play it. So, he said yes to it. And then I told Chris (Pratt) early on that I thought he should play a bad guy or something, and so I sent him (the script) when it was done, and he really loved it.
Then, I had to find a Billy the Kid, and not just any actor, I had to find somebody that would bring something unique to it, and would also fit into the way that I direct, and the way that I wanted to make the movie. I met Dane, and we had a nice Skype phone call after his baby was born. It was a really nice conversation. I immediately thought this guy is not only talented, but he's like a real human being. Ethan's like that too, and so is Chris. And so I thought this guy would be perfect to have with us. And then my daughter, Leila George is in it.
Q: Did you have her audition?
D'Onofrio: No. She's an actress in her own right. She already did the Peter Jackson film (Jackson-produced "Mortal Engines"), and then now she's doing (the TNT TV series) "Animal Kingdom." She's playing Ellen Barkin when she was a young girl. Leila's a good actress; she put us to shame, all of us guys. There were days where she would just come in and rock the set, and it was like, "Whoa, okay." She's the real deal, my daughter, and I'm very proud to say that.
Q: You have this young fellow, Jake Schur, making his feature film debut. What about him made you think he would be the right actor to play Rio?
D'Onofrio: When I met Jake, he was 11 years old, and he was reading (Charles) Bukowski. He had just seen "My Left Foot," and his favorite actor was Daniel Day-Lewis, and I'm like, "Okay, this kid is very interesting." I had to cast a young boy, and my mind kept going back to Jake. I had to ask his dad (producer Jordan Schur) if it was okay, and he said "yes." So, Jake came in, and he just watched Ethan, Dane, Chris, Leila and me. Like a sponge, he just absorbed this sense of how to be there with us, was totally open to my guidance, and he just pulled off this little performance.
Q: This is your feature directorial debut but you've worked with the greats, from Stanley Kubrick onward. Once you got to the first day of production, did it all feel like, "Well, this is what it's all been building to?" Did you feel you'd absorbed all the information you required from working with these filmmakers over the years?
D'Onofrio: I've been asked that question a few times, but you're the first one who's asked it correctly. That's exactly how I felt. I hadn't realized how much I'd been taught over the years, until I stepped into the shoes of a director. It suddenly all came to me like, "Oh, my God. These men and women have taught me so much," I got so excited. We only had 20 days to shoot it, but I had so much energy, and it felt like my mind was just at the top of its game. There was this giant realization that I actually knew how to make a movie. I always thought that I did, but then you're not there until you're there, and then you realize that everybody you've ever worked with—especially the good ones—have be teaching you. It was just pure joy. It's the only way to know that I've spent all this time around these people, and I wasn't even aware, really, of how much I was being taught, and then suddenly that realization.
Q: What to you was the biggest challenge for you with that tight shooting schedule and working out in the open air in New Mexico?
D'Onofrio: Getting our days. We got them and with time to spare. I brought it in under time. We were well-prepared. I had five weeks of prep. All my heads of my departments were brilliant. We'd go out there every day to the locations, and I would talk them through everything we were going to do. We wouldn't leave it alone till we realized that every one of us was confident that we could come in and do it. We didn't leave anything to chance. When it came to shooting, there were no surprises. We went in, we shot, we moved on. Just like that.
Q: I didn't recognize Chris Pratt at first under that bushy beard. It wasn't until later in the film that I realized it was him. You had a big, bushy beard in "The Magnificent Seven," so did you make sure he had one this time around?
D'Onofrio: Yeah, we traded beards.
Q: Was his character based on an actual person?
D'Onofrio: No, it's how I always saw the character. In my mind, I would never see Chris' face, I would just see Chris' back, and a coat, and a hat, and a beard, and this kind of dark negative energy rolling through the story. I talked to him about it so many times. You see him so little in the first scene, because I really wanted him to be this kind of negative force of nature, rather than, "Oh, ta-da! It's Chris Pratt." I wish I could have shown him even less for those first scenes, but I just couldn't.
Q: How did this work with your schedule, because you've got all these back-to-back shows?
D'Onofrio: You just got to get it in there. Somebody's going to get annoyed, but if you want to do it, you've got to do it. For the shooting, I was there full time. In post, I had Katie Mcquerrey, who edits the Coen brothers' movies, with me in the editing studio, but I was also shooting the Marvel show while we were doing that. So, I was able to spend a couple of hours here, sometimes whole days, and that's how we worked through the editing process.
Q: Speaking of the Marvel show, it's unfortunate they decided not to renew it for another season. Has there been a discussion of possibly making it into a movie at some point, where you can reprise your character, Wilson Fisk (a.k.a. the Kingpin)?
D'Onofrio: I don't know. I have a feeling I'm going to be the last to find out. It's always like that. I don't know what's going to happen to it. It was a shocker, and even more of a shocker when "The Punisher" and "Jessica Jones" got canceled as well. So, they must have some plan, but I just don't know what it is.
Q: How and why are Westerns relevant today?
D'Onofrio: Just the story, that the idea of the social comment, the idea of the humanity in the story, and it's the only that can attract anybody, whether you're a kid or not. It's about choice, it's about life, it's becoming who you want to be, trying to figure that out, who influenced you. That can be said in any genre. I know when I was young those kinds of stories made me think, they still do, and I wanted to. Sometimes I would see stories about bad boys and I wanted to be a bad boy, and sometimes I'd see stories about good people, and I wanted to be a hero. These things influence people and the reasons why they do them. That's why it's attractive to young people, I would imagine, but I can only go by what I was like when I was a kid.
Q: What movies have influenced you?
D'Onofrio: There are several of those that impact me, and not just one. For doing "The Kid," it was David Lean's "Oliver Twist," because it was in such a large movie in scope, but done in such a small way. The way that Lean blocks out scenes with the camera and creates drama is amazing in that movie. I had all "The Kid" cast watch it. So, that was the "spirit movie" for our movie. There are several movies like that that I watch occasionally. There are some like that that I repeat-watch because of the execution of them—the actors, the cinematography, the editing, the music. The combination of all those things syncing together and making a good film is, to me, an extraordinary thing to watch.
Q: What can you tell me about your new TV series, "Ratched?"
D'Onofrio: Ryan Murphy's show? Yeah, now were shooting. I can't really say much about that. I'm not allowed to talk about it, but I'm playing the governor of California in 1947. That's all I can say, and I'm working with amazing actors. We're just doing these really cool scenes. These women are so good, like Cynthia Nixon and Sarah Paulson. It's all going really cool.
Q: Would you like to direct another feature film?
D'Onofrio: I just put another film into development, another idea. Actually, we're looking for a writer. It's probably going to be a woman, a Mexican-American woman, who's going to write the next one. I'm in the search for her now, and the story's there, the structure's there. I'll have to have the same kind of relationship I had with Andrew for "The Kid." I'm also in "Godfather of Harlem" (about 1960's gangster Bumpy Johnson). I'm doing Ernest Dickerson's new show "Interrogation" in Albuquerque. So, I'm doing three shows right now.
"The Kid" is now playing in 360 theaters across the country.