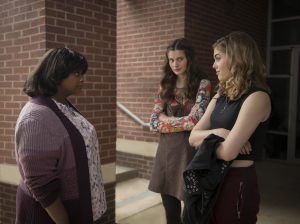 By ANGELA DAWSON
Front Row Features
HOLLYWOOD—It's an unseasonably cold and cloudy May afternoon in Los Angeles, inside a dilapidated century-old mansion which serves as the perfect backdrop to be interviewing up-and-coming actress Diana Silvers, who has two feature films coming out within a week of each other: Universal Pictures' "Ma," and Olivia Wilde's indie film "Booksmart."
Silvers, a statuesque beauty reminiscent of a young Julia Roberts, is a native Angeleno who grew up knowing she wanted to be an actress—even though she didn't hail from a show biz family. What ignited her interest in her chosen field was watching "What's Eating Gilbert Grape" as a youngster. Enthralled not only with the performances of Leonardo DiCaprio, Johnny Depp and especially Juliette Lewis, she also admired the story and how it moved her and made her think about her own interactions with others. She pondered how incredible it was that a film could affect people's emotions and attitudes, and she wanted to be part of an art form that could do the same.
Growing up in a large, musical family—all six kids in her family played an instrument; hers was the cello—Silvers sought to find her uniqueness. She went to drama camp and then enrolled in college but had to find a way to pay for her tuition because her family simply couldn't afford it, so she began modeling. After a year or so of college, though, Silvers dropped out to concentrate on her career. She landed a small part in "Glass" and then auditioned for "Ma," a psychological horror film starring Academy Award winner Octavia Spencer. Spencer plays against type as a lonely veterinary assistant who befriends a group of high school teenagers by buying them alcohol and inviting them to party in her basement in their rural town. Silvers plays Maggie, the new kid in down who, in trying to fit in with her new friends and ill-advisedly joins them on a ride that takes a dark turn.
Having impressed "Ma" director Tate Taylor, who co-wrote the film with Scotty Landes, Silvers was tapped for the filmmaker's next project "Eve," which he wrote a part expressly for her. In the critically acclaimed "Booksmart," in which she plays Hope, the hot, cool girl in high school who (SPOILER ALERT) has a fling with one of the lead nerdy girl characters.
The 21-year-old may be relatively new to acting, but she appears to have the poise and confidence of a young woman who knows what she wants and has the talent and determination to get there. She arrives for the interview, all five-feet-ten-inches of her (plus heels) in a peach-colored dress, and begins by discussing the history of the house (which was not in the film), seeing beyond its state of visible disrepair to its potential.
Q: This is a pretty spooky place to be doing your "Ma" interviews, isn't it?
Silvers: I think this house is gorgeous. It was built in 1905. I want to buy it one day and make it all cool and have Gatsby-esque parties here. Maybe by the time I can buy this house, it'll be the Roaring Twenties of the 21st century.
Q: How did you get your start?
Silvers: I moved to New York when I was 17 to go to college. I started to pursue a history major, minoring in film. I was at NYU/Tisch/the Stella Adler Studio for a year. It wasn't for me, so I left. That's when I started modeling.
I don't know how many people know this but NYU is an extremely expensive university. I'm one of six kids so my parents couldn't afford school for me. Modeling was my way of surviving/living—all that stuff. I'm extremely grateful that that was my way of making money. But I always wanted to be an actor. I met Trevor Adley (a talent manager) at Anonymous Content at the tail end of my sophomore year. I started working with him. I did a couple of self-tapes. It turned out that my acting was awful because I was a very "theatrical" actress at the time. But I was going to school and modeling to live. I auditioned for "Ma," and the rest is history.
Q: What was it about acting that appealed to you? Are your parents in the entertainment industry?
Silvers: No. My dad is a psychiatrist and my mother was an architect in Switzerland before she came here. She met my dad and they raised all of us while managing his practice. Being one of six kids, each of us played an instrument and we all played tennis. When I was a kid, my dad put me in theater camp at the Santa Monica Playhouse, and I just loved it. It was so much fun. It was nice to have something that was just mine because, at the time, no one else in my family was doing theater, or anything related to acting.
When I was 13, I saw "What's Eating Gilbert Grape," and that movie really changed my life. Especially Juliet Lewis' character in that—just to see how much her character showed empathy for Arnie (Leonardo DiCaprio's character). The thing I took away from that is that if this movie makes me feel this way and how I treat people in the world, I want to be part of that too. I want make movies that move people that way.
Film is such a large medium that reaches so many people and has the ability to make you look inside yourself and, hopefully, make you think and make you change something in a good way. That's what I want to do with my career—make movies/films, write and direct, and all that stuff that positively impacts people's lives.
Q: Do you think it's important for a movie like this, even if it's simply a horror movie, to have some meaning beyond entertainment?
Silvers: Movies aren't PSAs, per se. I don't think "What's Eating Gilbert Grape" is a PSA but how we internalize things is so individual that I'm sure what I took away from it, someone else didn't, but they took away something else from it that I didn't. That's what's so great—we see these things and connect with certain characters, or certain aspects of characters, and it makes us feel something. When you feel something strong enough, maybe you change something, or you do something, and that's what this whole thing is about. Even going to a movie like "Avengers," you go to just escape the annoying parts of real life and you're there just to have a good time, and that's a good thing.
Q: "Ma" is a cautionary tale for young people, like, don't talk to strangers…
Silvers: And be careful of what you post on social media.
Q: And don't bow to peer pressure. Your character is the new girl in town. She wants to make friends. She doesn't want to be the outsider, but she almost immediately gets pulled into this group of kids and they go on this journey and she becomes this unwitting victim…
Silvers: She definitely is a victim. (She laughs.)
Q: What did you like about playing Maggie, who's hip but still wants to fit in? Did you tell Tate how you wanted to play her?
Silvers: The great thing about Tate is that he cast us for us, for our instincts, how we auditioned. It was great that he trusted my instincts. We talked about my character and her relationship with her mother, Erika, who is played, of course, by the incredible Juliette Lewis. What drew me to her was that (Maggie) was a layered teenager. So often in films, teenage characters, in general, are written as tropes or stereotypes, so it was nice that Maggie was layered. Tate allowed me to play her layered and complex, and give her all of these little nuances that so often teenage girls have. Plus, the mother-daughter relationship is so special.
Q: How was it working with Juliette Lewis, one of your screen icons?
Silvers: She was wearing a Led Zeppelin t-shirt when I first met her and I said, "Oh, I love Led Zeppelin," and we clicked instantly. We were on location so we were together for a lot of the time. She's special and has such an enigmatic energy that is hard to stay away from.
Q: Octavia Spencer plays a character so unlike her previous kind-hearted, likable roles. She's scary but also very charming—at least, initially.
Silvers: Isn't that amazing? She does it so well. It's like she got to show everything she's capable of doing, and gave it even more. She's an extremely talented actor and she's just as charismatic off-camera. She's wonderful to work with and watching her work is like taking a Master class with one of the best. We were all lucky to have her as our mentor so early in our careers.
Q: What was it like in Ma's basement? Was it a set or was it an actual house in Mississippi, where you shot the film?
Silvers: Not to ruin the mystery, but there was this house in Natchez, and the garage they turned into the basement. They very cleverly cheated certain entrances and exits. We felt like we were in a basement because we had to go down these stairs inside the house to get into the basement area. Our set designer (Wright McFarland) did such a fantastic job. It felt like a basement to us. After being in there for a few hours, we'd go outside and say, "Argh, the light," like vampires.
Q: You're working with your "Ma" director again, right?
Silvers: Yeah. This past fall we shot "Eve." John Norris, Tate's producing partner, called me up and asked me if I was busy, and if I'd be interested in doing that film. He said, we might have a role for you but you'll have to fight for it, and I said, "Oh, you know I'll go for blood in those audition rooms." He said, "No, the role is yours but you'll have to be physically fighting." And I was like, "Ohhh! Well, you know I'm coordinated. I play tennis." (She laughs.) My character didn't exist in the original script, but Tate thought of me and so generously wrote me into this movie. And I got to work with even more legends (Jessica Chastain, John Malkovich), so I really feel so grateful for someone like Tate looking out for me and jump-starting my career.
Q: How do you feel about the trajectory of your career so far?
Silvers: I feel I've been pretty lucky to have "Booksmart" and "Ma" coming out within a week of each other, where I play very different characters in very different movies. Olivia Wilde directed "Booksmart" so beautifully. There are film roles I'd kill to do. I want to do a "Blue Valentine." I want to do a "Monster." I'd love to do a '70s music picture. I want to sing in a role. There's so much I want to do.
Q: You're also musically inclined. You play the cello and the guitar, right?
Silvers: Yeah, I play the bass guitar. I had too much free time last summer and just picked it up.
Q: I saw your YouTube video where you played a Fleetwood Mac song.
Silvers: Oh yeah, "Rhiannon."
Q: It sounded good.
Silvers: Thank you. I had way too much free time last summer. I wasn't working. I was just playing the bass in my tiny apartment. But there's so much I want to do. I want to write and direct in time. I hope I only do the stuff that I'm in love with and passionate about. So far, I've been so lucky to be part of stuff that I've been in love with—with great teams and great directors and great other actors. I just hope I continue to be as lucky. That's the hope.
Q: Are you writing anything now?
Silvers: Yeah. I wrote a short film. It's about 35 pages long. I'm starting to meet with financiers about it now. Hopefully, it'll get made. I'm writing a full-length script that's a '60s psychological drama, which hopefully at some point will get made. So, there's a lot I want to do and, hopefully, I'll be fortunate enough to do it all.
Q: What advice do you have for other young actors starting out in the business?
Silvers: Stay true to yourself; don't change who you are to fit the image you think is going to make it. I truly believe that if you're happy with that person and you do what makes that person happy and you follow that path, then everything's going to fall into place. I truly believe we get the roles we're meant to get at that time. If you didn't get it and someone else did, then it's the best day of their life—and that's wonderful. We all need to be supporting each other because there are enough roles for everybody. And, if there isn't, then write it for yourself.