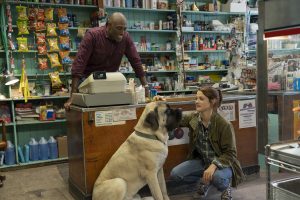 By ANGELA DAWSON
Front Row Features
HOLLYWOOD—Actress Kathryn Prescott didn't let on to her "A Dog's Journey" co-star Dennis Quaid that she and her twin sister, Megan, were obsessed with his version of "The Parent Trap" back when they were kids.
"We'd make our mum play it again and again," recalls the London-born actress. "So, when I got this (gig) and found out I'd be working with Dennis, it was kind of crazy."
The 27-year-old actress plays CJ, the only granddaughter of Ethan (Quaid), who takes in the little girl and her mother to live at his rural Michigan farm after his son dies in a car accident. However, tensions rise as the Gloria (Betty Gilpin) struggles with alcoholism, and eventually she takes the toddler and moves far away. Years later, a grown-up CJ (Prescott) returns to get to know the family she missed out on for years.
"A Dog's Journey" is the follow up to the 2017 sleeper hit, "A Dog's Purpose," each based on the popular W. Bruce Cameron novels. In it, a dog name Bailey (voiced by Josh Gad reprising his role from the original) is reincarnated over and over again. The dog, who returns as various breeds and genders, tries to fulfill its promise to Ethan that he will always protect CJ. Growing up with a neglectful mother, CJ struggles as a young adult with self-worth. She moves to New York to follow her dream of being a singer-songwriter, but suffers from stage fright. She finds encouragement from longtime friend Trent (Henry Lau) and unconditional love from a series of dogs that come into her life, who just happen to be Bailey at their core.
The perky, pixie-like Prescott says signing onto the film was a no-brainer. She's an avowed dog lover and felt it was high time for a movie centering on a girl and her dog—as opposed to the usual "boy-and-his-dog." She currently stars on the AMC Western "The Son," with Pierce Brosnan.
Q: Had you watched the original or read "A Dog's Journey" or "A Dog's Purpose?"
Prescott: I hadn't read the books yet, but I'd watched the first film. When I found out I got the part, I read "A Dog's Journey," the book, and the children's books versions. The book's darker.
Q: What was the appeal to you?
Prescott: I loved that it was the story of a girl and her dog. I feel like we've seen the story of a boy and his dog a hundred times. While some of those have been great, I feel like girls have dogs and dogs touch girls' lives, so I really liked that aspect of it. Even with Gloria (CJ's mom), who is painted in a very negative light, she does get her redemption. It's not just, "Oh, this person's an alcoholic so she's bad." It's more like, "This person is hurting so she's self-medicating," and she eventually works through it and asks for forgiveness.
Q: How was it working with Betty Gilpin, who plays your mom?
Prescott: I loved working with Betty. I'd watched her on "GLOW." I remember being very impressed; I think she's brilliant. When I found out I got the part, I was like, "Yay! Betty Gilpin's playing my mom." Though I loved working with her, we didn't get to work together that much. We don't have that many scenes together, which I think is indicative of the relationship that CJ and Gloria have. I was sad to not work more with Betty.
Q: Do you have a dog?
Prescott: I have an English bulldog called Marge. She's here today. You might see her walking around.
Q: Do you suspect dogs may be reincarnated?
Prescott: I've never thought it about with Marge. She's a rescue and I've only had her for two years. But she's eight so when I look at her I wonder, "Where were you before? What happened to you?" She has certain behaviors. She's like a puzzle that I'm trying to figure out.
Q: Did you have much time to rehearse with the animals you work with in this film?
Prescott: No. We didn't need it. The dogs were trained beforehand. I met them on the first day we shot with them. They were so eager to please and want to be around people giving them treats and giving them love that they were cool.
Q: Did you have pockets full of kibble while filming?
Prescott: Yes. (She laughs.) The costume designer kept reminding us that they had to wash our costumes in the evening so please take the bits of bacon out of the pockets. I tried to remember but sometimes I'd stick my hands in my pocket and go, "Ohhh!"
Q: How did this work out with your TV series schedule?
Prescott: We shot this after the TV show so it worked out pretty well.
Q: Did you audition for the role of CJ or did you send in a tape?
Prescott: I auditioned and then I auditioned again with Gail (Mancuso, the director). They asked me if I played any musical instruments and I said, "I've tried the drums once. But I could learn!" I was supposed to go to Tokyo and they wanted me to come back. It was like a big thing. But I did audition a few times before getting the part.
Q: You ended up learning to play guitar for the song you end up singing in the club, right?
Prescott: Yes.
Q: CJ suffers from acute stage fright. Were you scared at all to perform?
Prescott: I was right there with her. Eventually, that was the thing that made me feel better because I'm not a musician. I'm not a singer. I was never into musical theater; it was never really my thing. Plus, singing and playing guitar at the same time was daunting. But I knew (CJ) was terrified so it wasn't like I had to get up there and be this amazing performer.
Q: Has this warmed you up to the idea of singing?
Prescott: It definitely broke the seal. I have a very specific range so if I sang again, it would have to be something very specific for me.
Q: When did you shoot this?
Prescott: It was the beginning of August in Winnipeg (Canada), so it was very hot. And we finished it in October, when it was just starting to snow.
Q: How was it working with Dennis Quaid and Marg Helgenberger?
Prescott: It was great. I'm a twin, so my sister and I grew up watching "The Parent Trap," (with Quaid). I don't think I ever told him that I was a big fan of "The Parent Trap." And Marg was lovely. It was great working with both of them. Dennis had done the first one ("A Dog's Purpose") so he kind of knew what he was doing with the dogs, and so forth.
Q: How was it working with director Gail Mancuso?
Prescott: When I got the part, I felt very safe knowing it was Gail, firstly, but also because Gail is a woman, I felt there was an extra layer of safety about the story and the character. This is a story about a young girl growing up and dealing with the difficulties of that—not having the perfect parental support network she should have had. So, I felt an extra layer of safety with her. She handled the direction with so much sensitivity. She cared about the realism. She was very collaborative and always wanted to make me feel comfortable and do the most authentic version of the thing.
Q: These films are about how dogs fulfill their purpose in serving a human. But do you feel as humans we have a purpose for being here, or do you think it's all random?
Prescott: I was talking to a dog trainer, who was not involved in this film, and he was telling me a dog needs a purpose. Actually, he said, "a dog needs a job." They are animals that need to work, to do something. If they don't feel they have a purpose, they will find themselves a job. If they don't feel they have a job, they will feel lost and maybe rip up the couch or overtly protect that owner by being aggressive to other dogs. The same thing happens with humans. Maybe we are just an accident but in order to be happy and feel peace, we have to find a purpose, a job. I listen to "Hidden Brain" on NPR, and they talk about happiness and peace. You don't necessarily have to do volunteer work. They've talked with people who clean hospitals, and they go the extra mile and talk to patients and cheer them up. They find meaning in their job. Waiting around for meaning and purpose coming to you, is not the way to find peace.
Q: Is there a real Trent in your life, whose always there when you need him?
Prescott: I don't know if she's exactly my rock, because we haven't always gotten along, but my twin sister has been through everything I've been through my whole life, until we moved to different countries.
Q: She's not an actor, though, right?
Prescott: We started out acting together and then she found herself more interested in the writing side. She still acts occasionally, but she's much more into writing and comedy. She does stand up and she's hilarious. She lives in England.
Q: Do you get a chance to see each other that much?
Prescott: She has a visa to work here so she can come out to visit whenever she wants, and I go home at Christmas and during the summer every year. And we speak a lot on the phone.
Q: What are you working on now?
Prescott: I'm in post-production on a short film I directed. I also have the TV show, "The Son," which the second season just started on AMC. I play a German slave who was captured by a Native American tribe. That's one time period. The other time period stars Pierce Brosnan who first discovered oil in Texas. So, it flips between him as a child and him as an adult. We're shooting in Austin.
Q: What's your favorite film that you enjoy watching over and over again?
Prescott: There's a film called "Mary and Max." It's a stop-motion animated film about a young girl in Australia who is a pen pal with a Jewish guy in New York. He's overweight and doesn't really leave his apartment. He has social anxiety. The girl has a mother who doesn't care about her. And they become friends. I really love that film. It's the same people who did the "Harvie Krumpet" short film.