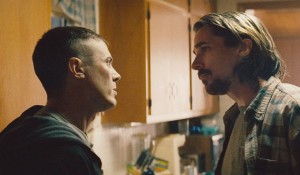 By ANGELA DAWSON
Front Row Features
HOLLYWOOD—Christian Bale and Casey Affleck play brothers struggling to survive in a dying Pennsylvania steel town, who face an even bigger threat when one of the siblings crosses a local crime boss (played by Woody Harrelson).
Bale plays Russell Baze, a hardworking steelworker at the local mill. After an unfortunate deadly traffic accident, he winds up in prison. His younger brother Rodney (Affleck) has returned home after serving four tours of duty in Iraq, but he can't seem to fit back in, so he chooses to make ends meet by betting on the horses and competing in bare-knuckle fistfight competitions. That's where he meets the vicious sociopath Harlan DeGroat (Harrelson), who doesn't appreciate Rodney's independent minded ways.
When Rodney disappears shortly after his brother's release from prison, Russell descends into a corrupt and violent world seeking answers, and he'll stop at nothing to bring his brother home.
Bale, best known for his role as the caped crusader Batman in the Christopher Nolan films, and Affleck ("The Assassination of Jesse James by the Coward Robert Ford") recently spoke about playing siblings in the Scott Cooper-directed drama.
Q: Shooting on location in Pennsylvania steel country, how did that inform the story, your characters and performances?
Bale: It obviously helped so much being on location. It's the difference between performing for the rectangle of the camera versus a world being created and the world that finds things within that. There's a huge difference in that because what it takes away is performance. You don't feel like you're performing; you're just doing it and you're existing.
Affleck: I think he summed it up pretty well. Especially a place like where we were, which has a real story, just in the way it looks —to see a place that was once one thing and is now something else. It has a lot of atmosphere. If there's a lighting set-up that takes 20 minutes, you can go into another room and you're not just staring at the back of a bunch of plywood, you're actually in another room in your own house where you're supposed to be. It helps ground you.
Bale: That being said, you need the right environment, and Scott (Cooper, the director) creates that environment.
Q: Casey, your character is so conflicted and likely suffering from PTSD. Was there any special preparation you did to play a returning vet?
Affleck: Not anything special. But I did some preparation that starts with reading the script over and over and trying to absorb it, and then talking to Scott a lot about where he's coming from because it's not really a part of the movie. It doesn't delve into (my character's history) too much, which is good. Then I watched some documentaries, things like that. I talked to some veterans and just tried to piece together an experience of what that might be like for somebody.
Q: What did you find out?
Affleck: These (American soldiers) in these wars have done more tours than the average soldier in other wars. They're careerists. They spend a lot of time over there with a constant level of anxiety. Some of them come back with post-traumatic stress disorder and depression. They're frustrated, alienated and feel like people don't want to hear what their experiences were and how lonely that can feel. (As an actor), you have to just forget about that stuff and just be in the living room. You just hope that all that stuff imbues whatever moment you're in and not try to bring it to every little scene because you don't carry around your history in that way. It's just background noise, and you hope whatever research you've done bubbles up to the surface at the right time when you're playing a scene. It can be an argument about a beer and then suddenly you're sharing some experience that you weren't even planning on sharing. You just hope that you've done the work so in the right moment it clicks and makes sense.
Q: Did you two know each other before this? Did you do anything to develop that brotherly dynamic?
Bale: Not really. It just happened. Even though Scott and I had been saying, "We want Casey for the role," and there were a lot of conversations about that. Scott and I were eventually saying, "We're not doing it without Casey." I didn't actually meet Casey until we were doing a camera test in Pittsburgh a couple days before we started. All of the prison stuff was done in two days. The very first two days of filming we did all of that prison sequence stuff, so we just got thrown in the deep end, which was nice. That was it. It just happened. Casey's a ******* great actor and he was wonderful to work off of.
Affleck: (with mock surprise) We spent weeks and weeks together. (He laughs)
Bale: I forgot all of it. I was just blasted off my head. Sorry, mate, I just forgot.
Affleck: It was like what he said. It's awkward to say it because he's sitting right there, but I think he just makes everyone better around him and is an anchor of reality. If someone's in a scene with you and they're listening to what you say and they're looking at you in that way, then you're having a real conversation and the whole thing feels a little bit more real in some way. I would have to attribute whatever apparent chemistry there is or relationship there is to that. Those first couple days in the prison were hard for me. It's always hard to get right into something and I'm usually terrible the first week. So on the very first day or two, we're doing those scenes. Christian was very patient.
Q: Christian, what was it like to tangle with Woody Harrelson?
Bale: I respect Woody greatly. The things that happened on this film were just very organic. That whole piece, I viewed it as hunting a deer. It was like that. (SPOILER ALERT) (My character) wanted to inflict the most amount of pain he could upon this person before finishing him. He wanted to see him struggle. We know he's good with a rifle. And then it's almost like a mercy kill in some ways by the end … but really satisfying. (He laughs.)