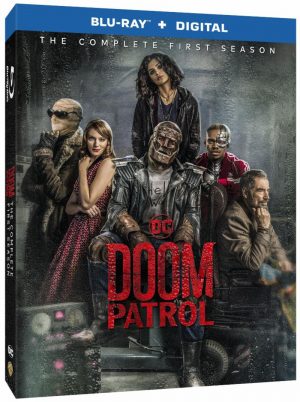 By JAMES DAWSON
Front Row Features
HOLLYWOOD—The new home video release of the DC Universe video-on-demand series "Doom Patrol" includes all 15 season-one episodes, plus unaired scenes and a gag reel.
Inspired by the DC Comics series first published in 1963, "Doom Patrol" chronicles the bizarre adventures of a group of variously powered misfits who don't fit the standard definition of superheroes. Think Marvel's X-Men (who debuted in print three months later), except weirder and much more surreal. Both comics even used the same slogan: "The World's Strangest Heroes."
The team members here are Robotman (Brendan Fraser) Negative Man (Matt Bomer), Elasti-Woman (April Bowlby) and the multiple-personality Crazy Jane (Diane Guerrero of "Orange Is the New Black"). Onetime 007 Timothy Dalton plays the team's wheelchair-bound leader Niles Caulder (who preceded the X-Men's wheelchair-bound leader Professor X). Dropping in from DC's Justice League is Cyborg (Joivan Wade), and the primary villain is the genuinely odd-looking CGI character Mr. Nobody (Alan Tudyk).
The main inspiration for the series is writer Grant Morrison's ground-breakingly absurd run on the comics from 1989 to 1993. The characters are brought to life with movie-quality special effects. (Elasti-Woman's shape-changingly blobby body is particularly impressive.) One flaw is the show's pointlessly frequent overuse of the "F" word, which comes off like an annoying attempt to differentiate the series from its mainstream DC Comics cousins on broadcast TV network The CW.
"Doom Patrol" has been renewed for a second season, and will be back in 2020.