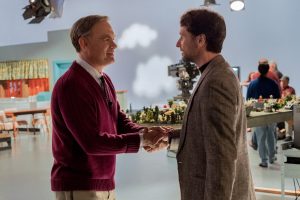 By ANGELA DAWSON
Front Row Features
Anyone planning to see "A Beautiful Day in the Neighborhood" in the theater expecting an uplifting holiday treat might want to look elsewhere. The much-ballyhooed film starring Oscar winner Tom Hanks ("Forrest Gump," "Philadelphia") as the beloved children's show host Fred Rogers a.k.a. Mister Rogers of the longrunning PBS TV series "Mister Rogers Neighborhood" will be disappointed that the film isn't really about Rogers. Rather, it tells the story of jaded magazine writer Lloyd Vogel (played by "The Americans" star Matthew Rhys), who is assigned to write a short profile piece about the iconic TV show host. He is hand-picked for the assignment by his editor after none of the other subjects of the magazine's scheduled "heroes" issue will agree to speak with him because his previous articles have focused on his subjects' negative characteristics.
When Vogel travels from New York to Pittsburgh to interview Rogers (for a mere 400-word piece!), the affable host turns the tables, asking the clearly troubled journalist questions about himself in his gentle folksy way.
As it turns out, Vogel has issues galore, starting with a long estrangement from his father (played by Chris Cooper) who bailed out on the family years earlier just as his wife was dying, leaving it to young Lloyd to watch his mother's painful end. He also is suffering from sleep-deprivation due to the recent arrival of his baby son. As a somewhat older first-time dad, Vogel struggles with how to parent, especially because his own father wasn't around to teach him the basics. He dives into his work instead, ignoring the needs of his wife (played by Susan Kelechi Watson), who dutifully has set aside her own career to take care of her newborn. When the couple ventures out to attend Vogel's sister's third wedding, things go awry as father and son get into a physical altercation at the reception.
While Vogel's story may be somewhat interesting—it's loosely based on the true story of journalist Tom Junod's experience in interviewing the icon—it takes away from what viewers are expecting from this film: a story about Rogers. What they have to settle for are occasional personal revelations about his shortcomings from Rogers, his dedicated TV show staff and his wife, who try to explain his unique, always-friendly-to-everyone attitude. But a little more insight into who this man was, and how he managed to inspire so many generations of fans, would have been welcome. Rogers died in 2003. His show, aimed at preschoolers was broadcast from his hometown of Pittsburgh from 1968-2001.
While Hanks, like Rogers, has a reputation as an all-around nice guy, and probably seemed—on paper—like the perfect choice to portray the children's TV show host, his charm doesn't quite match the wholesomeness that Rogers demonstrated on the small screen for decades. Director Marielle Heller, who previously helmed 2015's coming-of-age drama "A Diary of a Teenage Girl," goes overboard on the close-ups of Hanks' face, holding on shots for painfully long periods, to the point where Hanks' visage appears even creepier than it did in the not-very-well rendered animated feature "The Polar Express," in which he gave voice to several characters all resembling him. It's clear that Heller wanted to create an "It's a Wonderful Life"-type timeless story about redemption with Hanks cast as the Clarence-type character and Rhys in the James Stewart/George Bailey role. But Heller, unfortunately, is no Frank Capra.
"A Beautiful Day in the Neighborhood" feels more like a cheesy Hallmark Christmas cable TV movie, with little depth and generating little empathy for its main characters. For audiences looking for some insight into who Fred Rogers was and what made him tick, a better viewing choice would be the 2018 Morgan Neville documentary "Won't You Be My Neighbor?"
Grade: C-