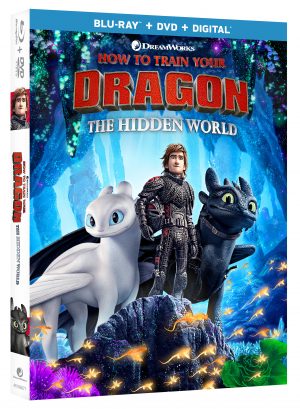 By ANGELA DAWSON
Front Row Features
Movies
How to Train Your Dragon: The Hidden World
Nearly a decade after the first movie wowed audiences around the world, Hiccup and Toothless return to captivate fans with an adventure of a lifetime in DreamWorks Animation's "How to Train Your Dragon: The Hidden World." The final quest from Dean DeBlois' ("Lilo & Stitch," "How to Train Your Dragon" trilogy) arrives on 4K Ultra HD, Blu-ray, DVD, and On Demand Tuesday May 21, from Universal Pictures Home Entertainment. The visually stunning animated feature also is available now on Digital and via the digital movie app Movies Anywhere.
What began as an unlikely friendship between an adolescent Viking and a fearsome Night Fury dragon has become an epic trilogy spanning their lives. In this next installment, the heroic pair finally fulfill their destinies; Hiccup (Jay Baruchel) as the village chief and ruler of Berk alongside Astrid (America Ferrera), and Toothless as the dragon leader of his own kind. As the Vikings and dragons of Berk face their darkest threat yet, the evil Grimmel (F. Murray Abraham), and Toothless discovers his soulmate, Light Fury—the bonds of Hiccup and Toothless' friendship are tested like never before.

The all-star voice cast behind all of the beloved characters from the previous films returns with Baruchel ("The Sorcerer's Apprentice," "This Is the End"), Ferrera ("Superstore," "The Sisterhood of the Travelling Pants" movies), Cate Blanchett ("The House with a Clock in Its Walls," "Ocean's Eight"), Gerard Butler ("300," "The Bounty Hunter"), Abraham ("Isle of Dogs," "The Grand Budapest Hotel"), Kit Harington ("Game of Thrones"), Craig Ferguson ("Brave"), Kristen Wiig ("Despicable Me 3," "Ghostbusters"), Jonah Hill ("The Lego Movie" franchise, "21 Jump Street") and Christopher Mintz-Plasse ("Trolls," "This is the End").
The 4K Ultra HD, Blu-ray, DVD and Digital versions feature over an hour of exclusive behind-the-scenes bonus content including an alternate opening, two DreamWorks animated shorts, deleted scenes and more.

To mark the film's global 4K Ultra HD, Blu-ray and DVD release, Universal has partnered with Facebook and Messenger to debut two exclusive adorable Night Lights (baby dragons) to train and an awe-inspiring in-store Augmented Reality (AR) experience. In pack, fans can unlock an exclusive code that reveals your very own Night Light that you can hatch, train, and send on adventures within the popular Dragon Pets Instant Game available on Facebook and Messenger. Additionally, participating retailers around the world will unveil in-store displays that trigger an exciting AR adventure bringing Toothless and Light Fury to flight. Both the in-home and in-store experiences are compatible with iOS and Android devices, and users should download the latest version of the Facebook and Messenger apps.
Isn't it Romantic
Don't miss a rom-com for the lovers and the haters when "Isn't It Romantic" arrives Tuesday May 21 on Blu-ray Combo Pack, DVD and Digital.
From New Line Cinema comes the romantic comedy "Isn't It Romantic," starring Rebel Wilson ("How to Be Single," the "Pitch Perfect" films), Liam Hemsworth (the "Hunger Games" films), Adam Devine ("The Intern," the "Pitch Perfect" films) and Priyanka Chopra ("Quantico," "Baywatch"). The film is directed by Todd Strauss-Schulson ("A Very Harold & Kumar 3D Christmas," "The Final Girls"). Strauss-Schulson directed "Isn't It Romantic" from a screenplay by Erin Cardillo, Dana Fox and Katie Silberman, story by Cardillo.
Wilson stars as Natalie; alongside Hemsworth as Blake, a handsome client; Devine as her co-worker and earnest best friend, Josh; and Chopra as Isabella, a model and self-proclaimed yoga ambassador.
"Isn't It Romantic" will be available on Blu-ray Combo Pack and DVD. The Blu-ray Combo Pack features a Blu-ray disc with the film and special features in hi-definition, a DVD with the film in standard definition and a Digital version of the movie.
"Isn't It Romantic" will also be available on Movies Anywhere. Using the free Movies Anywhere app and website, consumers can access all their eligible movies by connecting their Movies Anywhere account with their participating digital retailer accounts.
Fans can also own "Isn't It Romantic" via purchase from digital retailers.
Bosch: The Garden of Dreams
The powerful documentary "Bosch: The Garden of Dreams" is available now on DVD and Digital, from Film Movement.
A mystery within a mystery, the painting "The Garden of Earthly Delights" is the most famous and intriguing work by Early Netherlandish painter Hieronymus Bosch. An artist who is as much as an enigma as his highly symbolic and detail-rich paintings, the art world celebrated his 500th anniversary in 2017.
Now, through unique exclusive access granted by the Prado Museum—such as witnesses the processes of X-raying and restoring the painting— "Bosch: The Garden of Dreams" from director Jose Luis Lopez-Linares seeks to answer centuries-old questions about the painter and his famous painting, as well as to explain the inspiration both have had on artists, writers, philosophers and musicians through the centuries. Interviewees include Orhan Pamuk, Salman Rushdie, Renee Fleming, William Christie, Philippe de Montebello, Ludovico Einaudi and John Eliot Gardiner.
The DVD is available for a suggested retail price (SRP) of $24.95. It also is available digitally on iTunes, Amazon and Vudu.
Nina
The provocative drama "Nina" is available now on Digital and DVD, from Film Movement.
Struggling in her marriage and yearning for change, Nina (Julia Kijowska, "United States of Love") longs to have a child but is unable to conceive. Multiple failed attempts have left her disillusioned and at a breaking point, but an accidental encounter with Magda (Eliza Rycembel, "The Innocents") renews her hope. Young and independent, Magda catches the eye of Nina's husband, Wojtek (Andrzej Konpka, "The Lure"), as a possible solution to their pregnancy problem.
While Wojtek fails to catch Magda's eye, his attempts to enlist her as a surrogate create an unanticipated result, and Nina also becomes ensnared by thoughts of Magda. As her thoughts shift from surrogacy to a more intimate curiosity, Magda awakens a repressed desire in Nina, causing her life to suddenly and unexpectedly spiral out of control. When their situation comes to a head, each must decide who they will be in the future and what they will leave behind—and at what cost.
"Nina" marks the feature film debut of Polish director Olga Chajdas.
The DVD, which retails for $24.95, includes a bonus short film, "Social Butterfly," directed by Lauren Wolkstein, about a 30-year-old American woman who sneaks into a teenager's party in the South of France to a surprising encounter.
TV Shows
13 Reasons Why: Season 2
Experience the provocative second season of one of the most talked about shows on television when the groundbreaking "13 Reasons Why: Season 2" arrives on DVD Tuesday May 21, from Paramount Home Media Distribution.
Season Two picks up in the aftermath of Hannah's death and the start of our characters' complicated journeys toward healing and recovery. Liberty High prepares to go on trial, but someone will stop at nothing to keep the truth surrounding Hannah's death concealed. A series of ominous Polaroids leads Clay and his classmates to the discovery that Hannah wasn't the only one to suffer at the hands of Liberty's elite. When the whole truth is exposed, no one is spared the consequences. The 4-DVD set includes all 13 episodes.
Enter now for your chance to win one of two highly anticipated home video releases! Front Row Features is giving away a copy of "How to Train Your Dragon: The Hidden World" on Blu-ray/DVD Combo Pack to one lucky reader and a copy of "13 Reasons Why: Season Two" on DVD to two lucky readers. To enter the contests, simply email socalmovieeditor@aol.com by May 27 with the title of which release you want to win in the subject line. Good luck!