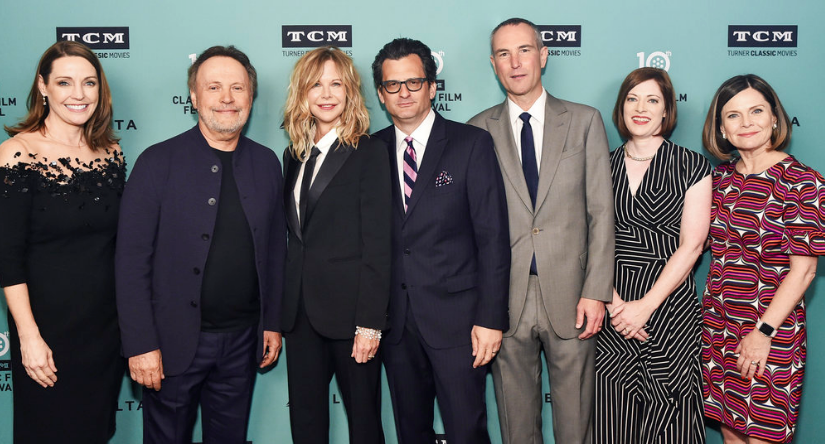 By ANGELA DAWSON
Front Row Features
HOLLYWOOD—The 10th annual TCM Classic Film Festival kicked off opening night of Thursday April 11, with a 30th anniversary screening of "When Harry Met Sally…" with stars Billy Crystal and Meg Ryan and director/producer Rob Reiner in attendance. TCM also honored its founder Ted Turner in a special salute marking the network's 25th anniversary.
Prior to the screening at the historic TCL Chinese Theatre (former Grauman's Chinese Theater), the cast and filmmaker spoke with moderator Ben Mankiewicz before a packed theater about working together, shooting the iconic "I'll have what she's having" scene and their enduring friendship. https://www.youtube.com/watch?time_continue=4&v=q4DkhGY1ddM
Additionally, Reiner spoke about shooting another memorable scene where Crystal's character (Harry) is on the phone with Bruno Kirby's character and Ryan's character (Sally) is on the phone with Carrie Fisher's character, and how it was more complicated to shoot than viewers might imagine. He revealed that they rehearsed it "like crazy" because it was like creating a piece of music. If anything went even slightly wrong during a take, they would have had to shoot it again. Crystal and Ryan also recalled how a bird in the sound stage rafters messed up the 56th take, and they had to shoot it yet again until it was exactly right. https://www.youtube.com/watch?v=65_GPiBhMlI&feature=youtu.be
On Friday, the multi-talented Crystal, an Emmy and Tony winner, returned to the TCL Chinese Theatre forecourt to be honored with a hand and footprint ceremony.
The 10th TCM Classic Film Festival continues through Sunday in Hollywood, California. More information about the festival can be found at http://filmfestival.tcm.com/