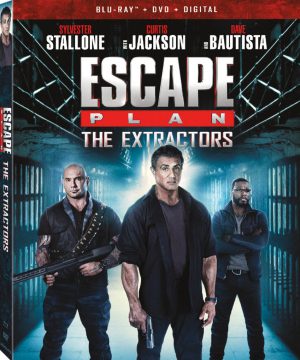 By ANGELA DAWSON
Front Row Features
Movies
Escape Plan: The Extractors
Sylvester Stallone stars in the action-packed thriller "Escape Plan: The Extractors," arriving on Digital 4K, Ultra HD, Blu-ray Combo Pack (plus DVD and Digital) and DVD Tuesday July 2, from Lionsgate.
The three-time Academy Award nominee reprises his role as security expert Ray Breslin, who is hired to rescue the kidnapped daughter of a Hong Kong tech mogul from a formidable Latvian prison, when his girlfriend also is kidnapped. He and his team must now pull off a daring rescue mission to confront their sadistic foe and save the hostages before time runs out. The film also stars Dave Bautista ("Guardians of the Galaxy," "Spectre"), Jaime King ("Sin City," "White Chicks") and Curtis "50 Cent" Jackson ("Get Rich or Die Tryin'").
The "Escape Plan: Extractors" Digital 4K Ultra HD copy, Blu-ray and DVD all include an audio commentary with director John Herfeld, Stallone, Devon Sawa and Daniel Bernhardt, as well as the featurette "The Making of 'Escape Plan: The Extractors,'" which features never-before-seen cast and crew interviews that explain what it took to make the film. The Blu-ray Combo Pack and DVD will be available for the suggested retail price (SRP) of $24.99 and $19.98, respectively.
Styx
The gripping high seas thriller "Styx" sets sail onto DVD and Digital Tuesday July 2, from Film Movement.
Emergency room doctor Rike (Susanne Wolff) leaves behind her everyday life to fulfill a long-held dream: a solo crossing of the Atlantic. But when she boards the Asa Gray, her gleaming white sailboat, in Gibraltar, she has no way of knowing the troubles or personal transformations that await her on the open seas. Following a rough storm, she happens upon an overloaded, damaged boat teeming with dozens of refugees.
When emergency calls to the Coast Guard and nearby commercial vessels go unreturned and rescue seems unlikely, she's forced to take matters into her own hands.
Aptly named after the mythological river that separates the living from the dead, "Styx" is an astute modern day parable of Western indifference in the face of marginalized suffering. Carrying practically the entire film, Wolff convincingly portrays a woman pushed to her physical, psychological and moral limits. It is in English and German, with English subtitles.
Extras include a commentary by Wolff and director Wolfgang Fischer as well as a bonus short film called "Ashmina," in which a Nepali girl finds herself torn by her obligation to her family and the influence of foreign visitors in her impoverished country. The 16-minute film is directed by Dekel Berenson in Nepali with English subtitles.
Deadsight
RLJE Films will release "Deadsight" Tuesday July 2, on DVD, On Demand and Digital HD.
Directed by Jesse Thomas Cook ("Monster Brawl") and written by Liv Collins ("Polished") and Kevin Revie ("To Hell with Harvey"), the film stars Collins, Adam Seybold ("Let Her Out") and Ry Barrett ("The Demolisher").
Mara Madigan (Collins) is a pregnant police officer about to go on maternity leave. But on her last day on the job, she wakes up to a world ravaged by a nightmarish and bloody plague of the living dead. Amidst the chaos and violence, she finds Ben Neilson (Seybold), a man who is virtually blind, helpless, and has a mystery shrouding his past. Somehow these two must put their heads together and find a way to safety to escape this living hell.
RLJE Films will release "Deadsight" on DVD for an SRP of $27.97.