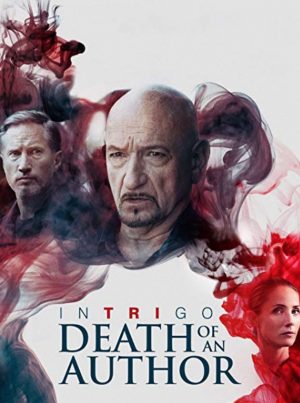 By ANGELA DAWSON
Front Row Features
Movies
Intrigo: Death of an Author
The mysterious thriller "Intrigo: Death of an Author" arrives on Blu-ray and DVD Tuesday March 17, from Lionsgate.
After an author named David plots the seemingly accidental murder of his wife, her body is never recovered, and he's convinced that she's still alive. Meanwhile, as David translates the final novel by a writer who also died mysteriously, he finds himself attracted to the man's sultry widow. Fact or fiction, life or death, in this tale nothing is certain.
From Daniel Alfredson, the director of "The Girl Who Played with Fire" and "The Girl Who Kicked the Hornet's Nest," comes this mysterious thriller starring Academy Award winner Ben Kingsley ("Gandhi").
Based on the novel by international bestselling author Hakan Nesser, "Intrigo: Death of an Author" includes the featurettes "The Making of 'Intrigo'" and "A Portrait of Hakan Nesser." The Blu-ray will be available for a suggested retail price (SRP) of $21.99 and the DVD will be available for $19.98 (SRP).
The film currently is available On Demand.
Jumanji: The Next Level
Return to the mysterious and sprawling world of "Jumanji" with Dwayne Johnson ("Fast & Furious Presents: Hobbs & Shaw"), Jack Black ("Goosebumps"), Kevin Hart (Ride Along) and Karen Gillan (Avengers: Endgame) when "Jumanji: The Next Level" comes to 4K Ultra HD, Blu-ray and DVD Tuesday March 17, from Sony Pictures Home Entertainment. The action adventure also is available on Digital now.

Helmed by Jake Kasdan, who previously helmed "Jumanji: Welcome to the Jungle," "Jumanji: The Next Level," earned more than $700 million at the global box office, bringing the fan-favorites back into the game, along with Jumanji newcomers Awkwafina ("The Farewell"), Rory McCann ("Game of Thrones") with Danny Glover ("Sorry to Bother You") and Danny DeVito ("Dumbo").

"Jumanji: The Next Level" catches up with Spencer (Alex Wolff), Fridge (Ser'Darius Blain), Martha (Morgan Turner) and Bethany (Madison Iseman) three years after their first adventure in "Jumanji's" mystical video game world. When Spencer goes missing inside the game ahead of the group's planned reunion from college, his friends, along with his grandfather (Danny DeVito) and his grandfather's friend (Danny Glover), once again inhabit the avatars of Dr. Bravestone (Dwayne Johnson), "Mouse" Finbar (Kevin Hart), Professor Sheldon Oberon (Jack Black) and Ruby Roundhouse (Karen Gillan) to rescue him. As they return to Jumanji, they discover that nothing is as they expect. With more action and surprises, the players will have to brave parts unknown and unexplored, from the arid deserts to the snowy mountains, in order to escape.

The bonus materials for "Jumanji: The Next Level" include a gag reel, several behind-the-scenes featurettes, in-depth scene breakdowns, a new jingle and more! The 4K Ultra HD, Blu-ray and DVD also include a fully interactive collectible map that employs Augmented Reality to bring Jumanji to life via smart phone. The experience provides up to ten minutes of game play and allows users to create their own 8-bit Avatar, navigate a series of mini games and more.

Richard Jewell
What is reported as fact obscures the truth when "Richard Jewell" arrives on Blu-ray, DVD Tuesday March 17, from Warner Bros. Home Entertainment. Directed by legendary filmmaker Clint Eastwood, "Richard Jewell" is based on the true story of the 1996 Atlanta Games bombing.
"Richard Jewell" tells the story of the security guard who discovers a bomb at the Olympics event and takes swift, heroic action, saving countless lives. But in a turn of events, he becomes the FBI's number one suspect, vilified by the press and public alike.
The film stars Oscar winners Sam Rockwell ("Three Billboards Outside Ebbing, Missouri," "Vice") as Watson Bryant and Kathy Bates ("Misery," "American Horror Story") as Richard's mom, Bobi. The film also stars Jon Hamm ("Baby Driver," "Mad Men") as the lead FBI investigator, Olivia Wilde ("Life Itself," "The Lazarus Effect") as local news reporter Kathy Scruggs and Paul Walter Hauser ("Late Night," "I, Tonya") as Richard Jewell.
Oscar winner Eastwood directed from a screenplay by Oscar nominee Billy Ray ("Captain Phillips," "The Hunger Games"), based on the "Vanity Fair" article "American Nightmare: The Ballad of Richard Jewell" by Marie Brenner.
The Blu-ray edition includes a making-of featurette as well as the real story of Richard Jewell. The DVD contains only the Jewell featurette as the bonus feature. The Blu-ray and DVD has a Digital version of the movie.
"Richard Jewell" will also be available on Movies Anywhere. Using the free Movies Anywhere app and website, consumers can access all their eligible movies by connecting their Movies Anywhere account with their participating digital retailer accounts. Fans can also own "Richard Jewell" via purchase from digital retailers now.
The Blu-ray will be available for $19.99 (SRP) and the DVD edition will be available for $17.99 (SRP).
While You Live, Shine
The fascinating documentary "While You Live, Shine" arrives on DVD and Digital Tuesday March 17, from Indiepix Films.
Award winning filmmaker Paul Duane ("Best Before Death") seeks to find out why we make music with this sonic and visual documentary about Grammy Award winning producer and musicologist Chris King. King is a legend who is regarded as the most obsessive collector of old 78 records living today. He's also the only one adept at using modern technology to unlock their secrets and remaster them for a 21st century audience.
For years, King has lived in a world of nostalgia, listening to music from a distant past. However, while in Istanbul in 2009, he picked up a few old LPS and heard music unlike he'd heard before–he could only describe them as "dissonant instrument played with an uncontrolled abandon," which hailed from Epirus, a remote region straddling northwestern Greece and southern Albania. It was this stunning discovery of the raw folk music he believes connects us with our most ancient ancestors that would transform his life.
"While You Live, Shine" is an introduction to some of the most hypnotic and beautiful music you've never heard, and an immersive trip into an isolated and half-forgotten land in this portrait of a man who has belatedly found his spiritual hoe on the other side of the world.
The DVD and Digital are available for $24.95 (SRP).