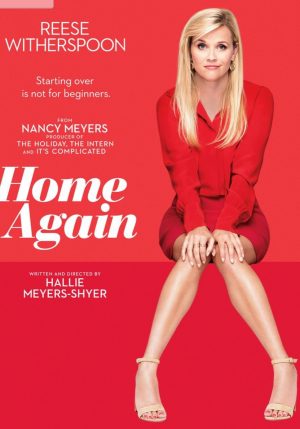 By ANGELA DAWSON
Front Row Features
Academy Award winner Reese Witherspoon ("Walk the Line") stars in "Home Again," arriving on Blu-ray, DVD and On Demand Tuesday Dec. 12. The comedy, from Universal Pictures Home Entertainment, also is available now on Digital.
Witherspoon plays a woman navigating life as a newly separated mother of two, who allows a trio of young men to move into her guest house. Alice's unlikely new "family" and a budding romance comes to a crashing halt when her ex-husband shows up, suitcase in hand. A story of love, friendship and the families people choose to create. Produced by Nancy Meyers ("Something's Gotta Give," "The Holiday"), and directed by her daughter, Hallie Meyers-Shyer, "Home Again" is filled with a supporting cast that includes Michael Sheen ("Midnight in Paris"), Lake Bell ("What Happens in Vegas"), Nat Wolff ("The Fault in Our Stars"), Pico Alexander ("A Most Violent Year"), Jon Rudnitsky ("Saturday Night Live") and Candice Bergen ("Miss Congeniality," "Murphy Brown").
The box set features a bonus commentary with Meyers and Meyer-Shyer, the producer and director, respectively.
Another film starring Reese Witherspoon also is available starting Tuesday Dec. 12. Alexander Payne's caustically funny "Election," a biting satire of political hubris set at an Omaha high school, joins the Criterion Collection in an edition featuring a new, restored 4K digital transfer and new interviews with Payne and Witherspoon.
Perky, overachieving Tracy Flick (Witherspoon) gets on the nerves of history teacher Jim McAllister (Matthew Broderick) to begin with, but after she launches her campaign for high-school president and his personal life starts to fall apart, things spiral out of control. McAllister becomes unhealthily obsessed with cutting his student down to size, covertly backing a spoiler candidate to stop her from steamrolling to victory, and putting in motion a series of dirty tricks and reckless promises with uncanny real-world political parallels.
Adapting a then-unpublished novel by Tom Perrotta, Payne grounds the absurdity of his central dynamic in the recognizable—the setting is his hometown, and the accomplished cast of actors is rounded out with nonprofessionals—and distills his closely observed take on deeply flawed humanity to its bitter but stealthily sympathetic essence in this 1999 classic satire.
Politics get even uglier in Barbet Schroeder's "General Idi Amin Dada: A Self-Portrait," an unsettling encounter with the murderous, charismatic Ugandan dictator, in a new, restored 2K digital transfer, and on Blu-ray for the first time on Tuesday Dec. 12.
In 1974, Schroeder went to Uganda to make a film about Idi Amin, the country's ruthless, charismatic dictator. Three years into a murderous regime that would be responsible for the deaths of hundreds of thousands of Ugandans, Amin prepared a triumphal greeting for the filmmakers, staging rallies, military maneuvers, and cheery displays of national pride, and envisioning the film as an official portrait to adorn his cult of personality. Schroeder, however, had other ideas, emerging with a disquieting, caustically funny brief against Amin, in which the dictator's own endless stream of testimony—charming, menacing, and nonsensical by turns—serves as the most damning evidence. A revelatory tug-of-war between subject and filmmaker, the documentary is an engrossing study of egotism in power. Extras include a new interview with Schroeder, a new interview with journalist and author Andrew Rice about Amin's regime and more.
A half-century after the Summer of Love, a new Blu-ray collector's edition of "The Complete Monterey Pop Festival" celebrates a watershed moment in music history. In addition to D. A. Pennebaker's classic concert films "Monterey Pop" (in a new 4K digital restoration), "Jimi Plays Monterey," and "Shake! Otis at Monterey," the box set contains new supplements and every available complete performance filmed by Pennebaker and his crew.
On a beautiful June weekend in 1967, at the beginning of the Summer of Love, the first and only Monterey International Pop Festival roared forward, capturing a decade's spirit and ushering in a new era of rock and roll. Monterey featured career-making performances by Hendrix, Janis Joplin and Otis Redding, but they were just a few performers in a wildly diverse lineup that included Simon and Garfunkel, the Mamas and the Papas, the Who, the Byrds, Hugh Masekela and Ravi Shankar.
With his characteristic verite style, and a camera crew that included Albert Maysles and Richard Leacock, Pennebaker captured it all, immortalizing moments that have become legend: Pete Townshend smashing his guitar, Hendrix burning his, Mama Cass being blown away by Joplin's performance. The set includes every available complete performance filmed by Pennebaker and his crew, as well as outtakes, audio commentaries and interviews with Pennebaker and festival producer Lou Adler.
"Cops and Robbers," starring action legends Michael Jai White, Quinton "Rampage" Jackson, and Oscar nominee Tom Berenger ("Platoon"), arrives on DVD, Digital, and On Demand Tuesday Dec. 12 from Lionsgate.
When Michael (White), a police hostage negotiator, returns to the force following a leave of absence, he is immediately thrown into a volatile hostage situation. After learning that he has more in common with the suspect than anyone expected, Michael has no choice but to lead negotiations.  The crime thriller DVD will be available for an SRP of $19.98.
The acclaimed documentary "School Life," about life at a Dublin preparatory boarding school, arrives on Digital HD on Tuesday Dec. 12. Housed in an 18th-century estate, school life at Headfort embraces tradition and modernity. For John, rock music is just another subject alongside Math, Scripture and Latin, taught in a collaborative and often hilarious fashion.
For his wife Amanda, the key to connecting with children is the book, and she uses all means to snare the young minds. For nearly half a century these two have shaped thousands of minds, but as John and Amanda ponder retirement, the film poses a quietly profound question: Their strive to maintain their intimate and caring cultivation of future generations but face the reality that it may vanish like so many community-centered practices.
Season Three of the acclaimed CBS sci-fi series, "Zoo," based on James Patterson's bestseller, arrives on DVD Tuesday Dec. 12. James Wolk ("Billions"), Kristen Connolly ("The Wizard of Lies"), Nonso Anozie (Cinderella), Billy Burke ("The Closer"), Alyssa Diaz, Josh Salatin and Gracie Dzienny star.
Set in 2027, the world has reached a tipping point. The human population continues to dwindle due to a sterility problem and a devastating threat rises in the form of "the hybrids," an army of unstoppable lab-made creatures who are hell-bent on destroying mankind. Although the team has become estranged over the past decade, Jackson (Wolk), Jamie (Connolly), Abraham (Anozie), Dariela (Diaz) and Logan (Salatin) are forced to overcome their differences and reunite when they learn that Mitch (Burke) is alive. As the planet's future hangs in the balance, the team must race to stop the hybrids and their creator—a shadowy figure with a startling connection to the team's past. Deleted scenes and a gag reel are included.
"Fuller House: The Complete Second Season" arrives on DVD Tuesday Dec. 12, from Warner Bros Home Entertainment. The sophomore season of the heartwarming and hilarious family comedy "Fuller House" contains all 13 episodes of the season, featuring guest appearances by original cast including John Stamos, Bob Saget and Dave Coulier.
The box set will retail for an SRP of $24.98. In "Fuller House: The Complete Second Season," there's no place like home, as the Tanner-Fuller-Gibblers serve up a whole new set of hilarious adventures. D.J. finally decides between Matt and Steve. Kimmy's ex-husband, Fernando moves into the Tanner house. Ramona thinks she's ready for her first kiss. The entire Tanner family shows up to the house for Thanksgiving, pushing D.J.'s organizational skills to the extremes. Kimmy tries to get her childhood band Girl Talk back together again. Uncle Jesse and Becky consider making an addition to their family. A famous '90s boy band makes a guest appearance and more. The series has already been renewed for a third season on Netflix and earned a People's Choice Award earlier this year for "Favorite Premium Comedy Series."
On Tuesday Dec. 12, HBO will release "Game of Thrones: The Complete Seventh Season" on Blu-ray and DVD. To celebrate the release, HBO is bringing this season's most action-packed episode plus never-before-seen bonus content to the big screen for exclusive fan screenings in New York, Chicago, and Los Angeles. Fans will have the opportunity to experience Daenerys' dragons in full force as she rains down fire and blood on the Lannister army in the jaw-dropping episode, "Spoils of War." The big-screen viewing of this instantly iconic episode will be screened alongside the Blu-ray and DVD exclusive bonus feature, "Conquest and Rebellion," a 45-minute animated story of the turbulent events that shaped Westeros that can only be found for a limited time on the Season 7 Blu-ray and DVD set.
Widely considered one of the most successful British series worldwide, "Doc Martin: Series 8," makes its DVD/Blu-ray debut on Tuesday December 12, 2017 from Acorn TV, an RLJ Entertainment. Martin Clunes ("Men Behaving Badly") returns as Dr. Martin Ellingham in the eighth series of this smash-hit British comedy. In these all-new episodes, the doctor continues his practice in the picturesque seaside town of Portwenn, while raising his son with wife Louisa. The DVD and Blu-ray 3-disc sets feature eight episodes, plus a bonus disc with behind-the-scenes featurettes and interviews for an SRP of $39.99 (Amazon.com).
After all their ups and downs as a couple, Dr. Martin Ellingham and his wife, Louisa (Caroline Catz), are finally living together with their son, James Henry, but their problems are far from over. With Louisa's encouragement, James Henry has grown attached to Buddy the dog, but Martin is disgusted by the four-legged friend. In need of a new nanny, Louisa finds herself juggling too many responsibilities and considers switching careers, causing a rift with Martin.
Meanwhile, Portwenn is abuzz as the residents prepare for a wedding. The Larges hope to profit from the festivities, but when Martin's aunt Ruth (Emmy winner Eileen Atkins) considers selling the family farm, her decision causes trouble for their business endeavors. As some relationships bloom and others falter, can Martin cope with all the changes. Guest stars in Series 8 include the return of Caroline Quentin ("Dickensian") and Sigourney Weaver ("Alien" franchise, "Avatar") as a forthright American tourist anxious for the Doc's time. Behind-the-scenes featurettes on the production process and interviews with the cast and guest stars, including Clunes, Catz, Ian McNeice, Joe Absolom, Atkins, Selina Cadell and Caroline Quentin.
"George Gently: The Complete Collection" debuts on DVD/Blu-ray Tuesday Dec. 12 from Acorn TV. In this acclaimed BBC detective drama based on the novels of Alan Hunter, Tony nominee Martin Shaw ("Death in Holy Orders") stars as Inspector George Gently, North of England's most upstanding detective. Assisted by his trusted partner, Detective Inspector John Bacchus (Lee Ingleby), Gently investigates menacing crimes and confront the social and political changes rumbling through the country in the mid-1960s.
The 25-disc DVD and 13-disc Blu-ray sets include all 25 feature-length mysteries from all eight series; 37.5 hours of gripping storylines, plus behind-the-scenes featurettes, cast interviews, production notes, and a photo gallery ($149.99, Amazon.com). Also on Dec. 12, "George Gently: Series 8" will be available in individual season DVD/Blu-ray sets (SRP $39.99).