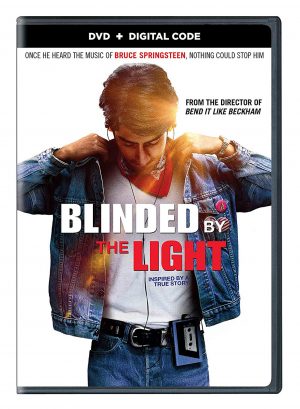 By ANGELA DAWSON
Front Row Features
Movies
Blinded by the Light
From writer-director-producer Gurinder Chadha ("Bend It Like Beckham") comes the inspirational drama "Blinded by the Light," set to the music and lyrics of Bruce Springsteen's classic songs, a story of courage, love, hope, family and the unique ability of music to lift the human spirit. "Blinded by the Light" will be available on Blu-ray and DVD Tuesday Nov. 19. The Blu-ray features a Blu-ray disc with the film and special features in hi-definition, and a Digital version of the movie. The DVD features a DVD with the film and a special feature in standard definition, and a Digital version of the movie.
Inspired by a true story, based on Sarfraz Manzoor's acclaimed memoir "Greetings from Bury Park: Race, Religion and Rock N' Roll," "Blinded by the Light" was directed by Chadha from a screenplay written by Manzoor, Chadha and Paul Mayeda Berges ("Bend It Like Beckham"). "Blinded by the Light" stars Viveik Kalra ("Next of Kin"), Kulvinder Ghir ("Bend It Like Beckham"), Meera Ganatra ("Three Dots and a Dash," "PREMature"), Nell Williams ("Game of Thrones," "The Audience"), Aaron Phagura ("Informer," "Doctor Who"), Hayley Atwell ("Captain America: The First Avenger," "The Duchess") and Dean-Charles Chapman ("Game of Thrones," "Man Up").
The story is underscored by the music and poetic lyrics of Springsteen, who gave Chadha his blessing to use his music.
The Blu-ray is available for a suggested retail price (SRP) of $35.99 and the DVD is available for $28.98 (SRP). Fans can also now own "Blinded by the Light" via purchase from digital retailers. "Blinded by the Light" will also be available on Movies Anywhere.
Dora and the Lost City of Gold
Explore a new world of family-friendly adventure when "Dora and the Lost City of Gold" debuts on Blu-ray, DVD and On Demand Tuesday Nov. 19, from Paramount Home Entertainment. The film also is now available on Digital.
The Digital and Blu-ray releases boast a wealth of fun-filled bonus features, including hilarious bloopers, deleted and extended scenes, a look at Isabela Moner's transformation into Dora, a tour of Dora's Jungle House, and more.
Having spent most of her life exploring the jungle with her parents, nothing could prepare Dora (Isabela Moner, "Instant Family") for her biggest challenge yet—high school. When her parents mysteriously disappear while searching for the Lost City of Gold, Dora must swing into action and lead a group of ill-equipped high schoolers on a wild quest to save them. Hold on for a high stakes mission as Dora and her new friends navigate the jungle, outrun treasure hunters, and solve ancient puzzles to unlock the mystery of the fabled city.
"Dora and the Lost City of Gold" also stars Eugenio Derbez, Michael Peña, Eva Longoria and Danny Trejo.
The Demons
"The Demons" arrives on DVD and Digital Tuesday Nov. 19, from Film Movement.
While Montreal is in the throes of a string of kidnappings targeting young boys, ten-year-old Felix (Edouard Tremblay-Grenier) is finishing his school year in the seemingly quiet suburb where he lives. A sensitive boy with a vivid imagination, Felix is afraid of everything. Little by little, his imaginary demons begin to mirror those of the truly disturbing world around him.
"The Demons," directed by Philippe Lesage, is the winner of the Golden Gate Award at the San Francisco Film Festival and was nominated for Best Motion Picture and Achievement in Directing at the Canadian Screen Awards. The film is available for $24.95 (SRP).
Genese
Three teenagers encounter the turmoils of love and youth in Philippe Lesage's "Genese" ("Genesis"), which is available Tuesday Nov. 9, from Film Movement.
While the charismatic Guillaume (Théodore Pellerin) wrestles with his sexual identity at boarding school, his older half-sister Charlotte (Noée Abita) navigates an adult world filled with casual cruelty. Separately, Félix (Édouard Tremblay-Grenier) meets his first girlfriend while away at summer camp. At a time when others are conforming, these three individuals stand their ground and assert their right to love and be free.
Lesage and his young actors depict the aches of becoming oneself with nuance, honesty, and compassion, and the result is one of the most beautiful coming-of-age stories in years in this Official Selection at Locarno, named as one of Canada's Top 10 Films of 2018 at the Toronto International Film Festival.
The DVD features commentary by Lesage and the bonus short film "The Lesson."
"Genese" is available for $24.95 (SRP).
Kiwi Christmas
Level 33 Entertainment's new Dove-Approved award winning independent feature film "Kiwi Christmas." The holiday film for the entire family is directed by Tony Simpson ("Vertical Limit," "Derby Dogs") and stars Kari Väänänen ("Night on Earth"), Sia Trokenheim ("Everything We Loved") and Xavier Horan ("The Dead Lands"). This delightful adventurous comedy will be available On Demand starting Tuesday Nov. 19 and we want to make sure it's on your screening radar.
Disillusioned with the materialism of Christmas, Santa escapes as far from the North Pole as possible: to New Zealand! When his rocket sleigh crashes and sinks in the waters of an idyllic holiday beach, he is found washed up by Sam, 8 and his sister Molly, 12 and their newly separated parents. The family discovers who Santa really is and must unite to rescue him from the local authorities and convince Santa to return to the North Pole in time for Christmas Eve.
Liyana
"Liyana" is a genre-defying documentary available on DVD Tuesday Nov. 19 that tells the story of five children in the Kingdom of Eswatini who turn past trauma into an original fable about a girl named Liyana who embarks on a perilous quest to save her young twin brothers. The film, from Intaba Creative in association with Shine Global, weaves her animated journey together with poetic documentary scenes to create an inspiring tale of perseverance and hope.

Executive produced by Emmy-winner Thandie Newton, and produced by Oscar-winner Daniel Junge, "Liyana" features innovative animated artwork by Shofela Coker and an original score by Philip Miller. Critically acclaimed as exquisite, a staggering feature debut, and one of the year's very best, "Liyana" has played at festivals around the world, including the British Film Institute's London Film Festival and MoMA's Doc Fortnight, and has won more than 35 jury and audience awards so far.
Ronda Rousey Story: Through My Father's Eyes
Witness the rise of an iconic superstar when "Ronda Rousey Story: Through My Father's Eyes" arrives on Digital and On Demand Tuesday Nov. 19 from Lionsgate.
Written and directed by Gary Stretch (former WBC International Light Middleweight Boxing champion), the documentary follows the life of record-setting UFC superstar from her difficult, humble beginnings through her rise to the top of the male-dominated mixed martial arts and sports entertainment worlds to become one of the most recognizable and iconic superstars in the entire world. Rousey is in the UFC Hall of Fame and set multiple UFC records, including four of the five fastest finishes in the women's bantamweight division while defending her title six consecutive times. The film features testimonies from UFC President Dana White, former UFC Heavyweight champion and actor Randy Couture, UFC referee "Big" John McCarthy, and Gene LeBell ("Godfather of Grappling" and a former stuntman).
A tale of inspiration, perseverance, and female empowerment, "Ronda Rousey Story: Through My Father's Eyes" for $9.99 (SRP).
TV Shows
Catch-22
"Catch-22," the critically acclaimed limited series from the producers of Argo and "True Detective," arrives on DVD Tuesday Nov. 19, from Paramount Home Entertainment.
Based on the celebrated Joseph Heller novel, the Emmy-nominated** CATCH-22 is Certified Fresh by Rotten Tomatoes. The limited series is executive produced by Academy Award and Golden Globe-winning actor George Clooney, Academy Award-winning producer Grant Heslov, and Emmy–nominated producer Richard Brown.
"Catch-22" features a sensational, all-star cast including George Clooney ("Up in the Air," "The Ides of March"), Christopher Abbott ("Girls," "The Sinner"), Grant Heslov ("Argo"), Emmy winner1 Kyle Chandler ("The Wolf of Wall Street," "Bloodline"), Golden Globe winner Hugh Laurie ("The Night Manager," "House") and Academy Award nominee Giancarlo Giannini ("Quantum of Solace," "Casino Royale").
The two-DVD set includes all six episodes from the limited series, plus more than an hour of exclusive bonus content, including a three-part, behind-the-scenes featurette entitled "The Cogs of War," 13 deleted scenes and outtakes from every episode.
"Catch-22" follows the adventures and misadventures of a U.S. air squadron in Italy during World War II. Yossarian (Christopher Abbott) is a bombardier whose frantic obsession every time he goes up on a mission is "to come down alive." The real enemy for Yossarian and his rag-tag bunch of friends is the bureaucracy of the military, inverting logic at every turn. The pinnacle of this is Catch-22, a military by-law which states that if you fly your missions, you're crazy, and don't have to fly them; all you have to do is ask. But if you ask not to, then you're sane, and so you have to fly them.
Executive produced by George Clooney and Grant Heslov on behalf of Smokehouse Pictures, along with Richard Brown and Steve Golin on behalf of Anonymous Content the film was co-written by Luke Davies and David Michôd who also are executive producers on the series.
The six-part limited series from Paramount Television and Anonymous Content is directed by Clooney, Heslov and Ellen Kuras, who also serves as producer. Each directed two episodes.
The Kominsky Method
Warner Bros. Home Entertainment brings the premiere season of the Golden Globe award-winning Netflix comedy "The Kominsky Method" to DVD and Blu-ray, Tuesday Nov.19. Starring Academy Award-winning actors Michael Douglas ("Avengers: Endgame," "Wall Street") and Alan Arkin ("Argo," "Get Shorty"), "The Kominsky Method" centers on the life of acting coach Sandy Kominsky (Douglas) and his long-time agent and best friend Norman Newlander (Arkin), as they deal with the ups and downs of growing older while living in youth-obsessed Los Angeles.
Created and executive produced by Chuck Lorre ("The Big Bang Theory," "Mom"), the series also stars Nancy Travis ("Last Man Standing"), Sarah Baker ("Bob's Burgers," "Young Sheldon") and Lisa Edelstein ("House").
"The Kominsky Method: The Complete First Season" features all eight episodes from the series debut season and retails for $19.98 SRP ($24.99 in Canada). The first season of "The Kominsky Method" will also be available to own on Digital via purchase from digital retailers.
The box set will be available on Blu-ray courtesy of Warner Archive Collection. The Blu-ray release includes all eight episodes on the DVD. Warner Archive Blu-ray releases are found at wb.com/warnerarchive and your favorite online retailer.
Sandy Kominsky's life didn't turn out the way he'd planned. His dream of having a successful acting career was slowly and inexorably replaced with the reality of being a mere acting coach. As played by Michael Douglas, Sandy is now dealing with the even harsher reality of being an old man in a youth-obsessed culture. Clinging to his best friend and long-time agent Norman Newlander (Alan Arkin), the two men are forced to confront loneliness, health issues, the loss of loved ones, financial calamity, grown-up children with grown-up problems, and estrangement from a world that is undergoing constant and rapid change. "The Kominsky Method" shifts quickly from laughter to tears, and back again to laughter. It is a story of friendship. A story of life.
The first season of "The Kominsky Method" is written by Chuck Lorre, Al Higgins ("Mike & Molly"), and David Javerbaum ("The Late, Late Show with James Corden"). The series is produced by Chuck Lorre Productions, Inc. in association with Warner Bros. Television. The series has been renewed for a second season on Netflix and has new cast additions including Jane Seymour, Kathleen Turner and Paul Reiser.
Taken Down
Acorn TV features the DVD debut of the timely Irish crime drama "Taken Down" on Tuesday Nov. 19. The six-part series stars Lynn Rafferty ("Love/Hate") as Inspector Jen Rooney, a Dublin detective investigating the murder of a young Nigerian girl from a center for asylum-seekers. The six-episode two-disc DVD set includes bonus cast and crew interviews.
"Taken Down" stars Aisa Maiga ("Paris, je t'aime"), Brian Gleeson ("Logan Lucky"), Orla Fitzgerald ("The Wind that Shakes the Barley") and Slimane Dazi ("Only Lovers Left Alive"). The DVD is available for $39.99 (SRP).
Acorn TV is North America's most popular and largest streaming service focused on British and international television.
Front Row Features has not one, but two giveaways this week readers will surely want to win. Not only are we giving away a copy of the Emmy-nominated min-series "Catch-22" on DVD to one lucky reader, but we're also giving away a "Dora and The Lost City of Gold" adventure kit to one lucky family that includes a Blu-ray/DVD Combo Pack of the film as well as a Dora backpack, binoculars, compass, magnifying glass, whistle, tote bag, Maglite and additional flashlight. To enter the contests, simply email socalmovieeditor@aol.com by Nov. 25 with which movie you want to win in the subject line. Good luck!