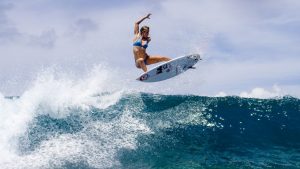 By ANGELA DAWSON
Front Row Features
Movies
Bethany Hamilton: Unstoppable
Freestyle Digital Media, the digital film distribution division of Byron Allen's global media company Entertainment Studios, is releasing the documentary "Bethany Hamilton: Unstoppable" will be on all home entertainment platforms in the U.S., as well as on iTunes worldwide on Tuesday Oct. 15.
The documentary reveals the untold story of the heart of a champion and her resilience against all odds—after the infamous shark attack that cost Bethany her left arm—to become one of the leading professional surfers of our time. Hamilton is continuously rewriting the rules on being a fearless athlete, and brings new meaning to the phrase "surfs like a girl."

Following Hamilton's journey in recent years as she takes on one of the biggest and most dangerous waves in the world, Hawaii's "Jaws." The film also follows the young hero as she re-enters the professional surfing circuit, making her way back to the top of the podium, all while becoming a new mother of two.
The documentary is directed and co-produced by filmmaker Aaron Lieber, who weaves intimate observational footage of Hamilton and her family, archival footage of the surfer as a young woman, and gorgeous ocean wave panoramas into a heroic tale of bravery, perseverance, athleticism and inspiration.
Crawl
Producer Sam Raimi ("Evil Dead") and director Alexandre Aja ("The Hills Have Eyes") team up for the swamp thriller "Crawl" arriving on Blu-ray, DVD and On Demand Tuesday Oct. 15, from Paramount Home Entertainment. The film also is available on digital formats.
As a hurricane tears through Florida, Haley (Kaya Scodelario) rushes to find her father (Barry Pepper), who is injured and trapped in the crawl space of their home. With the storm intensifying and water levels rising, the pair face an even bigger threat lurking below the surface.
The digital and Blu-ray releases are loaded with more than 45 minutes of special features, including an exclusive motion comic of the film's alternate opening. Plus, there are deleted and extended scenes, a behind-the-scenes look at the intense visual effects, interviews with cast and crew, and an "Alligator Attacks" compilation that highlights the bone-crunching alligator sequences.
The Drone
The satirical horror film "The Drone," arrives on DVD, Digital and On Demand Tuesday Oct. 15, from Lionsgate.
This terrifying, outrageous tale takes flight as a serial killer is struck by lightning while holding his precious drone. Weeks later, the drone shows up at the home of newlywed couple Chris (John Brotherton, "The Conjuring") and Rachel (Alex Essoe, "Starry Eyes"). Without them realizing it, the drone films the couple and takes control of their TV, computer, security system, and car. Soon Chris and Rachel fear that the device may be connected to them and is out for horrific, hovering revenge.
Written and directed by TV comedy writer Jordan Rubin ("Last Call with Carson Daly") alongside co-writers Al Kaplan and Jon Kaplan, "The Drone" stars John Brotherton, Alex Essoe, Rex Linn, Anita Briem and Simon Rex, and will be available on DVD for the suggested retail price (SRP) of $19.98.
The Lingering
"The Lingering" debuts on Blu-ray Combo Pack, DVD and Digital Tuesday Oct.15, from Well Go USA Entertainment.
Dawa and his mother spend a terrifying night alone in the basement after being tormented by a strange and dangerous presence. Years after his mom's death, Dawa is forced to return, again facing the presence that once tortured him as a child.
First time feature directors Ho Pong Mak and Derrick Taoby have crafted a tale of a mother and son haunted by a malevolent spirit on New Year's Eve. Years later, the son returns to find the ghost is still there. The horror film stars Athena Chu, Louis Cheung, Bob Chang, Terry Zou, Lee Fung, Wei Lai and Yao Tong. Bonus materials include a "Making-of" featurette. The film is in Cantonese with English subtitles.
Night Hunter
Henry Cavill and Academy Award winner Ben Kingsley ("Gandhi") star in "Night Hunter," arriving on Blu-ray and DVD Tuesday Oct. 15, from Paramount Home Entertainment. The thriller currently can be seen in theaters, on digital, and On Demand.
When police detective Marshall (Cavill) and local vigilante Cooper (Kingsley) arrest a serial killer targeting women, they discover his game has just begun. The hunt is on as the murderer masterminds a series of deadly attacks from behind bars. Now in a desperate race against time, Marshall and Cooper fight to stay one step ahead of their suspect's deadly plan. Also starring Alexandra Daddario ("True Detective") and Golden Globe winner Stanley Tucci, "Night Hunter" offers plenty of actions and twists and turns up until the very end. The Blu-ray includes access to a digital copy of the film.
Scarface: The World is Yours Limited Edition
Considered one of the most influential gangster films ever made, "Scarface's" gritty depiction of Tony Montana's lethal ambition has made it a cultural touchstone that spans generations. Now, Universal Pictures Home Entertainment commemorates the 1983 film's release with the "Scarface Gold Edition" available on 4K Ultra HD for the first time ever, newly remastered Blu-ray, DVD and Digital Tuesday Oct. 15.
The DVD and Blu-ray include a brand-new bonus feature, the "Scarface: 35th Anniversary Reunion" featuring Al Pacino and Michelle Pfeiffer to celebrate the film's iconic legacy as one of the greatest crime sagas of all time.
Universal Pictures Home Entertainment is also releasing a "Scarface: The World is Yours Limited Edition" gift set, which includes the 1983 version of "Scarface" (excluding DVD), the 1932 version of "Scarface" on Blu-ray for the first time ever and a collectible "The World is Yours" statue replica making it a must-own addition to every film fan's library. The 1932 version of "Scarface," only available in this exclusive gift set, is newly restored with two versions of the film—the original uncensored version and the alternate version with a different ending.
Stuber
Your ride is about to arrive, with "Stuber" coming home on 4K Ultra HD, Blu-ray and DVD Tuesday Oct. 15. It also is available now on home on digital formats.
In this high-speed buddy comedy, a mild-mannered driver named Stu (Kumail Nanjiani, "Silicon Valley") picks up a passenger (Dave Bautista, "Guardians of the Galaxy") who turns out to be a cop hot on the trail of a brutal killer, Stu is thrust into a harrowing ordeal in which he desperately tries to hold onto his wits, his life and his five-star rating.
Loaded with laughs and high-speed action, "Stuber" boasts an all-star cast includes Betty Gilpin ("GLOW"), Iko Uwais ("The Raid: Redemption"), Academy Award winner Mira Sorvino ("Mighty Aphrodite"), Jimmy Tatro ("American Vandal"), Natalie Morales ("Abby's") and Karen Gillan ("Guardians of the Galaxy").
Bonus features include deleted scenes, a gag reel, audio commentary with director Michael Dowse ("Goon") and Kumail Nanjiani and more.
Ulysses & Mona
Ulysses & Mona arrives on DVD Tuesday Oct. 15, from Film Movement.
Ulysses (Éric Cantona, "Looking for Eric") is a 55-year-old contemporary artist who ran away from his family and ended his career four years earlier. Now, he spends his days in seclusion hitting tennis balls or listening to horror movie soundtracks. Mona (Manal Issa, "Nocturama," "Parisienne") is a 20-year-old art student. Between nude drawing workshops and boring theory classes, her life couldn't be more uneventful. But everything changes when Mona decides to meet Ulysses. After a failed first attempt and some misfortune, both set out on a journey that will change their lives forever.
This road trip dramedy is the latest film from French indie auteur Sébastien Betbeder, who previously directed Film Movement's "2 Autumns, 3 Winters" and "Nights with Theodore." It is in French with English subtitles.
The bonus feature is the short film "Wolf Carver," which is a road trip movie written and directed by Aino Suni. It is in Finnish with English subtitles.
TV Shows
The Haunting of Hill House
"The Haunting of Hill House" arrives on Blu-ray and DVD October 15, 2019 from Paramount Home Entertainment. The series has been renewed by Netflix as an anthology series, telling a new story each season.
"The Haunting of Hill House" is the critically acclaimed, modern reimagining of Shirley Jackson's legendary novel about five siblings who grew up in the most famous haunted house in America. Now adults, they're reunited by the suicide of their youngest sister, which forces them to finally confront the ghosts of their pasts—some of which lurk in their minds—and some of which may really be lurking in the shadows of the iconic house.
The three-disc Blu-ray and four-disc DVD sets feature all 10 episodes from the acclaimed first season, including, for the first time, three Extended Director's Cut episodes with never-before-seen content. The Blu-ray and DVD also include exclusive commentary by creator and director Mike Flanagan on four episodes.
Midsomer Murders: Holiday Pop-Up Collectible
Acorn TV features the special DVD Holiday Pop-Up Collectible of beloved long-running British mystery "Midsomer Murders" Tuesday Oct. 15, with the feature-length holiday mystery "The Christmas Haunting." In the holiday episode from its 16th season, DS Charlie Nelson (Gwilym Lee, "Bohemian Rhapsody") arrives in Midsomer to be DCI Barnaby's (Neil Dudgeon, "Life of Riley") new partner. His first case involves a stabbing death during a ghost-hunting party at the Morton Shallows manor house. Barnaby and Nelson investigate the true motives behind the villagers' paranormal proclivities. Celebrate the holidays with the Christmas episode of a cozy mystery series, presented in a special limited-edition pop-up collectible. All seasons of "Midsomer Murders" are available to stream on AMC Networks' Acorn TV, and the series returns with an all-new season (Series 21) on Dec. 1. Acorn TV is North America's largest streaming service specializing in British and international television. The DVD is available for $24.99 (SRP). It includes a bonus interview with Gwilym Lee.
This stand-alone Christmas episode comes in a limited-edition 3D package. The book-like DVD case opens to a pop-up collectible featuring DCI Barnaby and his dog. It is one of three holiday pop-up collectibles and featuring Christmas episodes from popular mystery franchises including "Miss Fisher's Murder Mysteries" and "The Brokenwood Mysteries."
Front Row Features is giving away plenty of thrills this Halloween season. Not only are we giving one lucky reader a copy of the chilling series "The Haunting of Hill House" on Blu-ray, but we're also giving two lucky readers a copy of the action-packed thriller "Night Hunter" on Blu-ray and three lucky readers a copy of China's supernatural horror film "The Lingering" on Blu-ray. As if that wasn't enough, readers can also enter to win a "Crawl" prize pack that includes, among other things, such fun items as a bag of alligator jerky, a pair of swimming goggles, a toy alligator and a Blu-ray/DVD Combo Pack of the suspenseful flick. To enter the contests, simply email socalmovieeditor@aol.com by Oct. 21 with the title of which movie you want to win in the subject line. Good luck!