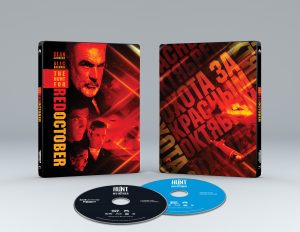 By ANGELA DAWSON
Front Row Features
Movies
Color Out of Space
RLJE Films, a business unit of AMC Networks, will release the sci-fi/horror film "Color Out of Space" on VOD, Digital, DVD and Blu-ray Tuesday Feb. 25.
Based on the H.P. Lovecraft short story, the film stars Nicolas Cage ("Mandy," "Leaving Las Vegas"), Joely Richardson ("The Patriot," "Nip/Tuck"), Madeleine Arthur ("To All the Boys I've Loved Before," "The Family"), Brendan Meyer ("The OA," "The Guest"), Julian Hilliard ("The Haunting of Hill House," "The Conjuring 3"), Elliot Knight ("American Gothic," "Once Upon a Time"), with Q'orianka Kilcher ("The New World," "Dora and the Lost City of Gold") and Tommy Chong ("Up in Smoke," "Cheech and Chong's Next Movie").
After a meteorite lands in the front yard of their farm, Nathan Gardner (Cage) and his family find themselves battling a mutant extraterrestrial organism as it infects their minds and bodies, transforming their quiet rural life into a technicolor nightmare.
"Color Out of Space" is directed by Richard Stanley ("The Island of Dr. Moreau," "Hardware"), who co-wrote the screenplay with Scarlett Amaris ("Replace," "The Theatre Bizarre"). Bonus features include a making of featurette, deleted scenes and more.
RLJE Films will release the film on DVD for a suggested retail price (SRP) of $29.96, on Blu-ray for $29.97 (SRP) and on 4K UHD/BD for $35.97 (SRP).
Frozen II
Walt Disney Animation Studios' "Frozen II" arrives on 4K Ultra HD, Blu-ray and DVD Tuesday Feb. 25. The No. 1 animated feature of all time is available now on Digital in 4K Ultra HD, HD and Movies Anywhere.
In "Frozen II," the answer to why Elsa was born with magical powers is calling her and threatening her kingdom. Together with Anna, Kristoff, Olaf and Sven, she sets out on a dangerous but remarkable journey. In the original "Frozen," Elsa feared her powers were too much for the world. In "Frozen II" she must hope they are enough. From the Academy Award-winning team—directors Jennifer Lee and Chris Buck, producer Peter Del Vecho and songwriters Robert Lopez and Kristen Anderson-Lopez—"Frozen II" features the voices of Idina Menzel, Kristen Bell, Jonathan Groff and Josh Gad.
"Frozen II" bonus features include deleted scenes, deleted songs, Easter eggs, outtakes and a sing-along version with lyrics to the film's memorable songs. Viewers are invited to go behind-the-scenes to hear personal, making-of stories from the "Frozen II" cast and crew. Fans who bring the film home on Digital will receive two exclusive extras—an interview with the husband and wife songwriters, who won an Oscar for Best Original Song ("Let It Go") and wrote seven original songs for "Frozen II," and a deleted song titled "Unmeltable Me."
The Hunt for Red October
On March 2, 1990, moviegoers were introduced to Tom Clancy's heroic CIA analyst Jack Ryan when the thrilling and suspense-filled "The Hunt for Red October" debuted in theaters. Now fans can relive every tension-laden moment with a special 30th anniversary Limited Collector's Edition 4K Ultra HD/Blu-ray Combo Steelbook, arriving Tuesday Feb. 25, from Paramount Home Entertainment.
Based on Tom Clancy's bestseller, directed by John McTiernan ("Die Hard"), and starring Sean Connery (James Bond films, "The Name of the Rose") and Alec Baldwin ("30 Rock," "Glengarry Glen Ross"), "The Hunt for Red October" seethes with high-tech excitement and sweats with the tension of men who hold Doomsday in their hands.
A new technologically-superior Soviet nuclear sub, the Red October, is heading for the U.S. coast under the command of Captain Marko Ramius (Connery). The American government thinks Ramius is planning to attack. A lone CIA analyst named Jack Ryan (Baldwin) has a different idea: he thinks Ramius is planning to defect, but he has only a few hours to find him and prove it because the entire Russian naval and air commands are trying to find him, too.
The 4K Ultra HD/Blu-ray Combo in a Limited Collector's Edition Steelbook includes access to a Digital copy of the film, as well as commentary by director John McTiernan and the behind-the-scenes featurette "Beneath the Surface" on the Blu-ray.
Knives Out
An all-star ensemble cast exposes its secrets when "Knives Out" arrives on 4K Ultra HD Combo Pack (plus Blu-ray and Digital), Blu-ray Combo Pack (plus DVD and Digital), DVD, and On Demand Tuesday Feb. 25 from Lionsgate and MRC Film.
Written, produced, and directed by Academy Award-nominated (Best Original Screenplay) filmmaker Rian Johnson ("Star Wars: The Last Jedi," "Looper"), and produced by Ram Bergman ("Star Wars: The Last Jedi," "Looper") and Johnson through T-Street, the film has received awards from AFI, National Board of Review, New York Film Critics, Philadelphia Film Festival, The Hollywood Critics Association, Rotten Tomatoes' Golden Tomatoes Awards, and more.
The whodunit stars Daniel Craig (James Bond franchise, "The Girl with the Dragon Tattoo"), Chris Evans (The "Avengers" franchise, "Gifted"), Ana de Armas ("Blade Runner 2049," "War Dogs"), Jamie Lee Curtis ("Halloween" franchise, "Anything But Love"), Oscar nominee Michael Shannon ("Revolutionary Road"), Don Johnson ("Miami Vice"), Oscar nominee Toni Collette ("The Sixth Sense," "United States of Tara"), LaKeith Stanfield ("Sorry to Bother You," "Get Out"), Katherine Langford ("13 Reasons Why"), Jaeden Martell ("It" franchise), "St. Vincent"), and Oscar, Tony Award and Emmywinner Christopher Plummer ("Beginners," "Cyrano"). The circumstances surrounding the death of crime novelist Harlan Thrombey are mysterious, but there's one thing that renowned Detective Benoit Blanc knows for sure—everyone in the wildly dysfunctional Thrombey family is a suspect. Now, Blanc must sift through a web of lies and red herrings to uncover the truth.
The home entertainment edition of "Knives Out" includes special features such as audio commentary and in-theater commentary by Johnson, two never-before-seen deleted scenes, the eight-part "Making a Murder" documentary, the "Rian Johnson: Planning the Perfect Murder" featurette, a Q&A with the director and cast, and more.

The Knives Out 4K Ultra HD Combo Pack, Blu-ray Combo Pack, and DVD will be available for $42.99 (SRP), $39.99 (SRP) and $29.95(SRP), respectively.