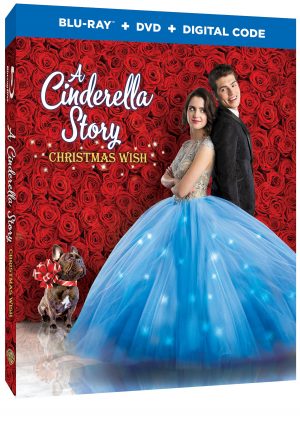 By ANGELA DAWSON
Front Row Features
Movies
A Cinderella Story: Christmas Wish
Break out the mistletoe and holly and get ready to sing and dance as Warner Bros. Home Entertainment releases "A Cinderella Story: Christmas Wish" on Blu-ray Combo Pack and DVD Tuesday Oct. 29.
The enchanting all-new original movie stars Laura Marano ("Austin and Ally") as Kat Decker, Gregg Sulkin ("Runaways," "Faking It") as Dominic Wintergarden, Barclay Hope ("Riverdale") as Terrence Wintergarden, Hallmark Channel favorite Johannah Newmarch ("When Calls The Heart") as the cruel stepmother Deirdra Decker, Isabella Gomez ("One Day at a Time") as Kat's best friend Isla, and evil-stepsisters Joy and Grace are played, respectively, by Lillian Doucet-Roche ("The Miracle Season") and Chanelle Peloso ("Deadly Class").
Brimming with overtones from the classic fairy tale, this contemporary musical follows Katherine "Kat" Decker dreaming of becoming a famous singer-songwriter. Her reality, however, is suffocated by her conniving and cruel stepfamily and a demoralizing job working as a singing elf at billionaire Terrence Wintergarden's Santa Land. When she starts to fall for Nick, the handsome new Santa at the tree lot, things begin to look up. Unfortunately, when her stepmother and stepsisters realize Kat has been invited to the prestigious Wintergarden Christmas Gala, they'll stop at nothing to procure their own invitation and keep Kat from attending. With the help of her attentive dog, a true friend, and a little bit of holiday magic, Kat may just make it to the gala, discover the true identity of Nick, and experience the true meaning of Christmas. This is the fifth installment in the "A Cinderella Story" movie series, and first one with a Christmas theme.
"A Cinderella Story: Christmas Wish" is written and directed by Michelle Johnston (Nickelodeon's "Blurt"), who directed the last installment of "A Cinderella Story" after choreographing the first four and serving as a producer on the past three. Dylan Sellers ("The Giver," "St. Vincent"), keeper of the "A Cinderella Story" franchise, returns for his fifth turn as producer.
"A Cinderella Story: Christmas Wish" will be available on Blu-ray Combo Pack for a suggested retail price (SRP) of $24.98 ($34.97 in Canada) and DVD for $19.98 SRP ($24.99 in Canada) as well as on digital formats for $19.99 SRP. The Blu-ray Combo Pack (and Blu-ray in Canada) include a digital version of the film. The film also is available now on digital formats.
Madness in the Method
Jason Mewes stars in "Madness in the Method," which also marks the "Clerks" star's feature film directorial debut. It is available now on DVD and digital formats.
In this comedy, Mewes is tired of Hollywood's perception of him. Upon advice from best friend Kevin Smith, Mewes tracks down a secret method acting book to reinvent himself as a serious actor, with disastrous consequences. Written by Dominic Burns and Chris Anastasi and produced by Autumnwood Media, the film features a who's who of Hollywood icons, none bigger than the beloved Stan Lee who made his final on-screen cameo in the film.
Mehsampur
"Mehsampur," a daring blend of fact and fiction, arrives on DVD and digital formats Tuesday Oct. 29, from IndiePix Films.
Cash-strapped, oddball filmmaker Devrath arrives in Punjab to make a film on the legendary husband and wife folk-singing duo Chamkila & Amarjot, whose bawdy songs about village life and Punjabi culture found both keen admirers and vicious detractors and they were assassinated amidst cultural controversy in 1988.
Panicked when he discovers that another film crew, with far greater resources, is also making a film on the folk-singers, Devrath quickly begins to interview Chamkila's past associates—his former manager, a one-time singing partner, and fading percussionist, Lal Chand, a survivor of the yet-unsolved murders. After rescuing an ambitious (and disturbed) young actress from lechers at his hotel, the pair begrudgingly agrees to accompany the filmmaker on a road trip to the location of the fateful event, in the not-too-far-away village of Mehsampur in this bold—at times psychedelic—film that melds together fiction and documentary and explores narrative structures in a way Indian cinema has never seen before. It is in Pumjabi, Hindi and English with English subtitles.
This quirky mockumentary captured the India Gold Grand Jury Prize at Mumbai Film Festival, Best Editing at Diorama International Film Festival and Best Sound Design at Mosaic International South Asian Film Festival. It also premiered at Sydney International Film Festival. "Mehsampur" will be available on DVD and digital formats for $24.95 (SRP).
The Swan Princess
In celebration of the 25th anniversary of the Golden Globe nominated animated classic "The Swan Princess," Sony Pictures Home Entertainment is making the fan-favorite available in brilliant high definition for the first time with a collectible anniversary edition Blu-ray and in 4K HDR on digital, both available Tuesday Oct. 29.
"The Swan Princess" is a magical, musical animated adventure based on the classic fairy tale "Swan Lake." It has captured the hearts of audiences around the world. The winner of the Film Advisory BoardAward of Excellence and the Parents' Choice Award, the heartwarming story of the beautiful princess Odette, who is transformed into a swan by an evil sorcerer's spell. Held captive at an enchanted lake, she befriends Jean-Bob the frog, Speed the turtle and Puffin the bird. Despite their struggle to keep the princess safe, these good-natured creatures can do nothing about the sorcerer's spell, which can only be broken by a vow of everlasting love. "The Swan Princess" is bursting with color, dazzling animation, beautiful music and the vocal talents of Jack Palance, John Cleese, Steven Wright, Sandy Duncan and Michelle Nicastro.
The 25th anniversary Blu-ray release includes an all-new featurette entitled "A Look Back, Tease Ahead," plus a variety of additional archival features.
10 Minutes Gone
A nonstop action-thriller starring Golden Globe and Primetime Emmy winner Michael Chiklis ("The Shield") and Golden Globe and Primetime Emmy winner Bruce Willis ("Moonlighting" "Die Hard" movies), "10 Minutes Gone" arrives on Blu-ray (plus digital), DVD and digital formats Tuesday Oct. 29 from Lionsgate. The film is currently available On Demand.
Crime boss Rex (Willis) hires Frank (Chiklis) and his crew to steal a priceless jewel stash—but the job goes wrong when someone tips off the cops. After Frank suffers a blow to the head, he wakes up to find the jewels gone and no memory of his attacker. Now, Frank must confront his team members one by one to find the traitor—before Rex covers his tracks by having Frank murdered.
A thrilling game of cat and mouse, the "10 Minutes Gone" Blu-ray and DVD includes a making-of featurette and cast and crew interviews, and will be available for $21.99 (SRP) and $19.98 (SRP), respectively.
It's a Wonderful Life 4K Ultra HD Combo
Return to Bedford Falls to experience the life-affirming message of director Frank Capra's enduringly popular classic all over again when "It's a Wonderful Life" arrives on 4K Ultra HD Blu-ray for the first time ever Tuesday Oct. 29. Fully restored from the original negative "It's a Wonderful Life" in 4K delivers amazing clarity with sharper and brighter images for a sensational home viewing experience.
Paramount spent over a year painstakingly restoring this treasured film about a man who discovers the power of friendship, using the original nitrate negative along with two fine grain masters made in the 1940s. Each element was carefully scanned using the very latest technology to both preserve the delicate negative and create the best possible digital image. Fortunately, 13 of the 14 reels of the original negative survived, but portions had begun to deteriorate so the best image was selected from one of the three original sources on a shot-by-shot basis. The result is a more vibrant and detail-rich picture that brings this classic to life like never before.
The 4K Ultra HD Combo Pack includes the black-and-white film in 4K high definition, as well as a colorized version on Blu-ray, along with three special features new to 4K Ultra HD disc: "Restoring a Beloved Classic," "Secrets from the Vault," and "It's A Wonderful Wrap Party."
A two-disc Blu-ray set will also be available that includes the newly remastered film in black-and-white, along with a colorized version and the three special features listed above.
TV Shows
A Discovery of Witches
Acorn features the DVD and Blu-ray debut of the supernatural thriller and Sundance Now/Shudder Original Series "A Discovery of Witches" Tuesday Oct. 29. Based on the critically acclaimed and bestselling "All Souls" trilogy by Deborah Harkness, "A Discovery of Witches" is a modern-day love story, set in a world where witches, vampires and demons secretly live and work alongside humans, hidden in plain sight. The series has already been renewed for two more series. The two-disc DVD and Blu-ray features all eight episodes, plus featurettes about characters, mythology and TV magic ($39.99, Amazon.com). The series premiered on AMC Networks' Sundance Now and Shudder in January and also broadcast on AMC and BBC America.
Brilliant historian Diana Bishop (Teresa Palmer, "Warm Bodies," "Hacksaw Ridge") is a witch denying her own heritage. But when she unexpectedly calls up an ancient, bewitched manuscript from Oxford's Bodleian library, she finds herself thrown into the heart of a dangerous mystery—and into the path of the enigmatic geneticist and vampire Matthew Clairmont (Matthew Goode, "Downton Abbey," "Watchmen").
Their unlikely alliance to find the book before it falls into the wrong hands—and their deepening relationship—threatens to violate age-old taboos and shake the fragile peace that exists between the species. "A Discovery of Witches" also stars Owen Teale ("Game of Thrones"), Alex Kingston ("Doctor Who," "ER"), Lindsay Duncan ("The Leftovers," "Sherlock"), Trevor Eve ("Waking the Dead"), Valarie Pettiford ("Half & Half"), Malin Buska ("The Girl King") and Aiysha Hart ("Line of Duty").
Queens of Mystery
Acorn TV features the DVD debut of Acorn TV Original Series "Queens of Mystery" Tuesday Oct. 29. The contemporary mystery series follows the adventures of three crime-writing sisters and their niece, Detective Sergeant Mattie Stone (Olivia Vinall, "The Woman in White"). Using their knowledge of crime—both real world and fictional – together they solve murders in the picturesque English region of Wildemarsh. But no matter how many cases they're able to crack, the unsolved mystery that still haunts the Stone family is that of Mattie's mother's disappearance a quarter-century ago. "Queens of Mystery" is Acorn TV's third commission.
Created by Julian Unthank ("Doc Martin," "New Tricks"), this lighthearted mystery also stars Sarah Woodward ("The Politician's Husband") as the motherly Aunt Beth, Julie Graham ("The Bletchley Circle," "Shetland") as rebellious Aunt Cat, and Siobhan Redmond ("Alfresco") as the book smart Aunt Jane. This Acorn TV Original earned a 2019 Emmy nomination for four-time BAFTA Award nominee Juliet Stevenson ("Bend It like Beckham," "The Hour"). The three-disc DVD set features six episodes (three two-part mysteries), plus bonus behind-the-scenes featurettes and Easter eggs ($39.99, Amazon.com).
"Queens of Mystery" premiered exclusively on Acorn TV in April. Acorn TV is North America's most popular and largest streaming service focused on British and international television.