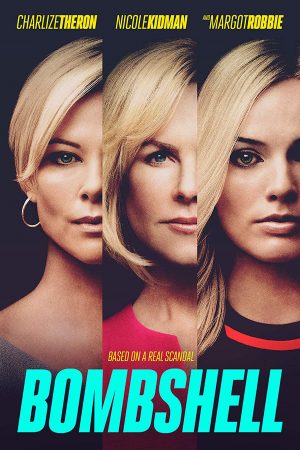 By ANGELA DAWSON
Front Row Features
Movies
Bombshell
An Oscar-nominated film based on the provocative real story of three ambitious and strong women who risked everything to stand up to their sexist boss, "Bombshell" arrives on Blu-ray Combo Pack and DVD Tuesday March 10, from Lionsgate.
This empowering drama praised by critics and popular with audiences was nominated for three Academy Awards including Best Actress (Charlize Theron), Best Supporting Actress (Margot Robbie) and Best Achievement in Makeup and Hairstyling (Kazu Hiro, Anne Morgan, and Vivian Baker), winning in the latter category.
Academy Award winners Charlize Theron ("Monster") and Nicole Kidman ("The Hours") and Academy Award nominees Margot Robbie ("I, Tonya") and John Lithgow ("Terms of Endearment") star in this provocative true story of three whip-smart, ambitious and strong women who anchored one of America's most powerful cable news networks—becoming headlines themselves when they risked their careers to stand up to the boss who made them famous.
Directed by two-time Emmy Award winner Jay Roach ("Game Change," "Recount") and written by Academy Award winner Charles Randolph ("The Big Short"), "Bombshell" also stars Kate McKinnon ("Saturday Night Live"), Connie Britton ("Friday Night Lights"), with Malcolm McDowell ("A Clockwork Orange") and Oscar winner Allison Janney ("I, Tonya").
Explore the journey it took to bring this true story to the screen with in-depth Blu-ray and DVD bonus features, including a seven-part making-of documentary featuring interviews with the cast and crew that brought this story to the screen. The "Bombshell" Blu-ray Combo Pack and DVD will be available for the suggested retail price (SRP) of $39.99 and $29.95, respectively.
Charlie's Angels
The intrepid private investigators (a.k.a. the Angels) of the Townsend Agency enter a new era with stars Kristen Stewart ("The Twilight Saga"), Naomi Scott ("Aladdin"), newcomer Ella Balinska and Elizabeth Banks ("Pitch Perfect") spreading their wings in "Charlie's Angels," coming to 4K Ultra HD, Blu-ray and DVD Tuesday March 10, from Sony Pictures Home Entertainment. The spy adventure also is now available on Digital.
Joining the Angels on their secret, world-saving mission are Djimon Hounsou ("Blood Diamond"), Sam Claflin ("The Hunger Games: Catching Fire"), Noah Centineo ("To All the Boys I've Loved Before") and Patrick Stewart ("Logan").
Director Elizabeth Banks ("Pitch Perfect 2") takes the helm as the next generation of fearless "Charlie's Angels" take flight. This is the latest screen remake of the popular 1970s TV series that starred Farrah Fawcett, Kate Jackson and Jaclyn Smith. A movie version was released in 2000 with Cameron Diaz, Lucy Liu and Drew Barrymore, which spawned a sequel.
In this reboot, Stewart (Sabina), Scott (Elena) and Balinska (Jane) are working for the mysterious Charles Townsend, whose investigative agency has expanded internationally. The new Angels are among the world's smartest, bravest, and most highly trained women in the world. Under the guidance of Bosley (Banks), the Angels have to protect a revolutionary technology from becoming weaponized. They will have to rely on each other as their assignment becomes increasingly treacherous and even those closest to them can no longer be trusted.
The "Charlie's Angels" bonus materials include a hilarious gag reel, five deleted scenes, and four making-of featurettes with never-before-seen cast and crew interviews. Dive deep into the stunning costume design, high-octane stunt sequences, and learn how the stars bonded on set to form their own Angels' sisterhood.
The IMAX Enhanced 4K Ultra HD edition features digitally remastered content presented with High Dynamic Range and DTS:X audio for a more immersive at-home entertainment experience.
Little Joe
The sci-fi thriller "Little Joe" arrives on DVD and Digital Tuesday March 10, from Magnolia Home Entertainment.
"Little Joe" follows Alice Woodward (Emily Beecham, "Daphne"), a single mother and dedicated senior plant breeder at a corporation engaged in developing new species. She has engineered a special crimson flower, remarkable not only for its beauty but also for its therapeutic value: if kept at the ideal temperature, fed properly and spoken to regularly, this plant makes its owner happy. Against company policy, Alice takes one home as a gift for her teenage son, Joe (Kit Connor, "His Dark Materials"). They christen it "Little Joe." But as their plant grows, so too does Alice's suspicion that her new creation may not be as harmless as its nickname suggests. The film is directed by Australian filmmaker Jessica Hausner ("Amour Fou").
The special feature is a Q&A session with actress Emily Beecham and director Jessica Hausner. The DVD and Digital is available for $26.98 (SRP).
A Quiet Place
Director John Krasinski's sensationally gripping smash hit "A Quiet Place" arrives in a brand new, collectible Mondo X Steelbook 4K Ultra HD Combo Tuesday March 10, from Paramount Home Entertainment. Relive the incredible tension and suspense of the original thriller before its highly anticipated sequel debuts in theaters Friday March 20.
This Mondo X Steelbook collaboration features exclusive artwork inspired by Matt Ryan Tobin's atmospheric poster highlighting the film's iconic red string lights. The 4K Ultra HD Combo includes behind-the-scenes footage exploring the exceptionally unique sound design, the riveting visual effects, and how the cast and crew created the movie's distinctive atmosphere both on set and on film. The 4K Ultra HD Disc also boasts a Dolby Atmos soundtrack and Dolby Vision.
The Blu-ray in the 4K Ultra HD Combo includes more than 30 minutes of bonus content including the featurettes, "Creating the Quiet: Behind the Scenes of 'A Quiet Place,'" as well as separate featurettes on the film's editing and visual effects.
Spies in Disguise
Blue Sky Studios' hit action spy comedy "Spies in Disguise" arrives onto Digital, 4K UHD, Blu-ray, and DVD on Tuesday, March 10.
The animated family friendly film features the voices of Will Smith as super spy Lance Sterling and Tom Holland as the voice of scientist Walter Beckett, who team up to save the world when Lance is inadvertently transformed into a brave, fierce, majestic pigeon.
The box set is loaded with extras including a top-secret guide to gadgets, music videos, a gallery of locations, character designs, props and gadget concept art and much more.
Temblores
A married man faces cruel aftershocks after coming out of the closet in "Temblores," a gut-wrenching drama from celebrated Guatemalan filmmaker Jayro Bustamante, available on DVD and Digital March 10.
In this deeply personal follow-up to his landmark debut "Ixcanul, "Bustamante shifts his focus from rural Guatemala to Guatemala City, but once again sets his sights on an individual caught between two seemingly irreconcilable worlds.
When handsome and charismatic Pablo (Juan Pablo Olyslager) arrives at his affluent family's house everyone is eagerly awaiting the return of their beloved son, devoted father and caring husband. A seemingly exemplary pillar of Guatemala City's Evangelical Christian community, Pablo's announcement that he intends to leave his wife for a man sends shockwaves through the family.
As Pablo tries to acclimate to his new life in the city's gay subculture with the liberated Francisco, his ultra-religious family does everything in its power to get their prodigal son back on track, no matter the cost.
Extras include a behind-the-scenes featurette and a bonus short film, "Black Hat." "Temblores" is available on DVD and Digital for $24.95 (SRP).
The Ten Commandments
For sheer pageantry and spectacle, few motion pictures can claim to equal the splendor of renowned director Cecil B. DeMille's 1956 epic "The Ten Commandments." Arriving in time for Easter gift-giving, the beloved masterpiece will be presented in a new Blu-ray Digibook Tuesday March 10, from Paramount Home Entertainment.
This spectacular release features three Blu-ray discs and includes not only the fully restored 1956 version of the film, but also DeMille's original 1923 silent version, as well as a 16-page booklet featuring rare photos and historical facts about both productions. The set also includes an in-depth, 73-minute documentary entitled "The Ten Commandments: Making Miracles," commentary on the 1956 film by Katherine Orrison, author of "Written in Stone: Making Cecil B. DeMille's Epic, The Ten Commandments," newsreel footage of the film's New York premiere, theatrical trailers, hand-tinted footage of the Exodus and Parting of the Red Sea sequence from the 1923 version, a two-color Technicolor segment, and photo galleries.
DeMille's last motion picture made Charlton Heston a superstar and remains a cinematic triumph and perennial fan-favorite. Filmed in Egypt and the Sinai with one of the biggest sets ever constructed for a motion picture, "The Ten Commandments" tells the story of the life of Moses (Heston). Once favored in the Pharaoh's (Yul Brynner) household, Moses turned his back on a privileged life to lead his people to freedom.
Uncut Gems
Adam Sandler stars in the critically acclaimed thriller "Uncut Gems," arriving on Blu-ray Combo Pack (plus DVD and Digital) and DVD Tuesday March 10, from Lionsgate. It also is available now on Digital.
A charismatic jeweler (Sandler) makes a high-stakes bet that could lead to the windfall of a lifetime. In a precarious high-wire act, he must balance business and family, fending off adversaries on all sides in pursuit of the ultimate win.
Co-written and directed by brothers Josh and Benny Safdie (writers and directors of "Good Time"), the film played at both the Telluride Film Festival and the Toronto International Film Festival. The film also stars LaKeith Stanfield, Kevin Garnett, Idina Menzel, Eric Bogosian, and Academy Award nominee Judd Hirsch ("Ordinary People"). Executive produced by Martin Scorsese, the Uncut Gems Blu-ray Combo Pack and DVD will be available for $39.99 (SRP) and $29.95 (SRP), respectively.
Whisky Galore! & The Maggie
"Whisky Galore!" and "The Maggie," two fully restored comedy classics directed by Alexander Mackendrick from Britain's Ealing Studios arrive on Blu-ray Tuesday March 10, from Film Movement Plus.
Ealing helped define what was arguably the Golden Age for British Cinema and the birthplace of the most delectable crop of films to decorate postwar cinema. It not only fostered great directors such as Mackendrick as well as Robert Hamer and towering stars such as Alec Guinness, Peter Sellers Stanley Holloway, Hugh Griffith, and Margaret Rutherford, but it produced a group of "veddy" British comedy classics that found fans the world over.
"Whisky Galore!" from 1949, is one of Ealing's best-loved comedies, which was incidentally retitled "Tight Little Island" in the U.S., where it was a hit. During the war, the remote Scottish island of Todday is starved for scarce whisky, until a shipwreck strands thousands of cases of "the water of life" tantalizingly within reach. Basil Radford is hilariously misguided as the island's chief of Defense, and Joan Greenwood lends her fetching presence, but every member of the large ensemble is terrific, directed by the gifted Alexander Mackendrick ("The Man in the White Suit," "The Ladykillers") in his directorial debut.
Mackendrick also directed the 1954's "The Maggie" (originally released stateside as "High and Dry"), one of the 50-odd puffer boats which chugged among the Western Isles of Scotland. Squat, unprepossessing, and badly in need of paint, she is destined for the scrap yard – at least until a misunderstanding welcomes the valuable cargo of the hard-charging American businessman, Calvin B. Marshall (Paul Douglas).
Special features include audio commentary by British film expert John Ellis on "Whisky Galore!, the documentary "Distilling Whisky Galore!", a 16-page collectible booklet, and more.
The Blu-ray of these two classic comedies is available for $44.95 (SRP).