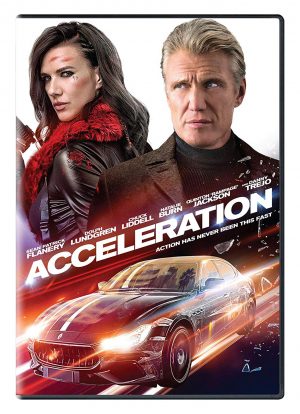 By ANGELA DAWSON
Front Row Features
Movies
Acceleration
The action-packed car chase thriller "Acceleration" starring action icon Dolph Lundgren arrives on Blu-ray and Digital Tuesday Dec. 17, from Cinedigm.
Vladik Zorich (Lundgren), a villainous crime lord, is double-crossed by his most trusted operative Rhona (Natalie Burn). Vladik's propensity for power, control, and violence drives him to kidnap Rhona's son forcing her to participate in a twisted plan to eliminate one of Vladik's enemies. To keep her on a short leash, Vladik sets out the 'rules' to his 'game' and overseas Rhona's every move as she navigates the darkened streets of Los Angeles. As her son's life hangs in the balance, Rhona struggles to eliminate the most violent and depraved delinquents, however, Vladik underestimates the power of a mother's love and finds himself losing control as his devious plan.
Ad Astra
Brad Pitt (the "Oceans" franchise, "Once Upon a Time … In Hollywood") stars in "Ad Astra," a sci-fi thriller set in space, landing in 4K Ultra HD, Blu-ray and DVD Tuesday Dec. 17.
When a mysterious life-threatening event strikes Earth, astronaut Roy McBride (Pitt) goes on a dangerous mission across an unforgiving solar system to uncover the truth about his missing father (Tommy Lee Jones) and his doomed expedition that now, 30 years later, threatens the universe. Extras include an audio commentary by director James Grey, a featurette on the visual effects, deleted scenes with optional audio commentary by Grey and more. "Ad Astra" is available digitally on Movies Anywhere.
Beverly Hills Cop: Remastered
The heat is on in the action-packed comedies "Beverly Hills Cop," "Beverly Hills Cop II and "Beverly Hills Cop III," arrive in a newly remastered and arriving on Digital in 4K Ultra HD with High Dynamic Range Tuesday Dec. 17, and in a 3-Movie Blu-ray Collection Tuesday Jan. 14, 2020.
Starring Eddie Murphy ("Dreamgirls"), the three entertaining comedies earned a combined $735 million worldwide, as well as two Academy Award nominations and a Grammy Award for the first film's Original Score.
Celebrating its 35th anniversary, the action-comedy classic "Beverly Hills Cop" follows the one-and-only Axel Foley (Murphy), a street-smart cop from Detroit. Tracking down his best friend's killer in Beverly Hills, Axel smashes through the local barriers in a hilarious, high-speed pursuit of justice. In "Beverly Hills Cop II," Murphy returning as Axel, goes deep undercover to investigate a gang of international munitions smugglers and in "Beverly Hills Cop III" Axel investigates a counterfeit money ring run out of a theme park in Los Angeles.
The Blu-ray includes two never-before-seen deleted scenes, four new behind-the-scenes featurettes, a commentary by director Martin Brest, the isolated audio track of the original score by Harold Faltermeyer and more.
D-Day: Battle of Omaha Beach
Some people called it suicide, but for the Rangers of the 2nd Battalion, that's another word for mission. "D-Day: Battle of Omaha Beach" is a visually stunning war drama chronicling the heroics of these brave American soldiers, now available on DVD.
When an elite group U.S. soldiers are ordered to take out a series of German machine gun nests, they find themselves blindly venturing into hostile territory. Outnumbered and outgunned they must risk life and limb as they cross treacherous terrain, never knowing where the enemy might be hiding. Based on the incredible true story of heroes Lieutenant Colonel James Rudder (Weston Cage Coppola), Lieutenant General Omar Bradley (Chuck Liddell) and Major Cleveland Lytle (Randy Couture), and a day that was destined to change history.
Downton Abbey: The Movie
"Downton Abbey," the big screen follow up to the worldwide TV series phenomenon, welcomes fans back for a spectacular homecoming on Blu-ray, DVD and On Demand Tuesday Dec. 17, from Universal Pictures Home Entertainment. It also is available now on Digital.
The sweeping drama about a fictional family of British aristocrats arrives just in time for the holiday season with a broad variety of bonus features, including exclusive conversations with the cast, deleted scenes and a series recap that whisks audiences away to a world of grandeur.

Based on Carnival Films' Emmyaward-winning television series, the feature "Downton Abbey" sees the original cast return, alongside a host of newcomers. The film chronicles the Crawley family one year after the conclusion of the series, as they prepare for the most important moment of their lives: an impending visit from the Royal Family. Join the glitz, glamour and spectacle as the special visit unleashes scandal, romance and intrigue on the fan-favorite family and its staff members. The film comes from the series screenwriter and producer Julian Fellowes, and producers Gareth Neame and Liz Trubridge.

The motion picture will also be available in a Deluxe Limited Edition, featuring the Blu-ray Disc, DVD, and Digital Code, presented in exclusive packaging along with a collectible photo book and recipe cards. Available only while supplies last, this special offering is the must-own gift for any Downton Abbey fan or to add to your own collection.
A Feast of Man
In the tradition of dark, delectable cannibal comedy classics "Eating Raoul" and "Delicatessen," comes "A Feast of Man," on DVD and Digital Tuesday Dec. 17 from IndiePix Films.
When Gallagher (Laurence Joseph Bond), a wealthy and eccentric New York playboy prone to mischief dies unexpectedly, his closest socialite friends—Dickie (Jesse Rudoy), Wolf (Chris Shields), Judy (Katey Parker), and Judy's fiance, Ted (Frank Mosley)—are summoned to the late aristocrat's country home overlooking the Hudson for a viewing of his video will. Only things don't go quite as Wolf, the executor of the estate, had planned—Gallagher's posthumous wish is to put his dearly beloved to the test: each one will become a millionaire overnight if they can unanimously agree to consume his dead body and the group, has until the end of the weekend to reach a decision. Hilarity, of course, ensues.
Holly Near: Singing for Our Lives
Singer, songwriter, and social activist Holly Near has been performing for well over 50 years and in the process created what Gloria Steinem called, "the first soundtrack of the women's movement." "Holly Near: Singing for Our Lives" is available Tuesday Dec. 10 on DVD, from Omnibus Entertainment.
From small-town Northern California to sold-out shows on some of the most iconic stages to million-person peace marches, "Holly Near: Singing for Our Lives" documents the story of the activist and her art. Soaring anthems that call for women's rights, gay rights, anti-war protests and all human rights, Near's music speaks to the world's young political activists of today. It also serves as an important testament to a time of protest and coalition-building, and the weaving of a multicultural consciousness rooted in contemporary activism.
Featuring new interviews with Steinem, Jane Fonda, the late Ronnie Gilbert and the late Tom Hayden with appearances by Pete Seeger, and others, this new music documentary which previously aired on "American Masters," directed by four-time Emmy winner Jim Brown ("American Masters—The Highwaymen: Friends Til The End;" "American Masters—Pete Seeger: The Power of Song"), elevates Near to her iconic status as an artist and activist.
Bonus features include live performances of "One Good Song" and "Somebody's Jail", and eight additional minutes of footage not seen in the original broadcast, as well as additional interviews with Near and other artists she inspired. "Holly Near: Singing for Our Lives" is available for the suggested retail price (SRP) of $24.95.
Overcomer
Award-winning director Alex Kendrick ("War Room," "Courageous") delivers an inspirational, edge-of-your-seat experience in the family-friendly sports drama "Overcomer," debuting on Blu-ray and DVD Tuesday Dec. 17, from Sony Pictures Home Entertainment, Affirm Films and Provident Films. The film also is available now on Digital.

"Overcomer" stars Priscilla Shirer ("War Room," "I Can Only Imagine"), Shari Rigby ("October Baby," "Wildflower"), Cameron Arnett ("Meet the Browns," "Stand Your Ground") and newcomer Aryn Wright-Thompson.

Life changes overnight for coach John Harrison (Kendrick) after he loses his basketball team and is challenged by the school's principal, Olivia (Shirer), to coach a new sport he doesn't know or like. As John questions his own worth, he dares to help the least likely runner take on the biggest race of the year. Filled with a powerful mix of faith, humor and heart, this inspirational story will have you on the edge of your seat.

The Blu-ray, DVD and digital release come with an extensive array of bonus material, including 10 minutes of extended and deleted scenes, fun bloopers, exclusive commentary by the Kendrick Brothers, and a moving in-depth looks at the power of forgiveness, identity and more.

A special Kendrick Brothers six-movie DVD gift set also will be available exclusively at Walmart beginning Dec. 17. The set will contain "Overcomer," "War Room," Courageous," "Fireproof," "Facing the Giants" and "Flywheel."
Trick
RLJE Films, a unit of AMC Networks, will release "Trick," Tuesday Dec. 17, on DVD and Blu-ray.
"Trick" features Omar Epps ("House"), Ellen Adair ("Homeland"), Kristina Reyes ("Blindspot"), Jamie Kennedy ("Scream" franchise) and Tom Atkins ("Escape From New York"). Directed by Patrick Lussier ("My Bloody Valentine," "Drive Angry"), he co-wrote the film with Todd Farmer ("My Bloody Valentine," "Jason X"). RLJE Films will release "Trick" on DVD for $27.97 (SRP) and on Blu-ray for $28.97 (SRP).
On Halloween night in 2015, Patrick "Trick" Weaver massacred his classmates at a costume party. After being arrested, he managed to escape police custody, but not before being shot five times by Detective Mike Denver (Epps). Everyone believes Trick must be dead, but when a masked killer reappears the following Halloween, and every Halloween after that, they realize the nightmare is not over. With Trick wreaking havoc and killing innocent people in increasingly terrifying ways, Denver will stop at nothing to finish what he started and bring the carnage to an end.
There is a bonus "making of" featurette with interviews of the cast and crew included.
TV Shows
Fuller House: The Complete Fourth Season
Get ready to enjoy a brand-new set of entertaining adventures from one of television's favorite families with Warner Bros. Home Entertainment's release of "Fuller House: The Complete Fourth Season," available on DVD and Digital via purchase from digital retailers Tuesday Dec. 17.
Join the Tanner clan for 13 new, hilarious and heartwarming episodes, featuring guest appearances by original "Full House" cast. "Fuller House: The Complete Fourth Season" will be available for $24.98 (SRP) ($30.99 in Canada).
The Fullers and the Gibblers are set for more fun adventures and life-changing moments. Steve and D.J. face relationship pressures while they try to recreate the magic they used to have when they were younger. Jackson learns how to drive, begins playing high school sports and attends the prom. Max runs for class president. Kimmy deals with pregnancy cravings and worries her relationship with Stephanie will change once she has Stephanie's baby. Stephanie questions her ability to be a mom. Danny ponders if retirement was the right call, and Fernando gets a surprise visit from his mother. It's an exciting season filled with laughs, surprises and good times.
The series, which earned a 2018 Primetime Emmy Award nomination for Outstanding Children's Program, has been renewed for a fifth and final season on Netflix.
"Fuller House" is the continuation of the '90s ABC series "Full House" in which eldest daughter D.J. Tanner (Candace Cameron Bure, "A Christmas Detour") is now a veterinarian and recently widowed mother trying to raise three boys on her own. She is joined by her sister Stephanie (Jodie Sweetin, " Walt Before Mickey") and best friend Kimmy Gibbler (Andrea Barber, "The Skateboard Kid 2") and Kimmy's teenage daughter Ramona (Soni Bringas), who move in to lend their support and help raise D.J.'s kids. Additional members from the "Full House" original cast will make guest appearances throughout the series.
The original series, which centered around three grown men raising three girls in San Francisco, premiered in 1987 on ABC and became an instant hit with viewers. The family friendly series became a pop culture phenomenon. It was praised by fans for its wholesome comedy, lovable characters and valuable life lessons. It aired for eight successful seasons and later aired in syndication. "Fuller House" premiered on Netflix in 2016.
Calling all "Downton Abbey" fans! Front Row Features is giving away a copy of "Downton Abbey" the motion picture on Blu-ray/DVD Combo Pack to three lucky readers. To enter the contest, simply email socalmovieeeditor@aol.com by Dec. 23 and let us know what your favorite moment was from the hit British TV series. Good luck!