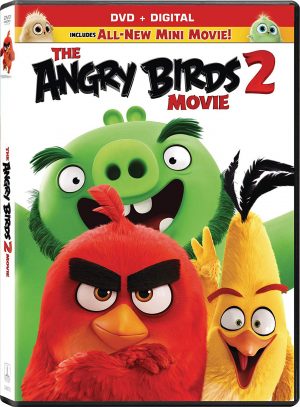 By ANGELA DAWSON
Front Row Features
Movies
The Angry Birds Movie 2
Jason Sudeikis ("Booksmart"), Josh Gad ("Frozen II"), Bill Hader ("Inside Out"), Danny McBride ("The Righteous Gemstones") and Peter Dinklage ("Game of Thrones") reprise their roles from 2016's "The Angry Birds Movie" in the family-friendly sequel, "The Angry Birds Movie 2," arriving on 4K Ultra HD, Blu-ray and DVD Tuesday Nov. 12, from Sony Pictures Home Entertainment. The film also is now available on Digital.
Joining the all-star cast is Leslie Jones ("Saturday Night Live"), Rachel Bloom ("Crazy Ex-Girlfriend'), Awkwafina ("Crazy Rich Asians"), Sterling K. Brown ("This Is Us") and Eugenio Derbez ("Dora and the Lost City of Gold").
The flightless angry birds and the scheming green piggies take their beef to the next level in this latest installment of the franchise. When a new threat emerges that puts both Bird and Pig Island in danger, Red (Sudeikis), Chuck (Gad), Bomb (McBride) and Mighty Eagle (Dinklage) recruit Chuck's sister Silver (Rachel Bloom) and team up with pigs Leonard (Hader), his assistant, Courtney (Awkwafina), and techpig, Garry (Brown), to forge an unsteady truce and form an unlikely super team to save their homes.

Bonus materials for include an all-new mini movie "Live Stream" and six adorable Hatchling shorts, three Family Fun DIY activities inspired by the film, a collection of behind-the-scenes featurettes with cast and crew, an exciting visit to the LA Zoo to meet some amazing feathered friends, a holiday themed sing along and much more! The IMAX Enhanced 4K Ultra HD edition features digitally remastered content presented with High Dynamic Range and DTS:X.
Cross: Rise of the Villains
Armed with an explosive powerful ancient cross amulet, Callan ("Beverly Hill 90210's" Brian Austin Green) is back for "Cross: Rise of the Villains," with his extraordinary team of weapons experts to defend Los Angeles from its biggest threat yet—super villains Muerte (Danny Trejo) and Drago (Manu Intiraymi). The film is available Tuesday Nov. 12 on DVD and Digital.
Callan will have to join forces with his once mortal enemy, Gunnar (Vinnie Jones), to try to save the city. Tom Sizemore returns as Detective Nitti and Lou Ferrigno, DB Sweeney, Jeremy London and Eric Roberts return as The Contractors. The action thriller is directed by Patrick Durham who co-wrote the film with Paul G. Volk.
Good Boys
From the creative minds of Seth Rogen and Evan Goldberg ("Superbad," "Pineapple Express") comes the new hit comedy "Good Boys," available on Blu-ray, DVD and On Demand Tuesday Nov. 12, from Universal Pictures Home Entertainment.
After being invited to his first kissing party, 12-year-old Max (Jacob Tremblay, "Room") is panicking because he doesn't know how to kiss. Eager for some pointers, Max and his best friends Thor (Brady Noon, "Boardwalk Empire") and Lucas (Keith L. Williams, "The Last Man on Earth") decide to use Max's dad's drone—which Max is forbidden to touch—to spy on a teenage couple making out next door. But when things go ridiculously wrong, the drone is destroyed. Desperate to replace it before Max's dad (Will Forte, "The Last Man on Earth:) gets home, the boys skip school and set off on an odyssey of epically bad decisions involving some accidentally stolen drugs, frat-house paintball, and running from both the cops and two terrifying teenage girls (Molly Gordon, "Life of the Party" and Midori Francis, "Ocean's Eight").
"Good Boys" is co-written and produced by Lee Eisenberg and co-written and directed by Gene Stupnitsky ("The Office"). "Good Boys" is available now on Digital and Movies Anywhere. Extras include several featurettes, along with a gag reel, commentary by Eisenberg and Stupnitsky and more.

Heathers
RLJE Films will release "Heathers" 30th Anniversary Limited Edition SteelBook Tuesday Nov. 12 on Blu-ray with exclusive illustrations by Sara Deck commissioned by Mondo.
Written by Daniel Waters ("Hudson Hawk," "Batman Returns") and directed by Michael Lehmann ("40 Days and 40 Nights," "The Truth About Cats & Dogs"), the film stars Winona Ryder ("Reality Bites," "Stranger Things"), Christian Slater ("Robin Hood Prince of Thieves," "Mr. Robot), Shannen Doherty ("Beverly Hills, 90210") and Lisanne Falk ("Say Anything," "Shattered Image").
Beautiful, popular and ruthless, the Heathers are the picture-perfect queens of the social scene at Westerburg High that everyone wants to be. And that includes Veronica—or so she thought—until she meets JD. He's the new bad boy in class with some extreme ideas about how to get even with the school bullies and mean girls. But is he prom date material or a dangerous psychopath? Starring Winona Ryder and Christian Slater, this classic, wickedly dark comedy still rules as the greatest high school movie that isn't afraid of a little mayhem.
Extras include an all-new interview with director Lehmann and writer Waters, an interview with actress Falk, an audio interview with composer David Newman, along with the director and writer, with selected score selections, a couple of featurettes, audio commentary with producer Denise DiNovi along with the writer and director, and more.
"Heathers" 30th Anniversary Limited Edition SteelBook is available for a suggested retail price (SRP) of $39.98.
Scared of Revolution
"Scared of Revolution," a documentary about Umar Bin Hassan, one of "The Last Poets," is available on DVD and Digital Tuesday Nov. 12, from Film Movement.
Bin Hassan isn't quite 70, but he walks with difficulty and there's sadness and fatigue in his eyes. As a member of The Last Poets, a group of performance poets who expressed the progressive spirit of the times starting in the late 1960s, he was a major influence on later hip-hop artists.

"Scared of Revolution," based on Christine Otten's book, "The Last Poets" concentrates on Hassan's personal life, in which he still fights his demons. The Godfather of Rap grew up poor with a violent, unpredictable father, which in turn left him with an inferiority complex. In the course of his adult life, he has had a string of bad relationships and left children without a father figure. In his darkest hour, he also battled a crack addiction. Yet he managed to take control of his life again, break the destructive cycle and do his best to be the devoted father and grandfather that he was never fortunate enough to have.
The DVD/Digital is available for a suggested retail price (SRP) of $24.95.
The Weekend
"The Weekend" arrives on Blu-ray (plus Digital), DVD, and Digital Tuesday Nov. 12, from Lionsgate. This smart, sophisticated romantic comedy with poignant insights into relationships, is now available On Demand.
Zadie (Sasheer Zamata, "SNL") goes on an insane weekend getaway with her ex, Bradford (Tone Bell, "The Flash") and his new girlfriend (DeWanda Wise, "She's Gotta Have It"). At the B&B run by her nosy mom (Kym Whitley, "Deliver Us from Eva," "Raising Whitley"), Zadie feels like a third wheel until handsome Aubrey (Y'lan Noel, "The First Purge") shows up. While crushing on Aubrey, Zadie gets a little drunk and makes a lot of trouble for everyone—including herself.
Written and directed by Stella Meghie ("Everything, Everything," "Jean of the Joneses")—and an official selection at the 2018 Toronto International Film Festival, the Tribeca Film Festival, and the South by Southwest film festival— "The Weekend" Blu-ray and DVD will include a filmmaker commentary and be available for $21.99 (SRP) and $19.98 (SRP), respectively.
Yesterday Was a Lie
"Yesterday Was a Lie," will be available on DVD and Blu-ray, as well as all leading digital platforms, including Index's signature streaming service, IndiePix Unlimited on Amazon Channels, Tuesday Nov. 12. The reality-bending noir thriller is produced by Chase Masterson for Helicon Arts Cooperative, from writer/director James Kerwin.
Exploring mind-twisting sci-fi themes including the nature of time, reality and human consciousness, this acclaimed festival favorite celebrates its 10th Anniversary with a special edition—digitally remastered shot-by-shot.
Kipleigh Brown plays Hoyle, a girl with a sharp mind and a weakness for bourbon who finds herself on the trail of a reclusive genius (John Newton). But her work takes a series of unforeseen twists as events around her grow increasingly fragmented, disconnected and surreal. With a sexy lounge singer (Chase Masterson) and a loyal partner (Mik Scriba, "The Last Seduction") as her only allies, Hoyle is plunged into a dark world of intrigue and earth-shattering cosmological secrets. Haunted by an ever-present shadow (Peter Mayhew) whom she is destined to face, Hoyle discovers that the most powerful force in the universe—the power to bend reality, the power to know the truth—lies within the depths of the human heart.
The film also stars Nathan Mobley, Warren Davis, Megan Henning, Jennifer Slimko and noted radio personality Robert Siegel.
Aside from a shot-by-shot digital remastering, this special 10th Anniversary Edition of "Yesterday Was a Lie" is supplemented by a spectacular array of specially-produced extras including a feature-length audio commentary by Kerwin, Brown and Masterson as well as multiple making-of featurettes, interviews with the cast and crew, as well as a WonderCon Panel and never-before-released outtakes and camera tests.
"BH90210" may sadly not be coming back for a second season, but Brian Austin Green fans can see him play another beloved character, Callan, again in "Cross: Rise of the Villains." Front Row Features is giving away a DVD copy of the third installment in the "Cross" cinematic universe to five lucky readers. To enter the contest, simply email socalmovieeditor@aol.com by Nov. 19 for your chance to win. Good luck!