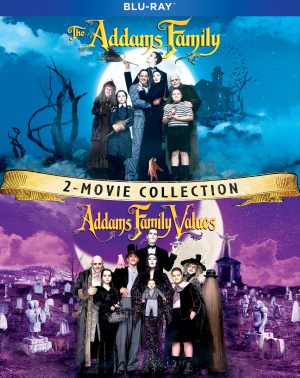 By ANGELA DAWSON
Front Row Features
Movies
The Addams Family and Addams Family Values
Get ready for a hilarious scarefest with "The Addams Family" and "Addams Family Values" reappear on DVD and Blu-ray either individually or in a two-movie DVD or Blu-ray Collections Tuesday Oct. 1, just ahead of the new animated feature film hitting theaters Oct. 11.
The kooky, spooky and all-together ooky adventures of the Addams Family are sure to have you screaming with laughter. In "The Addams Family," which first arrived in theaters in 1991, long-lost Uncle Fester (Christopher Lloyd) returns after 25 years in the Bermuda Triangle, prompting Gomez (Raul Julia) and Morticia (Anjelica Huston) to plan a celebration to wake the dead. But Wednesday (Christina Ricci) barely has time to warm up her electric chair before Thing points out Fester's uncommonly "normal" behavior. The family has to figure out if this Fester is a fake and part of an evil scheme to raid the Addams fortune.
In "Addams Family Values," it's love at first fright when Gomez (Julia) and Morticia (Huston) welcome a new addition to the Addams household—Pubert, their soft, cuddly, mustachioed baby boy. As Fester (Lloyd) falls hard for voluptuous nanny Debbie Jilinksy (Joan Cusack), Wednesday (Ricci) and Pugsley (Jimmy Workman) discover she's a black-widow murderess who plans to add Fester to her collection of dead husbands.
Awake
Cinedigm Corp has released the action drama "Awake," on Blu-ray, DVD and Digital. The film stars Jonathan Rhys Meyers ("Vikings," "Match Point") and Francesca Eastwood ("Outlaws and Angels,") in this edge-of-your-seat thriller written by Elana Zeltser and directed by Alex Cher, a veteran Russian director and co-director Fedor Lyass, making their English language feature debut with the film. "Awake" also stars Malik Yoba ("New York Undercover") and William Forsythe ("The Devil's Rejects").
On a quiet evening, a shabby beige sedan speeds down a country highway. Dust and gravel fly through the air when suddenly the car slides out of control into a ravine. Later a man wakes up in a hospital bed with no recollection of who he is or how he got there. His nurse Diana (Eastwood) is unable to find any identification and refers to him as John Doe (Rhys Meyers).
The police barge into the hospital, accusing John of being a serial killer responsible for the murder of several young women in the area. As the Sergeant ushers John into a private room for questioning, he manages to escape with the help of Diana, who is convinced of his innocence. The fugitives then set off for the last crime scene in search of clues and answers to clear John's name but the benevolent nurse will soon uncover the shocking truth behind the amnesiac's identity and the web of deceit that will lead him to a final fight for his survival.
Circus
In the last film, he made during the silent era, Charlie Chaplin revels in the art of the circus, paying tribute to the acrobats and pantomimists who inspired his virtuoso pratfalls in "Circus." The classic film is now available in a Blu-ray Special Edition from The Criterion Collection.
After being mistaken for a pickpocket, Chaplin's Tramp flees into the ring of a traveling circus and soon becomes the star of the show, falling for the troupe's bareback rider along the way. Despite its famously troubled production, this gag-packed comedy ranks among Chaplin's finest, thanks to some of the most audacious set pieces of the director-performer's career, including a close brush with a lion and a climactic tightrope walk with a barrelful of monkeys. "The Circus," which was rereleased in 1969 with a new score by Chaplin, is an uproarious high-wire act that showcases silent cinema's most popular entertainer at the peak of his comic powers.
Special features include a new 4K digital restoration of the 1969 re-release version of the film, featuring an original score by Chaplin, with uncompressed monaural soundtrack on Blu-ray, a new audio commentary featuring Chaplin biographer Jeffrey Vance, an interview with Chaplin from 1969, a new interview with Chaplin's son Eugene Chaplin, "In the Service of the Story," a new program on the film's visual effects and production design by film scholar Craig Barron, "Chaplin Today: The Circus," a 2003 documentary on the film featuring filmmaker Emir Kusturica, excerpted audio interview from 1998 with Chaplin musical associate Eric James, unused café sequence with new score by composer Timothy Brock, and related outtakes with narration by comedy choreographer Dan Kamin, newly discovered outtakes featuring the Tramp and the circus rider and more.
Mean Girls
Commemorating the 15th anniversary of the hit comedy "Mean Girls," a special Blu-ray anniversary edition is now available. The comedy stars Lindsay Lohan and Tina Fey, and features collectible Pink Packaging, deleted scenes bloopers as well as behind-the-scenes featurettes and more.
Cady Heron (Lohan) may have grown up on an African savanna, but nothing prepared her for the wild and vicious ways of her strange new home: suburban Illinois. This naïve newbie must strive to reach the top of the popularity pecking order.
By taking on The Plastics, a trio of lionized frenemies led by the charming but ruthless Regina George. But when Cady devises a plan to end Regina's reign, she learns the hard way that you can't cross a Queen Bee without getting stung.
To commemorate the anniversary, Fey and her friend (and "Mean Girls" superfan) Busy Philipps, will livestream on Facebook beginning at 8 p.m. ET on Thursday, Oct. 3 from New York City.
Fey and Philipps will participate before, during and after the livestream to talk all things "Mean Girls," playing trivia, answering fan questions and giving away "fetch" prizes including tickets to see the show on Broadway. This special event will culminate in the announcement of a grand prize for one lucky winner.
"Scooby-Doo! Return to Zombie Island
Pack your Scooby Snacks and join the Mystery Inc. gang as the teen sleuths embark on a wild and spooky vacation with zombies and cat people on "Scooby-Doo! Return to Zombie Island," an all-new, original film. A follow-up to the classic, best-selling "Scooby-Doo! film, Scooby-Doo on Zombie Island," this new animated adventure finds Scooby-Doo and his pals taking a much-deserved vacation to a tropical island. Instead of getting rest and relaxation, however, they find themselves wrapped up in one of their biggest mysteries yet. Produced by Warner Bros. Animation, the animated film arrives from Warner Bros. Home Entertainment on DVD Tuesday Oct. 1. It also is available now on digital formats.
On "Scooby-Doo! Return to Zombie Island," Scooby-Doo and his pals win an all-expense paid vacation and embark on a trip of a lifetime to a tropical paradise. Their destination however, turns out to be Zombie Island. As soon as they arrive, they realize the place looks strangely familiar and is reminiscent of a trip they took years ago, in which they became wrapped up in a mystery involving zombies. The gang soon learns that their trip to paradise comes with a price when the zombies re-emerge and attack their hotel. Scooby-Doo and the Mystery Inc. gang try to solve the mystery behind Zombie Island.
"Scooby-Doo Return to Zombie Island" features the familiar voice talents of Frank Welker as Scooby-Doo/Fred Jones, Grey Griffin as Daphne Blake, Matthew Lillard as Shaggy Rogers and Kate Micucci as Velma Dinkley. "Scooby-Doo! Return to Zombie Island" will be available on Digital for a suggested retail price (SRP) of $14.99 and DVD ($19.98 SRP).
Spider-Man: Far from Home
The billion-dollar blockbuster, "Spider-Man: Far from Home," comes home on 4K Ultra HD Combo Pack, Blu-ray Combo Pack, and DVD Tuesday Oct. 1 from Sony Pictures Home Entertainment. It also is available now on digital formats.
From "Spider-Man: Homecoming" Director, Jon Watts, comes a global adventure for everyone. "Spider-Man: Far from Home" is now the biggest Spider-Man film of all time.
Tom Holland returns as everyone's favorite web-slinger in "Spider-Man: Far from Home," the next chapter after "Spider-Man: Homecoming." The friendly neighborhood wall-crawler decides to join his best friends Ned, MJ, and the rest of the gang on a European vacation. However, Peter's plans to leave super heroics behind for a few weeks are quickly scrapped when he begrudgingly agrees to help Nick Fury uncover the mystery of several elemental creature attacks! Spider-Man and Mysterio (Jake Gyllenhaal) join forces to fight the havoc unleashed across the continent but all is not as it seems.
The action-packed superhero film also stars Samuel L. Jackson ("Spider-Man: Homecoming") as Nick Fury, Jon Favreau ("The Lion King") as Happy Hogan, Zendaya ("Euphoria") as MJ, and Jake Gyllenhaal ("Nightcrawler") as Mysterio.
The Blu-ray, DVD, Digital, and 4K Ultra HD release arrives filled with bonus materials for the whole family including a special short, alternate and extended scenes, gag reels and Easter Eggs! Additional special features include Teachers' Travel Tips with Mr. Harrington and Mr. Dell and interviews with the cast and crew focused on stunts and location in "The Jump Off" and "Far, FAR, From Home." Explore how Spider-Man was introduced in the MCU in "Stepping Up" and get a closer look at the special chemistry between Jon Watts and Tom Holland in "It Takes Two." Fans will want to dive into "The Ginter-Riva Effect," "Thank You, Mrs. Parker" and "Now You See Me" features for more character focused details. The 4K Ultra HD also features Dolby Vision and Dolby Atmos audio.
"Spider-Man: Far from Home" is directed by Jon Watts ("Spider-Man: Homecoming") and written by Chris McKenna and Erik Sommers and based on a Marvel Comic book by Stan Lee and Steve Ditko.
TV Shows
Sesame Street: 50 Years and Counting
From the five boroughs of New York City to the beaches of Los Angeles, and every town in between, "Sesame Street" has been entertaining and teaching children for 50 years. On Tuesday Oct. 1, Shout Kids and Sesame Workshop presents a birthday bash for the beloved brand with the release of "Sesame Street: 50 Years and Counting" on DVD and digital download.
The first disc features some of the greatest "Sesame Street" moments from yesterday and today: fan-favorite animations like "Ladybug Picnic" and "Pinball Number Count"; new and classic songs from Kermit the Frog's soulful "It's Not Easy Being Green" to will.i.am's empowering anthem, "What I Am;" and timeless interactions between children and the "Sesame Street Muppets. 50 Years and Counting" will also let fans revisit "Sesame Street's" many unforgettable celebrity appearances: Patti LaBelle putting a glamorous spin on the alphabet song; Amy Poehler teaching the gang new vocabulary words; R.E.M.'s joyful rendition of "Furry Happy Monsters;" Ricky Gervais trying and failing to sing Elmo to sleep; and other guest appearances made pop culture headlines while embodying "Sesame Street's" inclusive lessons and values.
The second disc is an exclusive collection of the most iconic "Street Story" segments from "Sesame Street's" 50-year history. With help from kids' favorite characters, the early childhood experts behind "Sesame Street" helped generations of families tackle big conversations through little moments like these: the neighborhood's poignant farewell to Mr. Hooper; the dramatic reveal of Big Bird's not-so-imaginary friend, Mr. Snuffleupagus; and the debut of Julia, the first "Sesame Street" Muppet with autism.
"Sesame Street: 50 Years and Counting" also lets fans revisit the lighter side of the Street: Super Grover's many crash-landings, Bert and Ernie's classic comedy-duo antics, moments with human friends like Bob, Maria, Luis, Susan, and Gordon, and much more. There are even a few never-before-seen outtakes with Jim Henson and other original performers. With more than five-and-a-half hours of content from all five decades of the beloved show, "50 Years and Counting" offers something for fans of all ages.
Customers who buy the set at select retailers will also receive an exclusive "Sesame Street" frame, while supplies last. The frame features fan-favorite characters and is the perfect place to house a 2"x 3" photo of a special "Sesame Street" fan.
"Sesame Street's" yearlong 50th anniversary celebrates the timeless lesson that "Sesame Street" has always taught: everyone, no matter who they are or where they are from, is equally deserving of respect, opportunity, and joy. Throughout the year, families everywhere can join all their furry and feathered friends in celebrating "Sesame Street's" past, present, and future with a nationwide road trip, celebrity- and fan-fueled social media campaigns, new social impact initiatives, and a star-studded primetime special that will kick off the show's 50th season.
Fans are encouraged to share their favorite "Sesame Street" memories across social media this year using the hashtag #ThisIsMyStreet.
The Truth Will Out
From the producers of "The Girl with the Dragon Tattoo," Acorn TV features the DVD debut of the critically acclaimed foreign-language drama "The Truth Will Out" ("Det Som Göms") Tuesday Oct. 1.
The top-rated Swedish drama is an addictive eight-part series about a police detective who is commissioned to form a new team to reopen unsolved murder cases. The series made its U.S. premiere in March on Acorn TV.
"The Truth Will Out" is a part of Acorn TV's curated collection of foreign-language dramas produced across the globe. Acorn TV is North America's largest streaming service specializing in British and international television.
Inspired by true events, this Swedish crime drama from the producers of the global sensation Millennium series delivers enthralling mystery and striking scenery. Returning to work following a mental breakdown, Detective Peter Wendel (Robert Gustafsson, "The 100-Year-Old Man Who Climbed Out the Window & Disappeared") is tasked with creating an elite team of investigators to crack cold cases.
When the police find a note on a dead body that claims Sweden's most notorious serial killer is a fraud, Wendel gets a chance to redeem himself—but only the dregs of the force are available to work the case. Under pressure to mobilize quickly, Wendel is forced to hire two cops who hate each other, plus a forthright woman who isn't even a police officer. His lowly group is tasked to solve this high-profile crime.
The show is inspired by the true story of Thomas Quick, a Swedish convicted mass murderer who was eventually proved innocent. "The Truth Will Out" also stars Ia Langhammer, Louise Peterhoff, Christopher Wagelin, Maria Sundbom and Tyra Olin. The eight-episode, two-disc DVD is available for a $39.99 (SRP).
Front Row Features is celebrating "Sesame Street's" 50th anniversary by giving away a copy of "Sesame Street: 50 Years and Counting" on DVD to three lucky readers. To enter the contest, simply email socalmovieeditor@aol.com by Oct. 7 with your favorite "Sesame Street" character in the subject line for your chance to win. Good luck!