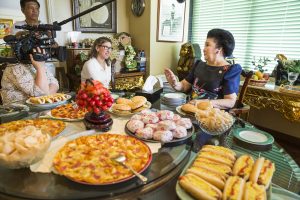 By ANGELA DAWSON
Front Row Features
HOLLYWOOD—When the name "Imelda Marcos" is mentioned, many in the West think of the shoes—all 3,000 pairs of them. But the former First Lady of the Philippines was much more than an ex-beauty queen with a fondness for footwear. She and her husband, Ferdinand Marcos, ruled the Philippines between 1965-1986 with an iron fist and sticky fingers. Some say they stole as much as $10 billion from the coffers of the government that was supposed be used for the citizens the Southeast Asia nation. They bought buildings in Manhattan (in her name, of course), assembled a priceless art collection for themselves including Picassos, Monets and other works that they kept at their palace. Imelda had a passion for expensive jewelry and designer clothes to go with those fabulous shoes. They skirted international restrictions on importing exotic animals from Africa and had more than 100 zebra, giraffe and other species shipped to the island of Calauit where the indigenous people were forced to leave. Decades later, these animals now suffer from a lack of veterinary care and birth defects associated with inbreeding.
Beyond the collection of baubles and billions, the Marcoses were accused of violating human rights by trying to silence political opponents and anyone in the press who dared speak ill of them. Notably, there was the mysterious 1983 assassination of political rival Begnino "Ninoy" Aquino Jr., on the tarmac of the Manila International Airport, which was believed to have been orchestrated by the Marcoses, although it was never proven.
Noted filmmaker Lauren Greenfield has explored subjects who are obsessed with money, image and status in documentaries including "The Queen of Versailles" and "Generation Wealth," but add a lust for power and determination in creating a political family dynasty on top of those other characteristics and you've got the basis for "The Kingmaker."
Imelda, as we learn from the documentary came from humble beginnings, but she used what she had—incredible physical beauty—to win the heart of an accomplished military leader and congressman, Ferdinand Marcos. Just 11 days after they met the two married. From that point on, she served as his chief strategist in his rise to power. He became President of the Philippines in 1965 in no small part due to Imelda's campaigning. When rioting broke out, Marcos declared martial law, and the island nation was ruled as a dictatorship between 1972-1981. More than 70,000 anti-Marcos government activists were incarcerated, 35,000 tortured and 3,200 people were killed during their regime, according to the film.
The death of Ferdinand in 1989, while the couple was living in exile in Hawaii following their fall from grace, did nothing to deter Imelda from continuing her pursuit to reclaim power back home. She simply turned her attention to her only son, Ferdinand "Bongbong" Marcos Jr., to groom him for high office once the family was allowed back into the Philippines. He lost in 2016 in a close race for vice president, but contested the outcome. Imelda herself ran for president in 1992, but came in fifth out of seven candidates. Her daughter, Imee, was elected to a senate seat. The family is considered close to the current president, Rodrigo Duterte, who also has been accused of human rights violations, particularly with regard to his crackdown on drug offenders.
The documentary explores the heated race for vice president between Bongbong and Leni Robredo in 2016, who just this past July was charged with sedition along with 35 other opposition figures. Though now 90, Imelda hasn't slowed down in her quest to build a Marcos political dynasty. She remains hopeful that her son, once a reluctant politician but now fully committed, will one day become president.
Q: Did you see some similarities between Imelda Marcos and Jackie Seigel (the subject of "The Queen of Versailles"). Both could be considered narcissistic. Are you drawn to personalities like this?
Greenfield: I started "Kingmaker" not long after "Queen of Versailles." I worked on it for five years. In the beginning, I was attracted to her character. There were some similarities between her and Jackie Siegel, in terms of her inquisitiveness and almost delusional quality, but also an emotional intelligence quality. But "The Kingmaker" evolved and changed as I went on. While I came into it knowing about the 3,000 pairs of shoes. Certainly, when I filmed Jackie's closet, I was thinking about Imelda Marcos as a reference. What I found with Imelda Marcos was a very different character who was much more interested in power and the love of the people and kind of mothering the people in an almost self-serving story of her philanthropy and re-writing the myth of Marcos to their political advantage in a way that was very different from Jackie. Jackie's story was much more about The American Dream and materialism and aspirational royalty. Imelda also had aspirational royalty and the ambition, for sure. But she had her eyes on something much bigger, which was power and getting back to the palace. It was the palace of Versailles to show off to her friends but the palace as a seat of power.
Q: How did you get connected to Imelda Marcos to interview her and how much time did you have with her?
Greenfield: We ended up having a lot of time with her and with Bongbong Marcos during his campaign (for vice president). I originally was introduced to her by the journalist (Bill Mellor) who did the (2013) story for Bloomberg about the animal island Calauit. We ended up collaborating on the film. He introduced me to Imelda Marcos and the other people who were involved in the creation of the animal island. We also interviewed Bongbong Marcos.
In the beginning, they gave generous access. The stakes weren't as high when we began. That probably worked to our advantage. They were a little bit in the political wilderness at the time; the Aquinos were in charge. The president was Ninoy Aquino, the son of Benigno Aquino, the slain opposition leader. Imelda (at the time) was a little bit sidelined. She was interested in the attention she had enjoyed during her time as First Lady. She's also a personable, generous person who brings you in and talks very candidly. So, we did about six interviews. The formal interviews with two-camera that were lit and scheduled and several more that were more impromptu. But she was very generous with her time. Sometimes, the interview would be three hours.
In fact, my associate producer reminded me the other day there was one interview where I barely got a question in edgewise. It seemed like she spoke for three hours. She likes to tell her story and I wanted to give her a platform to do that but also being very careful to make sure that the audience knew the truth, because part of the subject of the film was understanding that she and the Marcoses were rewriting history and telling untruths as part of their attempt to scrub the past and get back into power.
As I realized she was an unreliable narrator, I was careful to bring in other voices and make sure the audience saw their strategy and also what the truth was.
Q: Has Imelda Marcos seen the film?
Greenfield: She has not seen the film yet. We told (her reps) that it was premiering in Venice. I'm curious to see what she'll think of it. She's 90 now, and definitely during the course of the filming, she was physically declining. She had a fall, early on, after we'd begun filming. She needed a lot more assistance walking around. But she is completely indomitable and just a force of nature. She's always talked about how she doesn't need sleep. When she was at the palace, she'd only sleep a few hours a night. When she was on the campaign trail, she was indefatigable. She offered to be Bongbong's surrogate when he to be elsewhere. We see her getting off planes and buses and taking all-night bus trips. She is just tireless in her energy and commitment to helping her family her family rise to power. She certainly is the matriarch and shows no signs of retiring.
Q: Will "The Kingmaker" be shown in theaters in the Philippines?
Greenfield: We don't know yet. We'd love it to.
Q: She kind of turned that reputation of shoe-collecting around and made a joke of it. You show in the film where she offers a cupcake with a frosted decoration of a shoe on top to a guest.
Greenfield: Andy Bautista, who was appointed by President Corazon Aquino to head the Presidential Commission on Good Government (to recover the Marcoses ill-gotten fortune), says he thinks the shoes are a distraction. Imelda herself says in the film that people underestimate women and sometimes that's good in terms of exerting your power. I think that's been the case, a little bit, with her. While (the Marcoses) were guilty of taking between $5-10 billion from the country, people are focusing on the fact that she had 3,000 pairs of shoes.
That's one of the things that captivated me in the beginning is that she is so charming and charismatic and generous when you meet her. That's kind of the paradox. She was able to joke about herself and the shoes. She was very charming. But when you learn more, you realize it's really no joke, and nobody's laughing now.
"The Kingmaker" opens Friday Nov. 8 at the Laemmle Royal in Los Angeles and the Laemmle Quad in New York, and will subsequently expand to other theaters.