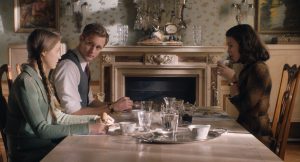 By ANGELA DAWSON
Front Row Features
HOLLYWOOD—While James Kent ("Testament of Youth") was in pre-production on the post-World War II drama "The Aftermath," Brexit wasn't yet a political hot button issue, nor was Donald Trump a dark horse candidate who would surprise the world by winning the 2016 U.S. Presidential election. Yet, on the eve of the release of film, based on the bestselling novel by Rhidian Brook, the sensual drama offers themes about forgiveness, reconciliation and compassion that are just as relevant today.
The film stars Oscar nominee Keira Knightley ("The Imitation Game," "Pride & Prejudice") as Rachael Morgan, who has lost her only child during the London bombings at the hands of the Germans so when she reunites with Lewis Morgan (Australian actor Jason Clarke, "Zero Dark Thirty"), her British colonel husband in bombed out Hamburg at the close of the war, she not only resents have to live in former enemy territory but also has emotionally grown apart from her workaholic husband, who didn't even bother to return to London for the funeral of their son, who was killed during the London bombings.
The estranged couple take up residence in a mansion just outside the ruined city that is owned by a widower and his teenage daughter. Instead of ousting the home's owners, the colonel allows them to remain, initially against his wife's wishes. Though resentful of living under the same roof with her mortal enemies, the Germans, Rachael soon warms to the teenage daughter, who is about the same age her son would have been had he lived, and eventually she and homeowner Stephen Lubert (Swedish actor Alexander Skarsgard, "Big Little Lies") find solace from their respective grief in each other's arms. The lovers don't have to try very hard to hide their illicit affair as Lewis is mostly away trying to keep order amongst the growing number of hungry and angry defeated refugees. Rachael and Lubert plan to relocate to Switzerland together but he has to wait for his travel documents assuring the British occupiers that he wasn't a Nazi, before they can leave. Rachael quietly enlists her friend to help expedite the approval process. Meantime, Lubert's daughter Freda (Flora Thiemann) has secretly become close with a Nazi sympathizer, who uses her to plot an assassination on the colonel.
"The Aftermath" opens in theaters Friday, March 15 in New York and Los Angeles. It expands to more theaters next Friday and goes nationwide March 29.
Kent, who is best known for his documentaries and directing British TV series, spoke about making the historic epic film—his last one delved into the lives of a circle of young Brits during World War I— and recreating the devastation of post-war Hamburg as well as working with a cast of top-flight actors.
Q: What drew you to this project?
Kent: Two things. I'm passionate about history and particularly this moment in history that is featured very little in movies, which is this period between the World War II and the Cold War, and the magnanimity and the generosity of the British towards the Germans, their enemies, really. Five years of horrendous bombing, wholesale destruction and catastrophe, and somehow this effort, which Lewis, the husband in this represents, a kind of humanitarian effort to make sure there isn't wholesale famine and death. That was the first thing.
The second thing was the idea of making a classic love story. There are very few made anymore. There's a little melodrama to it but there's also a real emotion and passion and sexuality and sensuality to it. I felt the combination of the world of post-war Germany and this hothouse of sadness, need and sexual longing, it felt like an interesting combination.
Q: What made you think of Keira Knightley when you were casting the role of Rachael?
Kent: It was meeting her in person and discovering that she had recently become a mother, and she was in her early 30s. She was interested in stretching into more womanly roles, maternal roles. That felt like an interesting moment for her. She's brilliant in period films. She has an understanding of how British woman carried themselves in the '40s—quite inhibited, quite disempowered. What she brought, as she does with all of her roles, including "Atonement," "The Edge of Love," "The Imitation Game," is a kind of anger about the woman's situation. She is angry about the way women have been treated, both in the past and in the present day.
I felt it was an interesting revelation about Rachael. She arrived from England very angry that her husband hadn't recognized the death of their child, and angry with his obsession with, in a way, continuing to fight the war, even though it's over.
The first sex scene with Lubert on the table, Keira was telling me that she wanted that to be as much about anger against her husband as much as it was about lust for Lubert.
Q: The costumes in this are beautiful, particularly the dresses Keira Knightley wears.
Kent: Keira is so glamorous and the dresses are so amazing. We had a Serbian costume designer called Bojana Nikitovic, whom I previously worked with on a television pilot project. She understood not to make it ridiculously glamorous but suitably so that it would be escapist. For many women, what the actresses wear is part and parcel of going to the movies—the fashion. As a gay man, I do understand the power of fashion. Interestingly, I pushed the era on a little bit to about 1950 when the fabrics got a little softer, because those fabrics were all rationed during the immediate post-war era. So, Keira's costumes are softer, more like Lauren Bacall's (wardrobe) in the '50s.
Q: How much of the Hamburg ruins was CGI and how much were on location?
Kent: It was a mix. The aerial shots were CGI. All the ground level with the rubble and the bodies in the rubble, that was (shot at) a big ruined sugar factory outside Prague. All the scenes on the ground, and the riots at night, that was real. We added CGI to the horizon.
There was one street, toward the beginning, where the car is traveling down, that actually is home to neighborhood of Romany people, which is about two hours outside of Prague. These little pockets are increasingly harder to find in Prague. You're more likely to see them in Syria rather than Europe. They're a filmmaker's dream to come across, especially for a film like this.
Q: Jason Clarke as Lewis and Alexander Skarsgard as Lubert play very different types of men—one is a career soldier, the other is a civilian architect—and bring unique approaches to their respective characters.
Kent: Lewis is the most challenging of the three main roles. While he is a man of action and distracting himself with the aftermath of the war, you have to know that there is enough love in that relationship to comprehend why she would go back to him. It's a difficult line for Jason to walk. Lubert is a bit simpler because he's a man who's melancholic, defeated in many ways, a disempowered man, and through that he reaches toward Rachael and her alienation and dislocation. What Alex has is he's kind of a gentle giant. He's not an alpha male. He's got massive sensitivity. I felt that would appeal to Rachael, who was looking for something that her husband wasn't offering.
Q: You shot part of this in the Czech Republic and some of the interiors, like the house, in Hamburg, right?
Kent: Yes. We made a decision early on that (modern day) Hamburg would offer us the proper post-war desolation and destruction that we needed for the exteriors. Having been flattened (during the World War II bombings), it's now all modern. So, all the ruins and dusty smoky ballroom interiors and army stations are all in Prague but the interior of the house—that second half of the shoot—was done in Hamburg.
We were kind of relieved to get there because while we were shooting in Prague, it was the during the coldest winter in 70 years. We had a lot of outdoor scenes, with the ruins and the car crash at night—it was all during sub-zero temperatures. Poor Keira in that beautiful but thin party gown. I'm sure she was delighted to get into a cozy German interior.
Q: Is there historic significance to the house you shot in Hamburg?
Kent: One of the challenges of Hamburg is that the people there are so rich on the whole that the location fees make very little difference to them.
Actually, it was incredibly hard to find people willing to give up their homes for seven weeks, including the pre-production time of preparing the house before the month of actual shooting. You're kind of giving up your family home for 2-1/2 months, and we weren't a big-budget film, so it's not like we could put (the home's owners) in five-star hotels, because that normally happens. But there was this wonderful lady who allowed us to use her house. It was perfect because the ground floor had this open floor plan. It allowed our actors to see other actors from behind the doors into rooms and it had this spacious attic that was more like a loft.
Q: What's the relevance of this story today?
Kent: It really is relevant because the core message is about forgiveness, reconciliation and compassion. That works in the film at a political level between the British and the Germans but it also works at a personal level between Rachael and the German man in the house but also towards her husband. The idea of forgiveness and a marriage, seeing the problems through, heading through the surf to calmer waters, is a really important message of the film.
In difficult times, a glamorous love story is a good tonic.
Q: As a student of history and someone who enjoys making period films, what era would you like to explore next?
Kent: I'm obsessed with the Tudors. I studied history at university and that was my period: Elizabeth I, Mary Queen of Scots. Of course, there's just been a movie about her, Henry VIII. What a family? You wouldn't want to live next door. (He laughs.) That's a period where'd I'd love to do a film. I'm also looking at the relationship between Ingrid Bergman and Robert Capa, the noted war photographer, when she was married to Petter Lindstrom. That seems to be an interesting episode.
Q: What are you working on now?
Kent: I just finished a big thriller series with Richard Gere, which is going out on Starz in May. It's a contemporary story called "MotherFatherSon." It's very dark and written by Tom Rob Smith, who wrote "The Assassination of Gianni Versace." I directed most of it. That has been a bit if an antidote for me from women in beautiful frocks. It's more in line with my documentary side, if you like.