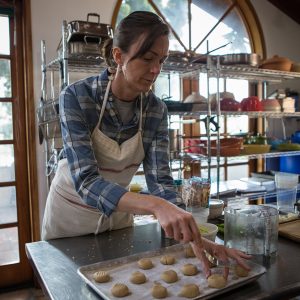 By ANGELA DAWSON
Front Row Features
HOLLYWOOD—In the heartwarming documentary "The Biggest Little Farm," John and Molly Chester, a couple of city dwellers —he's a documentarian and she's a successful food blogger and professional chef—trade in their cramped Santa Monica, Calif., apartment digs to start a 200-acre self-sustaining farm a couple hours north of the hustle and bustle of Hollywood in the rolling hills of Moorpark, California.
Though John is an award-winning documentarian, whose previous projects have earned recognition in the filmmaking community, including a series of Emmy winning short films that have aired on Oprah Winfrey's "Super Soul Sunday" —he insists he didn't set out to make a feature-length documentary about starting a farm with his wife. Though he shot footage of the great experiment throughout its early years, he didn't decide to go all out with a documentary until several years into the process.
Initially, the Chesters simply want to provide more space for their beloved rescue dog, Todd, to roam. But the farm idea was appealing to both of them because their affinity for nature.
The "traditional farming" experiment—to grow 250 different types of fruits and vegetables, as well as raise a number of typical farm animals including chickens, goats, horses, cattle along with a pregnant pig named Emma—was no easy task. The first thing they did was draw up a business plan and find an investor. They were fortunate to secure financing quickly but then came the hard work. The couple found a renowned sandal-wearing soil and plant consultant named Alan York, who provided some sound advice for turning their 200-plus acres into a self-sustaining farm. There also arises the question of irrigating the thirsty crops, so the couple decides to invest in an irrigation system that taps into the aquifer below. As they put it in the film, "we blew through the first year's budget in six months." Was the investment worth it? You'll have to watch the rest of the film to find out.
The Chesters experience the inevitable ups and downs and crises of any new business only, because this was a farm, those worries are heightened. The crops need constant attention and care as do the animals. Audiences can't help but sympathize and root for the couple to overcome these seemingly insurmountable challenges, from chicken-killing coyotes, to weeds, pests and most dangerous of all, the wildfires that every year threaten to destroy their dream in a flash.
The film takes place over nearly a decade as the Chesters attempt to create the utopia they seek, planting 10,000 orchard trees, hundreds of crops, and bringing in animals of every kind, including an unforgettable 600-pound pig named Emma and her best friend, Greasy the rooster. When the farm's ecosystem finally begins to reawaken, their plan to create perfect harmony takes a series of unpredictable turns. To survive, the Chesters will have to reach a greater understanding of the intricacies and wisdom of nature and life itself.
"The Biggest Little Farm" opens in in New York and Los Angeles Friday May 10, and will subsequently expand to other theaters around the country.
We were invited to interview the Chesters at their farm, Apricot Lane Farms, to talk about their new film and what the now proud parents of a young son hope to achieve by sticking with their dream.
Q: What was your initial goal? Did you know you'd spend eight years working on this documentary?
John: Just the opposite. I had no intention of making a film about it. But coming from the documentary world for my entire professional life, I knew I'd feel worse about not having captured something than the time, maybe wasted, to catch it. I was afraid we would have something to say—that we wouldn't farm we had envisioned wouldn't work. Around year five, that all changed. The thousands of hours of footage that I just stored away became, suddenly, relevant. And I spent the next 2-3 years finishing telling the story, all while still trying to farm.
Q: How about for you, Molly?
Molly: I had nothing to do with that. I was in the film because John is the filmmaker. I was there to support him.
John: It was really a debate on whether we had to time to continue filming stuff. It wasn't even like "a film." We were just filming stuff.
Molly: Nothing to do with this was because we wanted to tell a story.
John: People would tell us to do it, but we wondered if anyone would be interested in watching (a film) about it. From the outside looking in, we didn't realize how interesting it could be. There was so much insecurity about how much we wanted to be exposed in how fragile we were in creating this.
Molly: I remember one time we were out there with (consultant) Alan York on Block C, and there was this huge erosion, and he said, "You've got to go get your camera!" He said it all week. But John didn't do it.
John: Yeah. Alan was always telling us to film stuff, saying, "You're going to regret not filming this because it's not going to look like this in another four years."
Molly: Sometimes he'd film it and sometimes he didn't.
Q: Was the wildfire the one from earlier this year or the previous one?
John: The fire you see in the film is during The Thomas Fire. At the time, it was the largest wildfire on record, since they began keeping records of wildfires. Subsequently, that record was broken the next year. There were three or four fires happening at the same time, and that opens the film.
Q: Did you decide during the filming that the threat of wildfire disaster on the farm bookend the film?
John: We were about three-quarters of the way through editing the film in the barn while the wildfires broke out all around us. It became quite apparent that it was an important storytelling "device" for what a farm like this faces.
Molly: For me, it shows the fragility of all this; at any moment we could lose the farm. We can lose an animal. We can lose anything. And I love that element being involved.
John: A lot of people say that because you farm in this regenerative way, you're insulated from fires but that's not entirely true. There are definitely some advantages but a blowtorch is a blowtorch. It's 70 miles per hour and that can blow through anything as long as it's got the time.
Molly: The insulation would come from our cover cropping irrigated land that holds moisture.
John: Arguably, we also have more stuff to burn here.
Molly: The insulation wouldn't come from our idealism. (She laughs.)
Q: Had either of you grown up on a farm or spent time on a farm prior to deciding to bring Todd here on this wide-open space?
John: It's not in the film but in my 20s, I lived on two family farms. They were conventional, monocrop farms. It was corn and soy that we grew for chickens. There was no connection or understand that I had to the soil of how the soil worked. The only thing that factored in was that I liked living on the farm but I didn't know how to co-exist with a reawakened eco-system.
Molly: I didn't grow up on a farm; I grew up in suburbia. My grandmother had a farm where I have fond memories of spending time on that had peacocks, cows and the baled hay. All of those memories are deeply ingrained.
John: The storybook version of the farm that we recreated.
Q: Like the animated parts of the film that we see in your film?
John: Yeah, that was Molly's grandmother's farm.
Q: This is obviously a huge investment, financially. You talk a bit in the film about making a business plan and going to investors, and it appeared to be pretty easy. Was it that easy?
John: Honestly, some things in life that appear to be easy don't mean that it's going to be easy all the time. We got lucky in that we found an investor that really aligned with what we saw as the future and vision of farming for this land and was supportive but also it made things happen very quickly which also made it difficult. So, I would not advise someone to buy a farm and grow 250 things. Buy a smaller piece of land and try three or four things. Focus on the regeneration of soil because that's not as expensive—in the long term—as it appears. It's a short-term front-end investment that ultimately builds the immune system of your lands and you have something to farm with.
Molly: A savings account.
John: Yeah. We had to reinvest back in the "bank" of this farm and that was the soil, and cover cropping was the cheapest and most effective thing that we did on this farm.
Q: What has been the hardest thing about becoming a farmer?
Molly: It's very demanding. We had come from demanding professions: culinary and filmmaking are both demanding so we did understand hard work but this was hard work on a different scale. There is no escape so the grief, the pain—these things are very visceral. Death, life—you're in it. I've heard with raising children, you need to raise good digestive enzymes, and (farming) is like that—you have to be able to process all that to survive.
John: It's more than hard work. You become attached to these things, these plants. There are trees that I'm attached to if I see them get sick. There's so much of an emotional component to the hard work that you're processing something that isn't as easy as a tough day at the office.
Q: Is this a lifelong commitment? Or do you ever expect to go back to the big city and the office?
Molly and John: Nope!
Molly: We're good. (She laughs.)
John: Even when things got hard, in those moments, the fear was we wouldn't be able to do this forever. So, I think we're good. I think we love this way of life.
Q: Does your son share your affinity for the land?
John: He's kind of growing up in a bubble right now. I don't know if he has quite the capacity to understand that not everybody lives on a farm. He does have the appreciation, without us even saying it to him, that we're lucky. He said, "Whenever I'm hungry, I go eat off a tree." And he's not kidding. He literally pulls on the branch and literally eats off a tree, like a little animal.
Q: What do you want viewers to take away from the film?
John: I want people to look at this through the lens of a biologically diverse ecosystem has endless possibilities for us to collaborate with it. And we don't have to fully control it to get all the benefits from that.