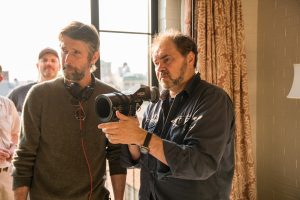 By ANGELA DAWSON
Front Row Features
HOLLYWOOD—Filmmaker Bart Freundlich met his future wife more than a quarter-century ago on the set of his first feature film "The Myth of Fingerprints." The pair had a son and a daughter and eventually made their relationship official with a wedding in 2003.
Though they've only worked on a couple of other films together, including the upcoming "After the Wedding," they are clearly a formidable team. While promoting the film, Freundlich reveals that he often runs scenes with his Oscar-winning mate, though even he gets a little intimidated with the incredible passion and believability she brings to the work, even while simply rehearsing a scene at home.
"It's just so weird," he marvels. "It's like virtual reality, like you're thrown into a scene. It's like, 'That's the character.' She's like, 'Come at me like this," and I'm like, 'Oh my God, this is going to be awesome.'"
Freundlich, whose other films include the action comedy "Catch That Kid" which starred a young Kristen Stewart and the romantic comedy "The Rebound" starring Catherine Zeta-Jones, directs Moore, who plays Theresa, a high-powered media mogul who invites a woman who runs an orphanage in India to her daughter's wedding, as she contemplates making a sizable donation to that charity. Turns out Theresa, her husband Oscar (played by Billy Crudup) and Isabel, the orphanage operator (Michelle Williams) have a connection that goes back a couple of decades. A storm of emotions brew as secrets and past actions come to light. The film also stars up-and-coming actress/singer Abby Quinn as the bride-to-be and Will Chase (ABC's "Nashville") as the groom, a rising executive in Theresa's company who appears to be more committed to impressing his boss than considering the feelings of his fiancee.
Moore, 58, says she was pleased to work once again with her husband, whom she has long admired as a filmmaker. She notes that she was impressed by him early on as he was easily able to adapt to all the different acting styles of the actors on "The Myth of Fingerprints."
"He was able to give each and every actor exactly what they needed," she recalls. "He has a real generosity as a filmmaker and is able to give everyone the space they need to do the work they're doing. That's remained consistent throughout his career."
Freundlich, who was born and raised in New York, spoke about working once again with his wife and adapting the screenplay from a Danish film written by Susanne Bier. He chose to flip the gender of the main protagonist to bring a fresh perspective on the story about the ties that bind.
Q: How did you determine whether to cast Julianne in the Theresa or the Isabel role?
Freundlich: With Isabel, a lot is happening to her, whereas Theresa's kind of a driving force. The roles are both challenging in different ways. Isabel's not passive but she's brought into the story and pulled through by Theresa's will. I could see why you'd be attracted to either one. Michelle chose to say "yes" to that role, and was willing to play someone who is emotionally stunted in a way. They were really different (characters) but when we would send the script out, before Michelle was involved, people assumed Julianne was playing Isabel.
Q: How did this experience compare with making "The Myth of Fingerprints," your first film together?
Freundlich: We're older. It was very similar, actually. Not only the experience but also the movies have some relation. I love that it's come back around to this because Sony Classics Pictures made and distributed that movie and they're distributing this movie. Billy Crudup was supposed to be in "Fingerprints" but didn't end up doing it because he got a job that was going to pay him. (He laughs.) Obviously, that's where I met Juli. It's all about family. And it's about a lot of different perspectives within one movie, a lot of different experiences. I actually used a lot of that stuff in this film. It felt very familiar to me. And I guess a big difference was our 17-year-old daughter was a production assistant on the set. For us, we were pretty connected creatively, I think, right away. I don't feel like there was much of a difference in the way we worked together, in this movie than the first one.
Q: What was the challenge of directing this group of actors. You'd worked with both Julianne and Billy before. And then you have Abby was kind of new to this.
Freundlich: I know from working with actors—with great actors—that they don't want to hear about results. They don't want to hear, "Just get to here." But, at the same time, as a director you're not an acting coach. You're hiring a person and they're bringing their ability to the table so sometimes you do want those results but I understand why starting out, thinking about them, could hamper you from getting to that (emotional) place.
We had a moment (with Abby) that's silent where it's implied that Oscar and Theresa are telling her character about Isabel being her mother. There was no dialogue; we didn't cut any of that out. It was done silently and the script called for her to get up and run out of the room. We kept going and going and Abby was upset, visibly when she ran off. And I said, "Wait, I have one more idea." But then I told her, "I don't actually have another idea. I just want you to cry." And then we tried it again and it somehow worked. That's an example of being comfortable enough with someone. I couldn't have said that to her in one of the early scenes we shot where she's saying to Theresa, "I don't want you to die." You could feel like you're getting pushed over the edge if you're pushing someone for a result and they can't deliver it in the moment.
Q: It seems like there Theresa is judging the decisions of her husband, Oscar.
Freundlich: Everyone's judging everyone else. (Julianne's) character is judging Billy's character for what he's done. He's saying, "What was I supposed to do?" Oscar and Isabel judge each other. But something that does help draw you in is that everyone knew (the secret) and everyone had to make a dramatic decision. Mads Mikkelsen, who was in the original, had a lover that was 18 years old. He got her pregnant and didn't know it. So, when he is made aware of it, he's not culpable for having made a decision. I'm fascinated by the fact that all of these people made big decisions that sent them off in totally different directions in their lives and think it's over. It doesn't mean anyone was bad or anyone was good but it keeps unfurling.
Q: Typically, you've written original material for the screen, but this was an adaptation from the 2006 Danish film "Efter Brylluppet."
Freundlich: It was interesting doing this adaptation because it opened me up to finding a way to personalize someone else's story. It's nice also because you're not just left with a total blank page to start with.
Q: When you were younger, was writing and reading more important to you as opposed to having a passion for cinema, or did those roads meet for you at the same time?
Freundlich: I love story. I wasn't as voracious a reader as I was a movie-watcher. I wasn't one of those kids that I heard about in film school who had been making movies 8mm movies at seven years old. I was really into story. I would write short stories and I would see movies and before I'd go to sleep, I'd replay them in my head, shot-for-shot. It wasn't until I got to college—I went to Northwestern my first year and didn't love it. I wanted to go back to New York City. I then got into NYU and thought, "Well, that's one of the better film schools. Let me try to go there." And then it all kind of came together—the storytelling, the writing and becoming a filmmaker.
It was good because I'd always talk to friends and knew we had to have some schooling as well as life experience before you write anything. Otherwise, you just end up writing about making a film. That's what a lot of these people who were filmmakers from very young ages were—they were just obsessed with cinema but they had nothing to write about yet. So, I felt lucky that it came when it came.
Q: What's next for you?
Freundlich: I'm finishing up some things I've been working on a long time that I'm readdressing right now.