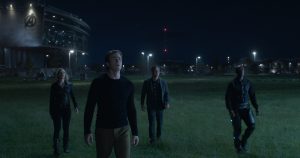 By ANGELA DAWSON
Front Row Features
HOLLYWOOD—Beginning with 2008's "Iron Man," and followed by 20 more superhero films in what has become known as the Marvel Cinematic Universe, the press conferences preceding the movies' arrival in theaters have shared a common festive atmosphere. For "Avengers: Endgame," which is expected to complete the longrunning—and very financially successful—story arc, the latest press event, held at a downtown L.A. hotel, seemed more like a wake than a house party.
From the start, in which a grey curtain was drawn to reveal many of the famous actors seated that have appeared throughout the franchise interspersed with empty chairs symbolizing the "Avengers" characters that were turned to dust in last year's "Infinity War" by evil Thanos (Josh Brolin), a shroud of sadness and finality permeated the proceedings, which were moderated by "Iron Man" director and now executive producer on "Avengers: Endgame" Jon Favreau. (Favreau reprises his Happy Hogan character that he cameoed in the first "Iron Man" in this newest "Avengers" installment co-directed by Joe and Anthony Russo.)
Mark Ruffalo, reprising his dual role in this finale as Bruce Banner/Hulk, noted that the gathering, which included Robert Downey Jr. (Tony Stark/Iron Man), Brie Larson (Carol Danvers/Captain Marvel), Chris Evans (Steve Rogers/Captain America), Chris Hemsworth (Thor), Scarlett Johansson (Natasha Romanoff/Black Widow), Don Cheadle, (James "Rhodey" Rhodes/War Machine), Jeremy Renner (Clint Barton/Hawkeye), Paul Rudd (Scott Lang/Ant-Man), the Russos and producer Kevin Feige, seemed much more somber than usual.
"It has a little bit, sort of sadness to it. I mean, we're all talking about, like, we're dead," he noted.
Indeed, the comments and quips from everyone from Evans to Renner to Cheadle seemed more like the salutations of college seniors on the last day of finals. Actors, by nature, are vagabonds—working intently with a troupe for weeks or months at a time, and then going their separate ways. But many of these thespians have worked together, on and off, for a decade. So, throughout the 45-minute chat, they kept coming back to words like "family" and "journey."
"Getting to work with all of these actors in this series of films is a one-off," said Rudd, who also was celebrating his birthday that day. "It will never happen again, not for me. I keep taking steps back and try to recognize this for what it is, and it is so surreal, and profound, and incredible to be a part of it. It's amazing to meet so many people who are so passionate about it. It's incredible to meet so many kids whose lives are affected by these characters. To play a small part in that—pun intended—is just something I will always, always treasure."
Downey, whose flagging career was recharged with the success of "Iron Man," in which he played a crime-fighting billionaire, provided his usual quips throughout, but even he seemed more subdued and reflective than usual.
"I've been thinking about this recently—there's always two tracks, at least, in my mind: One is the sky is falling, and the other is the sky is the limit, and as we had those many discussions in the high desert and (while) shooting the film, I'm reminded now that I was talking a lot of smack, saying, 'Wait until you see where this goes,' but in the moment I was just hoping, day to day, we were making good scenes and getting good stuff in the can and the usual gobbledygook. I just wanted to not drop the ball," he revealed.
Each of the actors and filmmakers were asked carefully worded questions by Favreau that would not spoil significant plot points of the upcoming film in which the surviving Avengers have to put aside their petty differences to figure out a way to defeat Thanos and possibly resurrect their colleagues who were destroyed by him, after he successfully collected all the necessary stones for his Infinity gauntlet to eliminate half of all living beings in the universe with a snap of his finger.
"What made it so special for me was just the different people I was able to work with," said Australian actor Hemsworth, who plays the mighty god Thor. "From that first film, it was really special and completely in (director) Kenneth Branagh's hands. I was basically willing to do whatever it takes, and wherever he needed me to go for the character. And then, through the films, with each director, and then each different cast member, I'd learn something different from. By the time of 'Thor: Ragnarok,' I had finally had enough confidence to say, 'Okay, well, what is it that I could possibly bring to this,' and then had this great collaboration with Taika (Waititi, 'Ragnarok's' director), who really decided to do something different and see how we could make it unexpected and unique.
Hemsworth, who next joins the "Men in Black" franchise, recalls speaking with the Russos for "Avengers: Infinity War," who had even more new ideas of what could be done with the hammer-wielding character.
"It's just about the people that have made it so special and unique each time with any of our characters and everybody you get to interact with," he continued. "We're all willing to be open to what new possibility lie ahead of these franchises and these characters has been a pretty remarkable journey."
Larson, coming off of an exceptional turn as superhero Captain Marvel in that self-titled movie, which has crossed the billion-dollar mark in worldwide box office receipts, also was feeling a bit sentimental, even though this is her first true "Avengers" film. She noted that her introduction to the that elite community was joining the "Avengers: Endgame" actors in a photo shoot commemorating 10 years of MCU. She recalled how anxious she was to meet her co-stars, and then shooting her scenes with them.
"It was a really remarkable and special day, and super surreal," she recalled. "I was not allowed to talk about it. So, the whole thing has always felt like a dream. This film will always be personally dear to me because it was my first time playing Captain Marvel. I had to stumble, and try to figure out who this character was with no script for this, and no script for Captain Marvel either, and perform, for the first time, in front of legends, but it was incredible."
Echoing Larson, Cheadle, who debuted his James Rhodes/War Machine character in "Iron Man," said, "We've had a great time this whole time, being together, having the Downey lunches that he's put together, and getting to know these people.
"I've always known their work, but to get to know them as individuals, as people, and getting to be friends, and to come back, to get to keep coming back to these relationships again, and seeing where everybody is, and people that had kids, and then kids going on to college, and other people having kids, and relationships started and ending, it's rare to have that kind of an experience over the course of 10 years with the same group of people, it's really nice."
Johansson noted that her character has grown and evolved from "a sexy secretary" to the empowered hero that can hold her own alongside the boys.
"The movies have really grown in reaction to that kind of fan encouragement," she noted. "Honestly, I have to say that I remember when Lizzy (Olson, who plays Wanda Maximoff/Scarlet Witch) signed on, and Cobie (Smulders, who plays Maria Hill) was there, and we were all clinging to each other," she said. "I felt like I'd been in this testosterone-fest for such a long time, it was so nice to see other female cast members.
"And then with Brie coming on, and Karen (Gillan as Nebula), and Danai (Gurira as Okoye), I feel like I'm amongst so many wonderful, strong actors. It's just grown beyond my wildest dreams. I could never have imagined where this would take us."
Gurira, who also belongs to the hit TV franchise "The Walking Dead," says there is something special about being part of the "Avengers" world. Her character, Okoye, was introduced in the worldwide hit "Black Panther," and returned for big climactic battle in "Infinity War."
"(Okoye) loves her life, she loves her country, she loves her people, and she'll do whatever it takes to take care of what must be done," she marveled of her warrior character. "At the same time, there's a fierceness that she has and kind of unapologetically embraces her femininity.
"So, it's been really fun to get to see her in all these different ways, because on the first day of 'Infinity War,' when they all came to Wakanda, we open that tent door and there inside are all the Avengers sitting there. It was like, 'Oh! Hi.' That's the minute you realize you're a part of a universe, which was pretty darn awesome."
Feige, who's been a guiding force throughout, says the franchise has been about taking risks. For example, when Tony Stark revealed his superhero identity at the end of the original "Iron Man."
"Four or five years ago we talked about what haven't we seen in films based on comic characters and we haven't seen is an ending, a definitive conclusion to an overall saga," he said. "So, that is why it's called 'Endgame,' and why I think it's very, very, very special."
Joe Russo deflected my question about whether there will be an end-credits bonus scene (or scenes) that moviegoers have come to expect in MCU movies. However, he notes that he has a one-word summation of the film that he hopes audiences will concur: Cathartic.
Added Anthony Russo, "One of our favorite storytelling adages is 'write yourself into a corner,' and what we take that to mean is put yourself in a place, on a narrative level, where you have no idea how you could possibly move forward. That's a very exciting place to be. It forces you to come up with some really creative ways forward.
"We've tried to do that with the endings of every single Marvel movie we've done, and never more so, of course, than 'Infinity War.' We think that stories lose their meaning, relevancy and resonance, unless there are real stakes. Moving into 'Endgame,' the story is very much about how do these characters, how do these heroes, deal with loss, resounding loss, true loss, devastating loss? That's what they've experienced in 'Infinity War,' and that was a unique experience for all of them. How does a person move forward from that moment? How does a hero move forward from that moment? How is everybody, on an individual level, dealing with that experience, and then how do they collectively deal with it?"
The answers to those questions (hopefully) will be revealed to audiences April 26 when "Avengers: Endgame" arrives in theaters.