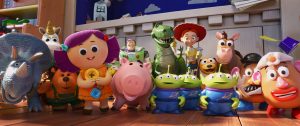 By HEATHER TURK
Front Row Features Film Critic
When "Toy Story 4" was announced in 2015 at the D23 Expo in Anaheim, Calif., skeptics were quick to dismiss the film as merely a cash grab. After all, "Toy Story 3" beautifully wrapped up the beloved and groundbreaking Disney/Pixar franchise in 2010. In what's often regarded as one of the most emotional franchise endings ever to hit the big screen, audiences watched with tears in their eyes as pull-string cowboy Woody (voiced by Tom Hanks), space ranger Buzz Lightyear (voiced by Tim Allen), cowgirl Jessie (voiced by Joan Cusack) and the rest of Andy's cherished childhood toys were passed on to young Bonnie, as Andy (voiced by John Morris) was all grown up now and heading off to college. It was the perfect bittersweet conclusion to one of Hollywood's most lauded cinematic trilogies.
The problem, which audiences won't truly be aware of until watching "Toy Story 4," is that "Toy Story 3" didn't really wrap up Woody's story. There was always a loose thread in Woody's narrative, and that loose thread was Bo Peep.
"Toy Story 4" begins with a flashback to when Bo Peep (voiced by Annie Potts), who was part of Molly's (Andy's younger sister) baby lamp, is given away. Woody, naturally, tries to stop the situation, but Bo is content with the fact that Molly is mature enough not to need her baby lamp anymore. Bo has another idea, however, so the two toys don't have to separate: she tells Woody that children's toys get lost all the time, and motions for him to get into the box she's been placed in. Woody actually considers Bo's proposition for a moment—until Andy runs out of the house looking for his favorite cowboy in the pouring rain.
It isn't until many years later that the two toys are reunited, when Woody and the gang go on a road trip with their new kid Bonnie (now voiced by Madeleine McGraw, "Ant-Man and the Wasp") and her parents. While Bonnie still plays with most of Andy's old toys, Woody has been finding himself left back in the closet more and more often lately—so much so that he just got his first dust bunny! Still utterly devoted to his kid, however, Woody takes it upon himself to protect Bonnie's newest and most prized possession: a spork named Forky (voiced by Tony Hale, "Arrested Development") that she decorated during her kindergarten orientation, who just wants to return to the trash from which he came.
When Forky escapes out the RV window one night during their journey, Woody goes after to him to try to bring him back to Bonnie before she wakes up and realizes he's missing. On the way, the two pass an antique shop where Woody recognizes Bo Peep's lamp on display, only to discover it's now missing Bo Peep and her porcelain sheep. Woody later bumps into Bo Peep at a nearby playground on the way to a RV park in which Bonnie and her parents are staying for the night. Bo reveals she was sick of waiting around on a shelf for a new family to bring her home, so she busted out of the antique store and has since lived happily as a "lost toy," helping other lost toys get played with by various children at the park.
Thus begins Woody's existential crisis. While he's busy trying to convince Forky that he's a toy now (and not trash) and that there's nothing greater in the world than being a child's toy, he's starting to see the world in a whole new light thanks to the feisty, independent Bo Peep. Eventually, Woody must decide what's more important: the love of one child, or the love of the one who got away.
When Walt Disney Animation Studios and Pixar's former chief creative officer, John Lasseter (who also directed the first two "Toy Story" films and was set to co-direct "Toy Story 4" alongside "Riley's First Date?" writer-director Josh Cooley), revealed plans for a "Toy Story 4" at the D23 Expo, he described it as a love story between Woody and Bo Peep. Although the story has changed a bit over time (as did the directing situation, with Cooley taking over directing duties after Lasseter made headlines for alleged sexual misconduct in the workplace), Woody and Bo Peep's love story is still very much the driving force of the film—not Forky, as the movie's trailers would lead viewers to believe. There's also a great subplot involving an antique doll (voiced by Christina Hendricks, "Mad Men") Woody comes across at the antique shop who, despite wanting to rip open Woody and steal his still-working voice box to replace the faulty one she's always had, isn't quite the villain she's made out to be.
As expected with any Pixar film, the computer animation in "Toy Story 4" is simply stunning. Bo Peep's top looks like it was literally crocheted by hand and the movie's comical stuffed bunny and duck duo (voiced by "Key and Peele's" Jordan Peele and Keegan-Michael Key, respectively) look so fluffy moviegoers may want to reach out and hug them. For eagle-eyed viewers, there are also several references to past Pixar films in the movie, including "Up," "Coco" and "Monsters, Inc."
The story by Andrew Stanton (writer-director of "Finding Nemo") and Stephany Folsom ("Star Wars Resistance"), however, is what truly makes "Toy Story 4" such a worthy addition to the franchise. Although Buzz and the gang kind of take a backseat to Woody's coming-of-age story, they're oddly never really missed, as Woody, Bo Peep and the film's new characters (which include a motorcycle stuntman toy voiced by Keanu Reeves) carry the 100-minute movie so well. Although the ending of the film might not pack the emotional punch of "Toy Story 3," there still likely won't be a dry eye in the house when Woody ultimately decides where his place in life should be. And despite not getting a lot of screen time, Buzz once again gets the best line of dialogue—and we're not talking about "To infinity and beyond!"
Like their initial fan base, the "Toy Story" characters are getting older, so it really shouldn't come as much of a surprise that "Toy Story 4" is the most mature film in the franchise. The movie starts out a little slow, but it's funny (there's an ongoing joke involving Jeff Garlin's Buttercup the unicorn that has a great payoff), heartfelt and a worthy successor to the first three films. Just like Forky (and Woody), audiences may question its place in the world at first, but "Toy Story 4" most definitely has one and gives the "Toy Story" franchise a second near-perfect conclusion.
Grade: A-