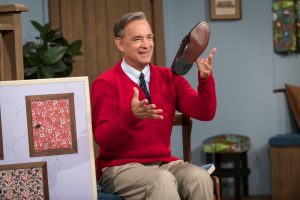 By ANGELA DAWSON
Front Row Features
Movies
A Beautiful Day in the Neighborhood
Put on your comfiest cardigan and spend some quality time with Academy Award winner Tom Hanks ("Philadelphia," "Forrest Gump") as he stars as childhood icon and broadcast legend Fred Rogers in "A Beautiful Day in the Neighborhood," coming to 4K Ultra HD, Blu-ray and DVD Tuesday Feb. 18, from Sony Pictures Home Entertainment. The heartwarming drama based on actual events also available now on Digital.

The film is a timely story of kindness triumphing over cynicism, based on the true story of a real-life friendship between Fred Rogers and journalist Tom Junod. After a jaded magazine writer (Matthew Rhys, "The Americans") is assigned to write a profile of the children's TV host, he overcomes his skepticism, and learns about kindness, love and forgiveness from America's most beloved neighbor.

The 4K Ultra HD, Blu-ray, DVD and digital releases are loaded with bonus features of Mister Rogers and newcomers to the Land of Make-Believe, including more than 15 minutes of additional scenes, an adorable blooper reel, an all-new featurette starring Daniel Tiger, filmmaker commentary and a behind-the-scenes look at the work that went into bringing this heartwarming and inspiring story to life.

Hanks was nominated for an Oscar for Actor in a Supporting Role—his sixth career Academy Award nomination—for his dead-on depiction of the beloved public television icon. The cast also includes Susan Kelechi Watson and Oscar winner Chris Cooper under the direction of acclaimed filmmaker Marielle Heller ("Can You Ever Forgive Me?," "The Diary of a Teenage Girl").
Clown Fear
A runaway bride and her bridesmaids are stranded in a city run by sadistic clowns in "Clown Fear," arriving on DVD, Digital, and On Demand Tuesday Feb. 18, from Lionsgate. In this creepy, chilling horror tale, a runaway bride and her friends are stranded in a forgotten desert town full of sadistic, bloodthirsty clowns who don't trust outsiders.
Fans of clown horror films can own "Clown Fear" on DVD for the suggested retail price (SRP) of $19.98.
Dragonheart: Vengeance
Helena Bonham Carter voices an all-new dragon alongside Jack Kane and Joseph Millson in "Dragonheart: Vengeance," the newest epic journey of the fantasy-adventure saga, from Universal 1440 Entertainment. The action fantasy also is available now on Blu-ray, Digital and DVD and On Demand, and soon will be available on Netflix.
Lukas (Kane), a young farmer whose family is killed by savage raiders in the countryside, sets out on an epic quest for revenge, forming an unlikely trio with a majestic dragon and a swashbuckling, sword-fighting mercenary, Darius (Millson). Carter voices Siveth, the ice-breathing dragon who was once banished from the kingdom for failing to save the king's life. Compelled by the young man's cause, she emerges from hiding, using her fantastical powers on the trio's adventurous journey which brings revelations and rewards beyond vengeance.
Wait, there's more. Complete your "Dragonheart" library with the all-new five-movie collection. Now fans can experience the legendary fantasy franchise with all five movies in one complete dragon-size set including, "Dragonheart," "Dragonheart: A New Beginning," "Dragonheart 3: The Sorcerer's Curse," "Dragonheart: Battle for the Heartfire" and "Dragonheart: Vengeance."
Bonus features on the "Dragonheart: Vengeance" Blu-ray, DVD and Digital include "A New Legend," which takes an intimate look at what sets this film apart from previous installments of the iconic "Dragonheart" franchise, and how filmmakers and cast came together to make this fantasy epic, and "Creating Siveth," a dragon unlike any audiences have seen before. In this piece, we get a peek behind the curtain into Carter's process for breathing life into this unique character.
Is Anybody Listening?
"Is Anybody Listening?," a poignant documentary about connection and healing for military veterans in America, arrives on DVD/Digital Tuesday Feb.18, from Indiepix Films.
Psychologist and author Paula J. Caplan grew up listening to but not remembering stories her beloved father, Jerome A. Caplan, told annually about being captain of an all-black battery in The Battle of the Bulge. Intrigued, she went on to meet with hundreds of veterans whose deeply human reactions to war are often mistakenly diagnosed as mental illness upon their return home.
After recognizing that most Americans are both war and military-illiterate, Caplan was moved to set up Listen to a Veteran, a nationwide non-profit, enabling non-veterans to listen in wholehearted, respectful silence to whatever a veteran wants to say, reducing their soul-crushing isolation, as well as non-veterans' illiteracy about war. In the award-winning documentary, "Is Anybody Listening?," Caplan takes home audiences on her poignant journey across the sometimes insurmountable chasm between military veterans and others through archival footage, visual art, and interviews with vets including 96-year-old Isaac Pope, who served with her father.
Broaching an overdue national discussion about the realities of war and the military, as well as the best ways of welcoming American veterans back into their communities, the documentary is endorsed by the National Veterans Foundation, the William Joiner Institute for the Study of War and Social Consequences; Minnesota Humanities Center, Returning Veterans Project and Culturas Music & Arts in Coachella, CA. It won an Award of Exceptional Merit for Research and an Award of Excellence for Editing at the Docs Without Borders Film Festival, and an Award of Exceptional Merit at the Depth of Field International Film Festival. It is available on Digital and DVD for $24.95 (SRP).
Jojo Rabbit
Add the acclaimed Nazi Germany set dramedy "Jojo Rabbit" to your collection on 4K Ultra HD, Blu-ray and DVD Tuesday Feb. 18, from Fox Searchlight. It also is now available on Movies Anywhere.
Acclaimed writer-director Taika Waititi ("What We Do in the Shadows," "Thor: Ragnarok") brings his signature humor and pathos to "Jojo Rabbit," a satire that follows a lonely German boy (Roman Griffin Davis as Jojo) whose world view is turned upside down when he discovers his single mother (Scarlett Johansson) is hiding a young Jewish girl (Thomasin McKenzie) in their attic.
"Jojo Rabbit" and its ensemble cast garnered attention throughout the recent film awards season, earning a Best Picture Academy Award nomination, a Golden Globe Award nomination for Best Motion Picture—Musical or Comedy, a Critics' Choice Award nomination for Best Picture, and a Screen Actors Guild Award nomination for Outstanding Performance by a Cast in a Motion Picture.
Star Roman Griffin Davis, whose first-ever acting role was playing Jojo, won a Critics' Choice Award for Best Young Actor, as well as a nomination for a Golden Globe in the category of Best Performance by an Actor in a Motion Picture—Musical or Comedy. Additionally, Scarlett Johansson (Black Widow in Marvel's "Avenger" films) received an Academy Award nomination for Best Supporting Actress, as well as BAFTA and Screen Actors Guild Award nominations for her performance as Jojo's mom, Rosie.
At the film's helm, writer, director, actor and producer Waititi won an Academy Award for Adapted Screenplay as well as a nomination in the Best Picture category (with Carthew Neal), as well as nominations from the Directors Guild of America, the Writers Guild of America, the Producers Guild of America and BAFTA (Adapted Screenplay).
Extras on the 4K Ultra HD include a director's commentary. The Blu-ray and Digital include deleted scenes, outtakes, as well as the commentary,
Snatchers
Warner Bros. Home Entertainment brings you "Snatchers," an original horror comedy feature film on Blu-ray Combo Pack, and DVD Tuesday Feb. 18. Described as a cross between "Aliens" and "Mean Girls," the full-length film was initially released in new media as a short-form series that follows a status-obsessed high school teenager who loses her virginity and finds herself pregnant the next day with an alien. It also is available now on Digital.
For Sara, senior year is going to rule. Thanks to her relationship with clueless hunk Skyler, she is totally in with the cool girls. But Skyler contracted an extraterrestrial bug during his summer vacation. After just one night together, Sara discovers she's nine months pregnant. Desperate to keep her condition a secret, she turns to the only person she can trust: her nerdy ex-bestie, Hayley. The girls soon realize this alien-induced condition is only just the beginning. Aliens had best beware in this hilarious comedy filled with action and tongue-in-cheek teen spirit.
"Snatchers" stars Mary Nepi ("Not Cool") as Sara, Gabrielle Elyse ("Nicky, Ricky, Dicky & Dawn," "The Thundermans") as Hayley, J.J Nolan ("The Mindy Project," "Silicon Valley") as Kate, Austin Fryberger ("Huge in France") as Skyler, Nick Gomez ("Longmire," "Dexter") as Oscar, and Rich Fulcher ("Those Who Can't") as Dave. Written by Stephen Cedars, Benji Kleiman and Scott Yacyshyn, and directed by Cedars and Kleiman, the film is a Stage 13 presentation with producer Paul Young for Make Good Content production in association with The Olde Money Boyz.
"Snatchers" will be available for $19.99 (SRP) for Digital, $24.98 SRP for Blu-ray Combo Pack ($34.97 in Canada), $19.98 SRP for the DVD ($24.99 in Canada).
21 Bridges
With the clock ticking down, an NYPD detective is plunged into the midst of a large-scale conspiracy, while trying to bring forth justice in "21 Bridges," arriving on Blu-ray, DVD and On Demand Tuesday Feb. 18, from STXfilms and Universal Pictures Home Entertainment.
The gripping thriller will keep viewers captivated with its twists and turns as the gray area between cop and criminal becomes more apparent. The suspense and nonstop action of "21 Bridges" allows viewers to take part in uncovering the many layers of the conspiracy themselves.

Led by Chadwick Boseman (Marvel's "Black Panther," "42"), as the film's fearless protagonist, "21 Bridges" features an all-star cast with Sienna Miller ("American Sniper," "Foxcatcher"), Stephan James ("If Beale Street Could Talk," "Homecoming"), Emmy Award winner Keith David ("Cloud Atlas," "Platoon") with Taylor Kitsch ("True Detective," "Friday Night Lights") and Oscar winner J.K. Simmons ("Whiplash," "Spider-Man").
Directed by Brian Kirk ("Game of Thrones," "The Tudors") and written by Matthew Michael Carnahan ("World War Z," "Deepwater Horizon") and Adam Mervis ("The Philly Kid," "The Shakespeare Theorem"), the film is produced by Anthony and Joe Russo ("Community," "Avengers: Infinity War") alongside Mike Larocca ("Spy," "Rise of the Planet of the Apes"), Robert Simonds ("Bad Moms," "The Wedding Singer"), Gigi Pritzker ("Hell or High Water," "Ender's Game:), Logan Coles ("Message from the King," "Heaven"), and star Boseman.

"21 Bridges" follows an embattled NYPD detective (Boseman), who is thrust into a citywide manhunt for a pair of cop killers after uncovering a massive and unexpected conspiracy. As the night unfolds, lines become blurred on who he is pursuing, and who is in pursuit of him. When the search intensifies, extreme measures are taken to prevent the killers from escaping Manhattan as the authorities close all 21 bridges to the island in order to prevent any entry or exit. Deleted scenes and a director's commentary are also included on the Blu-ray, DVD and Digital format.
TV Shows
Good Karma Hospital: Series 3
Acorn TV features the DVD and Blu-ray debut of the humorous and heartbreaking medical drama "The Good Karma Hospital: Series 3," Tuesday Feb. 18.
Set in a colorful coastal town of Southern India, "The Good Karma Hospital" stars Amrita Acharia ("Game of Thrones") as junior doctor Ruby Walker, who arrives in India looking for a job and a distraction from her heartbreak, but instead finds the realities of work, life and even love at a resource-challenged but much needed cottage hospital. The ITV series also stars Amanda Redman ("New Tricks") and Neil Morrissey ("Line of Duty," "The Night Manager").
In Series 3, the team faces their most shocking case yet. When Jyoti Gill (Sayana Gupta), one of their own nursing team survives a violent attack, Dr. Lydia Fonseca (Redman) and nurse Mari Rodriguez (Nimmi Harasgama, "Doctors") are particularly affected and struggle to provide the care their patient needs. Mari must set aside her prejudices to support her friend, while Lydia must revisit some emotional places in her past to show Jyoti the way forward.
Featured on a two-disc set with behind-the-scenes featurette ($39.99, Amazon.com), "The Good Karma Hospital: Series 3" previously premiered exclusively on Acorn TV last November. Part of AMC Networks, Acorn TV is North America's most popular and largest streaming service featuring high quality television from Britain and beyond. The six-episode "Good Karma Hospital: Series 3" is available DVD and Blu-ray for $39.99 (SRP).