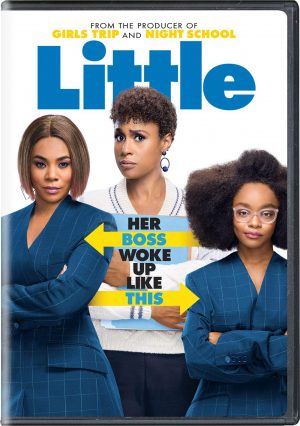 By ANGELA DAWSON
Front Row Features
Movies
Little
A big boss gets a small dose of karma in "Little," an inventive new twist on the "body swap" comedy. The film arrives on Blu-ray, DVD, and On Demand July 9, from Universal Pictures Home Entertainment. It also is available now on Digital and the digital movie app Movies Anywhere.
"Little" is an irreverent new comedy about the price of success, the power of sisterhood and having a second chance to grow up—and glow up—right. Regina Hall ("Girls Trip," "Black Monday") and Marsai Martin ("Black-ish") play younger and older versions of Jordan Sanders. Hall plays the character as a take-no-prisoners tech mogul and Martin as the 13-year-old Jordan, who wakes up in her adult self's penthouse just before a do-or-die presentation. Issa Rae ("Insecure," "The Hate You Give") plays Jordan's long-suffering assistant April.
Using heart and humor, "Little" suggests not shying away but to celebrate the greatest and most authentic versions of ourselves. The Blu-ray, DVD and Digital versions are packed with lively exclusive bonus features including a gag reel, behind-the-scenes featurettes, a hilarious "mockumentary" featuring Hall and a special "Assistant Survival Guide" presented by Rae.
Major League
Relive all the antics of the wildest and wackiest baseball team ever seen on film in the classic comedy "Major League," available now on Blu-ray and DVD, from Paramount Home Entertainment.
Celebrating its 30th anniversary this year, "Major League" tells the story of a group of baseball misfits who rally to bring home the pennant. The comedy stars Charlie Sheen, Tom Berenger, Corbin Bernsen, Wesley Snipes and Rene Russo.
The Blu-ray and DVD includes commentary by writer/director David S. Ward and producer Chris Chesser; behind-the-scenes featurettes "My Kinda Team: Making 'Major League' and 'A Major League Look at 'Major League,' and 'Bob Uecker: Just a Bit Outside,' a tour of Cerrano's locker and more.
Pet Sematary
The chilling new adaptation of Stephen King's "Pet Sematary" resurrects on 4K Ultra HD, Blu-ray, DVD and Video-On-Demand Tuesday July 9, from Paramount Home Entertainment. It also is available now on several Digital platforms.
After the Creed family moves from Boston to rural Maine, they soon discover an ancient burial ground hidden deep in the woods near their new home. When tragedy strikes, the grief-stricken father is driven by the cemetery's sinister power, setting off a perilous chain of events that unleashes an unfathomable evil with horrific consequences. Some secrets are best left buried in this twisted thriller.
The Digital, 4K Ultra HD and Blu-ray releases are packed with more than 90 minutes of special features, including hair-raising deleted and extended scenes, a chilling alternate ending, a look at the main characters, behind-the-scenes footage, cast interviews and more.
The film also boasts a Dolby Atmos soundtrack to place and move audio anywhere in the room, including overhead. In addition, both the 4K Ultra HD and Blu-ray Combo Packs include access to a Digital copy of the film.
TV Shows
Broad City
The critically acclaimed series "Broad City" delighted fans five uproarious seasons. Now, the fifth and final season arrives on DVD, along with a new Complete Series collection.
Executive produced by Amy Poehler, "Broad City" stars series creators Abbi Jacobson and Ilana Glazer​. The pair navigate their 20s in New York through hilarious and outrageous antics. The final season brings five years of wacky adventures and misadventures to a satisfying and entertaining end.
"Broad City" Season 5 will be available in a two-DVD set with all 10 episodes and "Broad City" The Complete Series will be available in an 11-DVD set, which includes an extra disc of special features.
Extras on the Season 5 box set include "Hack into Broad City," and outtakes and deleted/extended scenes. The complete box set include behind-the-scenes, deleted scenes, outtakes, commentaries and more.
Get ready for some big laughs, as Front Row Features is giving away a copy of the hilarious comedy, "Little," on Blu-ray/DVD Combo Pack to three lucky readers. To enter the contest, simply email socalmovieeditor@aol.com by July 15 for your chance to win. Good luck!