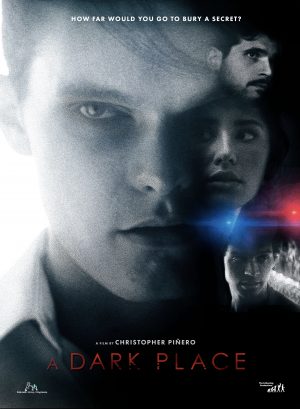 By ANGELA DAWSON
Front Row Features
Movies
A Dark Place
Gravitas Ventures, a Red Arrow Studios company, which has the U.S. rights to "A Dark Place," directed by Christopher Pinero, will be available on Digital HD, Blu-ray, DVD and On Demand Aug. 13.

Luke Baines ("Shadowhunters," "The Girl in the Photographs") stars in the captivating suspense drama that Pinero also wrote and produced. The feature also stars Jazlyn Yoder ("Chicago P.D.," "Chicago Justice"), Jay Eftimoski ("Anatomy of Violence," "Suburban Cowboy"), Mike Miller ("Grey's Anatomy," "Agents of S.H.I.E.L.D."), Christopher Donnellon ("Criminal Intention," "Drama Class") and Veronica Diaz Carranza ("Dark Was the Night," "Taco Shop").

"A Dark Place" follows Alex, a twenty-something struggling to put his life back together after mistakes and a reckless past render his job search hopeless. While pressure from his pregnant girlfriend mounts, he runs into an old friend who gives him an opportunity to turn it all around. Just when things are looking up, Alex discovers a secret that sends him into a self-destructive downward spiral, bringing his two best friends down with him.

In 2018, the film was named Best Thriller at the Manhattan Film Festival, won the Best Editing and Best Supporting Actor at the Hoboken International Film Festival and was the recipient of an Award of Excellence from the Accolade Global Film Competition.
Rafiki
The vibrant, hip tale of first love "Rafiki" arrives on DVD and Digital formats Tuesday Aug. 13 from Film Movement.
Initially banned in Kenya (where the film is set), "Rafiki" is a love story between two young women in a country that criminalizes homosexuality. Kena and Ziki have long been told that "good Kenyan girls become good Kenyan wives," but they yearn for something more. Despite the political rivalry between their families, the girls encourage each other to pursue their dreams in a conservative society. When love blossoms between them, Kena and Ziki must choose between happiness and safety.
The film, by director Wanuri Kahiu, won a landmark Supreme Court case chipping away at Kenyan anti-LGBT legislation. Featuring performances by newcomers Samantha Mugatsia and Sheila Munyiva, "Rafiki" was an official selection at Cannes and the Toronto film festivals.
The DVD comes with Shae Xu's similarly themed bonus short film "Hudson."
"Rafiki" is available for the suggested retail price (SRP) of $24.95.
The Reflecting Skin
An instant cult classic when it premiered to sold out screenings at Cannes in 1990, "The Reflecting Skin" is a darkly humorous, nightmarish vision of the American dream, which is available for the first time on Blu-ray Tuesday Aug. 13, from Film Movement Classics.
As mysterious deaths plague a small prairie town in 1950s Idaho, eight-year-old Seth (newcomer Jeremy Cooper) comes to believe that Dolphin Blue (Lindsay Duncan), the reclusive English widow living next door, is a vampire, stealing the souls of his neighborhood friends one by one. Seth's worst nightmares come true when his older brother Cameron (Oscar nominee Viggo Mortensen in one of his first starring roles) returns home from military service and falls in love with the widow.
Featuring luminous cinematography by Oscar-nominee Dick Pope ("Mr. Turner," "Secrets & Lies"), "The Reflecting Skin," winner of a Silver Leopard at the Locarno Film Festival, marked the directorial debut of Philip Ridley.
Bonus features include "Angels & Atom Bombs: The Making of 'The Reflecting Skin" and commentary with writer director Ridley and more. The film is available in a new 2K Digital restoration on Blu-ray for $39.95 (SRP) and on DVD for $29.95 (SRP) as well as Digital formats.
TV Shows
The Spanish Princess
The anticipated trilogy that began with the Golden Globe and Emmyaward-nominated Starz miniseries "The White Queen" (2014, Best Television Limited Series or Motion Picture Made for Television; 2014, Outstanding Miniseries) and critically acclaimed "The White Princess" continues with "The Spanish Princess" when it arrives on Blu-ray and DVD Aug. 13 from Lionsgate. Drawn from the bestselling novels "The King's Curse" and "The Constant Princess" written by Philippa Gregory, the powerful miniseries features the strong-willed Princess of Spain, Catherine of Aragon, played by Charlotte Hope.
Returning to the world of Tudor royal court intrigue, "The Spanish Princess" is a captivating story told uniquely from the point of view of the women, which also sheds light on a previously untold corner of history: the lives of people of color living and working in 16th-century London.
Catherine of Aragon is the strong-willed young Princess of Spain, who has been promised the English throne since she was a child. She arrives in a gray, rain-lashed England with her extensive court, including her ladies-in-waiting Lina—a Spanish noble of African-Iberian descent—and the sweet and free-spirited Rosa. When her husband, Prince Arthur, dies suddenly, the throne seems lost to Catherine until she devises an audacious plan and sets her sights on the new heir, the charismatic and headstrong Prince Harry, who will one day rule as King Henry VIII.
Hope stars alongside Stephanie Levi-John, Nadia Parkes, Aaron Cobham, Harriet Walter, Laura Carmichael, and Ruairi O'Connor. "The Spanish Princess" Blu-ray and DVD will be available for the suggested retail price of $39.95 and $34.98, respectively. It also is available now on Digital formats.