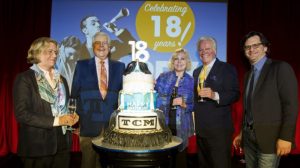 By ANGELA DAWSON
Front Row Features
HOLLYWOOD—As the old adage goes: the show must go on. With the TCM Classic Film Festival, like so many events and gatherings that have been impacted by the worldwide health epidemic, the annual Hollywood-based festival that celebrates classic movies is going virtual with the TCM Classic Film Festival—Special Home Edition, April 16-19.
According to a video announcement today on YouTube presented by "TCM Primetime" host Ben Mankiewicz, the festival will carry on, except classic film lovers will be able to log in rather than attend the festivities in person as TCM hosts dozens of activities and presents special guests during the four-day event. This is the 11th year of the film festival, which attracts film lovers from all over the world.
The central theme of the 2020 TCM Classic Film Festival is Grand Illusions: Fantastic Worlds on Film, in which festival-goers were invited on a wondrous journey to enchanted worlds of fantasy and stories beyond belief. From myths and magical creatures to ghostly encounters and travels through time, attendees were invited to escape with fellow movie lovers to places that will ignite your imagination. With theaters and Hollywood shut down because of the pandemic, festival organizers chose to try a different tact. Special guests this year were to include Hollywood icons Julie Andrews, Mel Brooks, Margaret O'Brien, George Chakiris, Mink Stole and many others. It was not announced whether they and other special guests still will be part of the "virtual" film festival.
"This is a remote stay-the-heck-at-home celebration of classic film festival movies and moments of the past decade presented on TCM," he said. "It's a long weekend of films that have screened at the festival, plus special guests and rare clips of festival moments and other gems from the TCM archives."
TCM plans to post many of the moments from past TCM Classic Film festivals on YouTube and other social media platforms. The classic movies will air on TCM as well as TCM.com, YouTube and other social media platforms.
"Movies are meant to be shared, so let's come together in our own spaces and each in our own way, to remind ourselves that we are part of a wonderful community of fans, united by our great love of classic films.