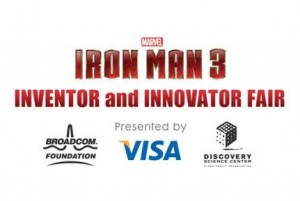 By A Front Row Features Staff Reporter
HOLLYWOOD—Hey kids, it's time to channel your inner Iron Man/Tony Stark and let your inventing imagination go wild. Discovery Science Center, Broadcom Foundation and Marvel Studios, along with Visa Signature and the El Capitan Theatre in Hollywood, have teamed up to sponsor a nationwide Marvel's Iron Man 3: Inventor and Innovator Fair in conjunction with the May 3 release of Marvel's "Iron Man 3," starring Robert Downey Jr.
The 12 finalists of the fair will win a trip to Southern California, provided by Visa Signature. The trip includes a behind-the-scenes tour of Disney Studios, a meeting with Disney Imagineers, a trip to Disneyland, a visit to the Discovery Science Center, and more.  Finalists will also have their projects on display at the El Capitan in Hollywood, from May 3-June 20.  The competition concludes at the El Capitan Theatre on May 3 when four grand prize winners will accept their awards at a special ceremony, on stage prior to the showing of Marvel's "Iron Man 3."
Sixth through ninth-grade girls and boys across the nation are invited to participate, including those who have competed in Broadcom Masters, a program of the Society for Science & the Public (SSP).  For more information, rules and how to apply, visit  www.discoverycube.org/ironman 3.

"Marvel's Iron Man 3: Inventor and Innovator Fair participants are the next generation of forward thinkers and innovators that will lead us into the future with scientific breakthroughs, engineering feats and technological advances. They are the real-life Tony Starks of tomorrow," said Mike Pasciullo, Marvel's SVP, Brand Planning & Communications.
Participating students are asked to produce innovative, inventive projects based on themes from Marvel's "Iron Man 3"—science, technology, engineering and math-related concepts and practices. The competition is encouraging students to submit projects that align with the National Academy of Engineering's (NAE) Grand Challenges for Engineering.
Some of the themes of the NAE Grand Challenges related to Marvel's "Iron Man 3" are: (1) Develop Carbon Sequestration Methods, including projects involving themes of eco-friendly car development; (2) Engineer Better Medicines, with projects that focus on global disease prevention, limb regeneration and the study of body armor that protects injured body parts such as the heart; (3) Secure Cyberspace, inspiring projects that can lead to the development of new technologies that can redefine innovative security measures; and (4) Engineer the Tools of Scientific Discovery, in fields such as micro-technology, aeronautics or robotics.