By ANGELA DAWSON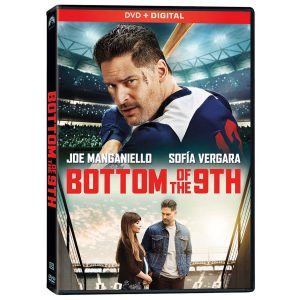 Front Row Features
Movies
Bottom of the Ninth
Starring Joe Manganiello and Sofía Vergara, "Bottom of the 9th" swings onto DVD Tuesday Sept. 17, from Paramount Home Entertainment.
A tragic mistake lands 19-year-old baseball phenom Sonny Stano (Manganiello) in jail before his burgeoning professional baseball career gets off the ground. Now, 20 years later and fresh out of prison, he works to win back his respect, his family, his lost love and his dream of being a professional baseball player. From a producer of "Creed" and "Rocky Balboa," "Bottom of the 9th" is an inspirational story of determination and redemption.
The "Bottom of the 9th" DVD takes viewers behind-the-scenes with real-life couple Joe Manganiello and Sofía Vergara to discover how the cast and crew knocked it out of the park with this action-packed comeback story. The DVD also includes access to a digital copy of the film.
Written by Robert Bruzio, the film was directed by Raymond De Felitta. The film, Bruzio's first major screenplay, is inspired by witnessing the struggles of a relative he grew up with in the Arthur Avenue section of the Bronx after serving a long prison sentence.
"Bottom of the 9th" also is available now on digital as well as On Demand.
Cassandro The Exotico!
Less a swan song than a meteor shower rendered in Technicolor, "Cassandro the Exotico!" arrives on DVD and digital Tuesday Sept. 17. The documentary is a stirring feature portrait of a lucha libre legend in his waning years in the ring. It is the latest from director Marie Losier, whose 2011 "The Ballad of Genesis and Lady Jay" followed the gender reassignment journey of musician and artist Genesis P-Orridge, puts the spotlight on another, very different gender-bending LGBTQ+ performer.
Famed as much for his flamboyant drag and sky-high pompadour as for his show-stopping kicks and flips, 47-year-old Saul Armendariz—known in the wrestling ring as Cassandro—is a champion "exotico" wrestler, a luchador who performs in drag with generous doses of camp vamping between back-breaking suplexes. His trailblazing ascent as one the industry's first openly gay wrestlers has resonated internationally for a quarter century—the story of an underdog and a queer icon simultaneously fragile and mighty.
Losier captures the moving, at times humorous, and always colorful dualities of this legendary figure with her talent for forging intimacy with a subject while celebrating his individuality broadly.
The documentary was shot entirely on 16mm film and follows the so-called "Liberace of the Lucha Libre" in his final years of competition, struggling with opponents and the cruel passage of time, while melding tender encounters and larger-than-life fight scenes into a stylish whole that reflects the vivid textures and hues of a dazzling life in sport.
The DVD and digital are available for the suggested retail price (SRP) of $24.95.
Danger God
Gary Kent, one of the inspirations for Brad Pitt's character in "Once Upon a Time … in Hollywood," is profiled in director Joe O'Connell's documentary "Danger God." The famed filmmaker "loosely" based Pitt's stuntman character Cliff Booth on Kent, and his own run in with the Manson Family at Spahn Ranch.
Available from Wild Eye Releasing on DVD Tuesday Sept. 17, "Danger God" fixes on this stuntman legend. Though the king of B movies in the '60s and '70s, working for indie directors from Richard Rush to Ray Dennis Steckler to Al Adamson, Kent tackled even larger real-life challenges.
Professional stuntman Gary Kent has made a hard-earned name for himself in over 50 years of falling, burning, jumping, fighting and breaking himself for some of the most cherished independent and B-movies of the 20th Century. This is his story, from the anything goes days of the drive-in era, including his run in with Charles Manson and his infamous family, to his personal battles and triumphs with health, alcoholism and love. The doc features interviews with Monte Hellman, Duane Eddy, Richard Rush, Marc Singer and more.
The Kids Table
Bridge was once the second-most popular pastime in America behind only baseball. But now, only 50 years later, it teeters on the brink of extinction.
In "The Kids Table," available on DVD and digital Tuesday Sept. 17, an engaging feature-length documentary from director Edd Benda, four millennial friends—filmmaker Benda, comedian Monique Thomas, Twitch host Stefanie Woodburn and actor Paul Stanko—bridge novices all, train and compete for a year on the National Bridge Circuit, going behind-the-scenes to better understand the game and its waning popularity. And as the millennials explore the world of competitive Bridge—where the average age of their opponents is 73—they discover the highs and lows of card-play, competition, and community while, hopefully, helping to build a strong foundation for the future of the game.
"The Kids Table," from Beyond the Porch Productions and the ACBL Educational Foundation, premiered at the 2019 North American Bridge Championships in Las Vegas. The DVD and digital are available for $24.95 (SRP).
X-Men: Dark Phoenix
Sophie Turner ("Game of Thrones"), James McAvoy ("Glass"), Michael Fassbender (Assassin's Creed") and Oscar winner Jennifer Lawrence ("Silver Linings Playbook") fire up an all-star cast in this spectacular culmination of the X-Men saga with "X-Men: Dark Phoenix arriving on 4K Ultra HD, Blu-ray and DVD Tuesday Sept. 17.
During a rescue mission in space, Jean Grey (Turner) is transformed into the infinitely powerful and dangerous "Dark Phoenix." As Jean spirals out of control, the X-Men must unite to face their most devastating enemy yet—one of their own.
The home entertainment release comes packed with hours of extensive special features and behind-the-scenes insights from Simon Kinberg and Hutch Parker delving into everything it took to bring "X-Men: Dark Phoenix" to the big screen. Beast also offers a hilarious, but important, one-on-one "How to Fly Your Jet to Space" lesson in the Special Features section.
"X-Men: Dark Phoenix" also is now available on digital via Movies Anywhere.
TV Shows
Supergirl: The Complete Fourth Season
Just in time for the fifth season premiere on The CW, catch up with one of the most popular DC Super Heroes as Warner Bros. Home Entertainment brings you "Supergirl: The Complete Fourth Season" on Blu-ray and DVD on Sept. 17. Fans can purchase the sets which, in addition to all 22 episodes from season four, also contain the DC Crossover featurette, the show's 2018 Comic-Con panel, deleted scenes and a gag reel. All three "DC Crossover: Elseworlds" episodes will also be available only for fans who purchase the Blu-ray set.
"Supergirl: The Complete Fourth Season" is priced at $39.99 (SRP) for the DVD ($51.99 in Canada) and $44.98 (SRP) for the Blu-ray ($52.99 in Canada), which includes a digital copy (available in the U.S.). The fourth season also is available to own on Digital via purchase from digital retailers.
In season four, Supergirl faces a bigger threat than she's ever faced before—a new wave of anti-alien sentiment, spreading across National City that's fomented by Agent Liberty. As Kara mentors a new reporter at CatCo, Nia Nal, and tries to use the power of the press to shine a light on the issues threatening to tear the city apart, Supergirl takes to the skies to battle the many villains who rise up in this era of divisiveness. Supergirl must figure out how to battle a movement when she, herself an alien, one of the main things people are most fearful.
The "Supergirl: The Complete Fourth Season" Blu-ray features all 22 episodes from the fourth season in high-definition, as well as a digital copy of the season (available in the U.S.), the four-disc Blu-ray will also include all three crossover episodes.
The series stars Melissa Benoist ("Glee"), Mehcad Brooks ("About Last Night"), Chyler Leigh ("Grey's Anatomy"), Katie McGrath ("Jurassic World"), Jesse Rath ("Defiance"), Sam Witwer ("Being Human"), Nicole Maines ("Royal Pains") and David Harewood ("Homeland"). Based on the DC characters created by Jerry Sigel and Joe Shuster by special arrangement with the Jerry Siegel family, "Supergirl" is produced by Berlanti Productions in association with Warner Bros. Television.
Calling all baseball fans! Front Row Features is giving away a DVD copy of the gripping baseball drama "Bottom of the 9th" to two lucky readers. To enter the contest, simply email socalmovieeditor@aol.com by Sept. 23 for your chance to win. Good luck!