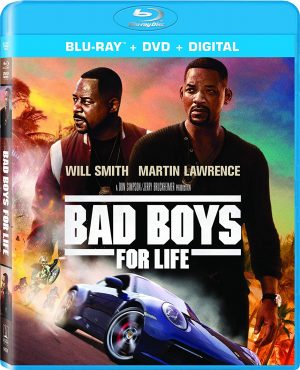 By ANGELA DAWSON
Front Row Features
Movies
Bad Boys for Life
Will Smith and Martin Lawrence are back on the case in the roles that launched the dynamic duo to global superstardom in "Bad Boys for Life," arriving on Digital Tuesday March 31, from Sony Pictures Home Entertainment.
"Bad Boys for Life" brings even more laughs and thrilling action Digital, with more than 50 minutes of special features, including an alternate ending from the film's high-octane final showdown, all-new and extended scenes, outtakes and bloopers, Easter eggs, an exclusive peek at the making of the film and a look back at the first three installments of the hit franchise.
The action-packed comedy that has earned over $400 million dollars at the worldwide box office is slated to arrive on 4K Ultra HD, Blu-ray and DVD Tuesday April 21. The DVD includes extended and alternate scenes, bloopers and more.

The original Bad Boys Mike Lowry (Smith) and Marcus Burnett (Lawrence) are back. After a string of assassinations and an attempt on Mike's life, he convinces a hesitant Marcus to hold off retirement and partner one last time. Together, they team up with AMMO, the new hotshot division of the Miami PD, to take down the merciless head of the Aretas Cartel. Rounding out the cast are Vanessa Hudgens ("Spring Breakers"), Alexander Ludwig ("Vikings"), Charles Melton ("Riverdale"), Paola Nuñez ("The Purge"), Kate del Castillo ("The Book of Life"), award-winning recording artist Nicky Jam and "Bad Boys" franchise veteran Joe Pantoliano.
The Current War
Dive deeper into the electric true story behind one of the greatest unknown battles in American invention and ingenuity in "The Current War: Director's Cut," available on Digital now and on Blu-ray, DVD and On Demand Tuesday March 31, from Universal Pictures Home Entertainment.
This suspenseful historic drama, from director Alfonso Gomez-Rejon, gives an inside look at one of the most impactful events in history as it set the foundation for modern life—the creation of electricity. Featuring an all-star cast including Benedict Cumberbatch ("The Imitation Game," "Doctor Strange"), Michael Shannon ("The Shape of Water," "Knives Out"), Nicholas Hoult ("Mad Max: Fury Road," "The Favourite") and Tom Holland ("Spider-Man Far from Home," "Avengers: Endgame"), the film from director Alfonso Gomez-Rejon ("Me and Earl and the Dying Girl," "Hunters" ) and with a script by Michael Mitnick ("The Giver," "Vinyl" ) provides a compelling tug-of-war story that is enhanced through both the immersive visual style and powerful cast performances. Full of emotionally gripping moments from beginning to end, audiences can see the fascinating "The Current War: Director's Cut" when the film arrives on Digital, Blu-ray and DVD, with dramatic deleted scenes that take viewers deeper into the story of intense rivalry between two leading innovators in the race towards powering the world.

Three brilliant visionaries set off in a charged battle for the future in "The Current War: Director's Cut," the epic story of the cutthroat competition that literally lit up the modern world. Cumberbatch is Thomas Edison, the celebrity inventor on the verge of bringing electricity to Manhattan with his radical new DC technology. On the eve of triumph, his plans are upended by charismatic businessman George Westinghouse (Shannon) who believes he and his partner, the upstart genius Nikolai Tesla (Hoult), have a superior idea for how to rapidly electrify America, with AC current. As Edison and Westinghouse grapple for who will power the nation, they spark one of the first and greatest corporate feuds in American history, establishing for future titans of industry the need to break all the rules.
The Blu-ray, Digital and DVD editions include deleted scenes and a director's commentary.
Impractical Jokers: The Movie
No joke! "Impractical Jokers: The Movie" arrives on Digital Wednesday April 1, from Warner Bros. Home Entertainment.
The big screen version of the popular comedy prank series, arrives early, only five weeks after its successful theatrical debut due to closure of many theaters because of the pandemic.
The film, an extension of the wildly successful truTV "Impractical Jokers" series, was directed by Chris Henchy ("Daddy's Home," "Eastbound & Down"). Produced by Funny or Die, "Impractical Jokers: The Movie" will be available for a suggested retail price (SRP) of $19.99 for the Digital ($24.99 in Canada) and is rated PG-13.
"Impractical Jokers" first premiered on truTV in 2011 and quickly became a hit, especially among young adults. The series has aired eight seasons with over 200 episodes to date and remains a top three original cable comedy series with ratings that continue to grow. New episodes keep truTV in the top 10 ranking among cable networks in primetime.
"The power of the loyal fan base has proven the sky's the limit for this comedy franchise, and we are eager to bring home the laughter and antics of their first feature film for the whole family to enjoy," said Mary Ellen Thomas, WBHE Senior Vice President, Originals, Animation & Family Marketing.
"Impractical Jokers: The Movie" stars James "Murr" Murray, Brian "Q" Quinn, Joe Gatto and Sal Vulcano, also known as the comedy troupe The Tenderloins, playing themselves in a fictional story of a humiliating high school mishap from the early nineties. Featuring appearances from Paula Abdul, Jaden Smith, and Joey Fatone, the movie combines the fictional narrative with real life footage of over-the-top punishments and callbacks to classic moments from the series. Once the Impractical Jokers hit the road, they compete in hidden camera challenges for the chance to turn back the clock and find redemption.
The Prince of Tides
A newly restored Criterion Collection edition of "The Prince of Tides" arrives Tuesday March 31 on DVD and Blu-ray.
For her acclaimed second feature as a director, Oscar winner Barbra Streisand crafted a sumptuous, emotionally wrenching adaptation of Pat Conroy's best-selling novel-which she also produced and starred in. Summoned to New York after his sister attempts suicide, Tom Wingo (Nick Nolte) must serve as her memory, reckoning with the traumas of their southern childhood so that her psychiatrist, Dr. Susan Lowenstein (Streisand), can help her recover. But Tom's sessions with Lowenstein will plunge him into the depths of his own long-repressed pain-and reawaken the possibility of love within him. Nominated for seven Academy Awards, including best picture and best actor for Nolte's soulful performance, "The Prince of Tides" is a life-affirming tale of healing and renewal from a triple-threat filmmaker with a keen and humane insight into her characters' sorrows, joys, and yearnings.
The Blu-ray edition includes a new 4K digital restoration, supervised by director Streisand, with 2.0 surround DTS-HD Master Audio soundtrack. Both the Blu-ray and DVD editions include an audio commentary featuring Streisand, recorded in 1991 and updated in 2019, a making of featurette from 1991, audition and rehearsal footage, deleted scenes and alternate takes, plus much more.
The Blu-ray edition will be available for $39.95 (SRP); and the DVD edition will be available for $29.95 (SRP).
Show Boat
The Criterion Collection presents the newly restored classic musical "Show Boat" on DVD and on 4K Blu-ray Tuesday March 31.
Jerome Kern and Oscar Hammerstein II's 1936 immortal musical adaptation of Edna Ferber's sprawling novel receives its most faithful and enduring cinematic adaptation under the elegant direction of James Whale. A rich portrait of changing American entertainment traditions and race relations, Show Boat spans four decades and three generations as it follows the fortunes of the stage-struck Magnolia (Irene Dunne), an aspiring actor whose journey takes her from her family's humble floating playhouse in the 1880s South to the height of fame in the 1930s North. The cast of show-business legends includes Helen Morgan, Hattie McDaniel, Charles Winninger, and the great Paul Robeson, whose iconic, soul-shaking rendition of "Ol' Man River" is one of the crowning glories of the American stage and screen.
Extras include an audio commentary from 1989 featuring American-musical historian Miles Kreuger, a new interview with James Whale biographer James Curtis, "Recognizing Race in 'Show Boat,'" a new interview program featuring professor and author Shana L. Redmond two performances from the sound prologue of the 1929 film version of 'Show Boat,' plus 20 minutes of silent excerpts from the film, with audio commentary by Kreuger, and more.
The Criterion Collection Blu-ray will be available for $39.95 (SRP); the DVD will be available for $29.95 (SRP).
Star Wars: The Rise of Skywalker
"Star Wars: The Rise of Skywalker," Lucasfilm and director J.J. Abrams' inspiring conclusion of the seminal Skywalker saga, electrified audiences around the globe, earning more than a billion dollars worldwide. Soon fans can complete their collections when "Star Wars: The Rise of Skywalker" is available now digitally in HD and 4K Ultra HD and via Movies Anywhere, and will be available 4K Ultra HD, Blu-ray and DVD Tuesday March 31.

The ninth and final episode in the Skywalker saga welcomed the return of original characters Luke Skywalker, General Leia Organa, Chewbacca, C-3PO, R2-D2, Emperor Palpatine and Lando Calrissian, along with the latest generation of heroes and villains, including Rey, Finn, Poe, BB-8, Maz, Rose, General Hux and Kylo Ren. Newcomers include Jannah, a new ally of the Resistance; Allegiant General Pryde of the First Order; and smuggler Zorii Bliss.
Bonus material includes a feature-length, making-of documentary, which goes behind the scenes with the cast and filmmakers from "Star Wars: The Rise of Skywalker" and explores the legacy of the Skywalker saga. Bonus features also dig into the film's Pasaana desert scenes, including the thrilling landspeeder chase, and the ship in which Rey discovers family secrets as well as a new little droid named D-O. Plus, fans will hear from Warwick Davis, who reprises his role as Wicket the Ewok, as well as the creature effects team that created a record 584 creatures and droids for the film. Digital consumers will receive an exclusive feature highlighting legendary composer John Williams, who has scored every episode in the Skywalker saga.
Their Finest Hour: 5 British WWII Classics
Start your own movie marathon with "Their Finest Hour: 5 British WWII Classics," arriving on Blu-ray for the first time Tuesday March 31, from Film Movement Plus.
This collection brings together some of the most celebrated British war films, digitally including the Ealing Studios-produced, Graham Greene adaptation of "Went the Day Well? From 1942, Michael Anderson's Oscar-nominated "The Dam Busters" from 1955, as well as three box-office hits starring John Mills— 1955's "The Colditz Story," 1958's Dunkirk and 1958's "Ice Cold in Alex."
The films come with various extras. For example, "The Colditz Story," includes a documentary about the making of the film as well as a restoration comparison. "The Dam Busters" includes a making of, footage of the bomb tests, footage from the Royal Premiere and more. "Dunkirk" includes Operation Dynamo newsreel footage, an interview with actor Sean Barrett and more. "Ice Cold Alex" includes John Mills home movie footage, an interview with Sylvia Syms and more.
This fascinating five-disc collection will be available for $84.95 (SRP).
TV Series
Midsomer Murders: Series 21
Acorn features the DVD/Blu-ray debut of the long-running beloved British mystery series "Midsomer Murders: Series 21," on Tuesday March 31. In England's most murderous county, DCI John Barnaby (Neil Dudgeon, "Life of Riley") and DS Jamie Winter (Nick Hendrix, "Marcella") will investigate the villages' most menacing secrets. Bucolic settings hiding macabre crimes and eccentric characters are no match for this dynamic duo.
In this 21st season of the acclaimed series, Barnaby and Winter will investigate the county villages' most sinister secrets, regardless if they are on the dance floor or in a doll house in the four feature-length episode series. Now on a two-disc set with a behind-the-scenes featurette, "Midsomer Murders: Series 21" will be available for $49.99 on Amazon.com.
One Nation Under Stress
The documentary "One Nation Under Stress" is available to rent on digital Monday March 30, from Warner Bros. Home Entertainment.
From acclaimed directors/producers Marc Levin and Daphne Pinkerson (HBO's "I Am Evidence," "Class Divide") comes an enlightening HBO documentary that explores the causes and effects of chronic stress from scientific, economic and sociological perspectives.
In investigating the recent three-year decline in U.S. life expectancy for the first time in a century, neurosurgeon and Emmy-award winning CNN chief medical correspondent Dr. Sanjay Gupta travels across the country, interviewing experts from a wide range of fields who share their insights on why we're experiencing so much stress, its effect on Americans, and its consequences for the health of the nation. Along the way, Gupta also speaks candidly with Americans struggling with stress-related ailments and loved ones lost to "deaths of despair," particularly in communities facing economic and social instability. Shedding light on the origins and nature of stress, including its biological and social roots, as well as various treatments and strategies being developed to help cope with it, One Nation Under Stress is a timely and vital film that encourages us all to focus on the mental and emotional well-being of the nation, a process that involves education, enlightenment and empathy.
What's My Name: Muhammad Ali
Experience the extraordinary life of one of the 20th century's most iconic figures, Muhammad Ali, in the riveting two-part documentary "What's My Name: Muhammad Ali," available on DVD Tuesday March 31, from HBO Sports and Warner Archive. Presented through archival footage and recordings of his own voice, the film explores the boxing legend's challenges, confrontations, comebacks and triumphs both in and out of the ring.
Calling all "Star Wars" fans! Front Row Features is giving away a digital copy of the final film in the epic Skywalker saga, "Star Wars: The Rise of Skywalker," to three lucky readers. To enter the contest, simply email socalmovieeditor@aol.com by April 13 with the name of your favorite "Star Wars" character in the body of the email. Winners will receive their digital code as soon as the statewide government mandate in California to close all non-essential fulfillment houses due to COVID-19 is lifted. Good luck and May the Force Be with You!