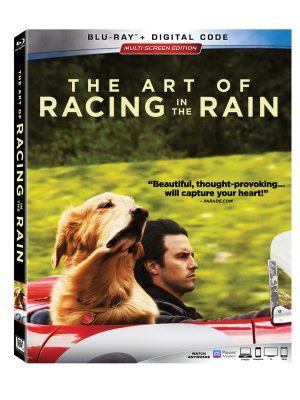 By ANGELA DAWSON
Front Row Features
Movies
The Art of Racing in the Rain
Twentieth Century Fox Home Entertainment unleashes "The Art of Racing in the Rain" on Blu-ray and DVD Tuesday Nov. 5.
Based on the best-selling novel by Garth Stein, "The Art of Racing in the Rain" is a heart-warming tale narrated by a witty and philosophical dog named Enzo (voiced by Kevin Costner, "Dances with Wolves"). Through his unique insight into the human condition, Enzo helps his owners—race car driver Denny Swift (Milo Ventimiglia, "This is Us"), his wife Eve (Amanda Seyfried, "Mamma Mia!" movies) and daughter Zoe (Ryan Kiera Armstrong)—navigate life with a refreshing perspective on friendship, family and unconditional love. The release comes fully loaded with more adorable Enzo moments in the special features along with insights into the making of the film from the cast and filmmakers.
"The Art of Racing in the Rain" also is now available on Movies Anywhere.
Fast & Furious Presents: Hobbs & Shaw
"Fast & Furious Presents: Hobbs & Shaw" will be available on 4K Ultra HD, Blu-ray, DVD and On Demand on Tuesday Nov. 5, from Universal Pictures.
The "Fast & Furious" spinoff amps up the high-stakes action and sharp-edged humor like never before, taking fans down an exhilarating new road. Unforgettable franchise favorites Luke Hobbs (Dwayne Johnson; "Skyscraper," "Jumanji: Welcome to the Jungle") and Deckard Shaw (Jason Statham; "The Meg," "Spy") forge an unlikely partnership that provides fresh insight into their backstories. Johnson and Statham take the action, spectacle, thrills and humor to a new level and have already earned the film more than $680 million at the global box office.
"Hobbs & Shaw" features more than 80 minutes of never-before-seen bonus content including an alternate opening, deleted and extended scenes and several featurettes with the filmmakers and cast that take fans further into the thrilling story. Hobbs & Shaw" takes our heroes across the globe with non-stop action, from Los Angeles to London and from the toxic wasteland of Chernobyl to the lush beauty of Samoa.
For years, hulking lawman Luke Hobbs and lawless outcast Deckard Shaw have traded smack talk and body blows. But when cyber-genetically enhanced anarchist Brixton Lorr (Idris Elba; "Thor: Ragnarok," "The Dark Tower") gains control of an insidious bio-threat that could alter humanity forever, Hobbs and Shaw must partner up to bring down the only guy who might be badder than themselves. Joining the cast as Shaw's sister Hattie, Vanessa Kirby ("Mission: Impossible—Fallout," "The Crown"). Directed by David Leitch from a story by longtime "Fast & Furious" narrative architect Chris Morgan and a screenplay by Morgan and Drew Pearce ("Mission: Impossible—Rogue Nation," "Iron Man 3").
The Kitchen
They're taking control of Hell's Kitchen when "The Kitchen" arrives Tuesday Nov. 5 on Blu-ray, DVD and Digital. "The Kitchen" also will be made available digitally on Video on Demand services from cable and satellite providers, and on select gaming consoles.
From New Line Cinema and BRON Creative come the gritty, female-driven mob drama "The Kitchen," written and directed by Andrea Berloff, who was nominated for an Oscar for Original Screenplay for "Straight Outta Compton." Based on the Vertigo comic book series from DC Entertainment, the film stars Oscar nominee Melissa McCarthy ("Bridesmaids," "Tammy"), Tiffany Haddish ("Girls Trip," "Night School") and Elisabeth Moss ("The Handmaid's Tale," "Mad Men") as three 1978 Hell's Kitchen housewives whose mobster husbands are sent to prison by the FBI.
The film also stars Domhnall Gleeson ("Star Wars: The Last Jedi," "About Time"), James Badge Dale ("Only the Brave," "13 Hours"), Brian d'Arcy James ("Spotlight," "Shrek The Musical"), Margo Martindale ("The Americans," "August: Osage County"), Oscar winner Common ("Selma," "Marshall"), Bill Camp ("Vice," "Jason Bourne"), with an ensemble cast including Jeremy Bobb ("Marshall"), E.J. Bonilla ("The Long Road Home"), Wayne Duvall ("Prisoners"), Annabella Sciorra ("Daredevil") and Myk Watford ("True Detective"). Berloff's screenplay was based on the comic book series created for DC Vertigo by Ollie Masters and Ming Doyle.
The Blu-ray features a Blu-ray disc with the film and special features in hi-definition, and a Digital version of the movie. It is available for a suggested retail price (SRP) of $39.99. The DVD features a DVD with the film and a special feature in standard definition, and a Digital version of the movie. It will be available for $28.98 (SRP). The film already is available on Digital formats and Movies Anywhere.
TV Shows
Ms. Fisher's Modern Murder Mysteries
Acorn TV features the DVD and Blu-ray debut of the Acorn TV Original Series "Ms. Fisher's Modern Murder Mysteries" on Tuesday Nov. 5.
In this mod spin-off to the wildly popular Australian mystery series, Peregrine Fisher (Geraldine Hakewill, "Wanted") inherits her aunt Phryne's estate after she goes missing on a case. As the plucky Peregrine steps into her aunt's fabulous lifestyle in 1960s Melbourne, she decides to follow in Phryne's footsteps as a lady detective for a groovy new era. This DVD and two-disc Blu-ray set features four feature-length episodes (90-minutes each), plus a bonus behind the scenes featurette ($49.99 each, Amazon.com).
Created by Fiona Eagger and Deb Cox ("Miss Fisher's Murder Mysteries," "Newton's Law"), the series premiered in North America in April 2019, exclusively on Acorn TV. AMC Networks' Acorn TV is North America's largest streaming service specializing in British and international television.
In 1964, when the famous aunt she never knew, Phryne Fisher, goes missing over the highlands of New Guinea, the gorgeously reckless Peregrine Fisher (Hakewill) inherits a windfall. Peregrine sets out to become a world-class private detective in her own right with the unerring guidance of The Adventuresses' Club, a group of extraordinary women of which her celebrated aunt was a member. A natural rule breaker, Peregrine is fearless, fun, and charmingly down-to-earth, with a keen instinct for solving crimes. Now with newfound wealth and The Adventuresses to hone her rough edges and become a family she's never had, Peregrine is unstoppable.
The series co-stars Joel Jackson ("Peter Allen: Not the Boy Next Door," "Deadline Gallipoli") as smart, ambitious cop Detective James Steed and Catherine McClements ("Wentworth") as Birdie, an ex-member of World War II Special Forces and head of The Adventuresses.
Yellowstone: Season 2
Kevin Costner returns to the ranch as the Dutton family fights for its survival in "Yellowstone: Season 2," arriving on Blu-ray and DVD Tuesday Nov. 5, from Paramount Home Entertainment.
From writer/director Taylor Sheridan, "Yellowstone" is an engrossing family drama that follows the epic story of a multi-generational family that controls the largest contiguous ranch in the U.S.
"Yellowstone" stars world-renowned actor and Oscar-winner Kevin Costner ("Dances with Wolves") as John Dutton, who controls the largest contiguous ranch in the United States. The series is co-created by critically acclaimed, Oscar-nominated screenwriter Taylor Sheridan ("Wind River," "Hell or High Water"), and John Linson. The series also stars Luke Grimes, Kelly Reilly, Wes Bentley, Cole Hauser, Kelsey Asbille, Brecken Merrill, Jefferson White, Danny Huston and Gil Birmingham. Neal McDonough joined the cast in Season 2.
In Season 2, John (Costner), Kayce (Grimes) and the rest of the clan battle constant encroachment from ruthless enemies on all sides.
A huge hit with viewers, the TV western was the most-watched original cable entertainment telecast this past summer. The second season debut episode drew more than five million viewers in Live+3, surpassing the series premiere by six percent. The show has been renewed for a third season on Paramount Network.
The three-disc Blu-ray and four-disc DVD sets include all 10 hour-long episodes from the second season, plus more than three hours of additional content, including more than 45 minutes of exclusive, never-before-seen footage. Among the exclusive content is an in-depth, 30-minute exploration of the second season, detailing the show's heightened drama and rising stakes through interviews with Kevin Costner and other cast members. The disc collections also include exclusive deleted scenes and a look at the show's stunts, along with "Behind the Story" and "Stories from the Bunkhouse" segments for each episode, and more.
Calling all Kevin Costner fans! Front Row Features is giving away a copy of "Yellowstone: Season 2" on Blu-ray this week to one lucky reader. To enter the contest, simply email socalmovieeditor@aol.com by Nov. 11 for your chance to win. Good luck!