By ANGELA DAWSON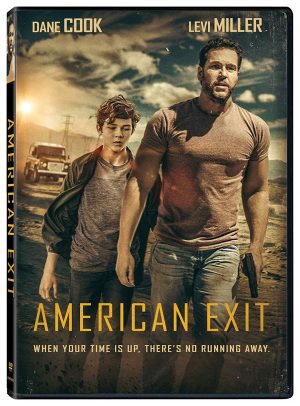 Front Row Features
American Exit
Dane Cook stars in an all new type of role in the intense crime-thriller based on a true story, "American Exit," arriving on DVD, Digital, and On Demand Tuesday May 14 from Lionsgate. Also starring Levi Miller and Udo Kier, this captivating father-son action journey delivers a powerful and universal message about the parent-child bond.
Cook plays Charlie, a desperate father who steals a million-dollar painting from Anton (Kier, "Blade"), a shady art dealer. With time running out, he flees to the California desert with his rebellious teen son, Leo (Miller, "Pan"). But when Anton and his henchman come seeking revenge, the situation explodes into violence, and suddenly Charlie is not the only one whose days may be numbered. The "American Exit" DVD will be available for the suggested retail price of $19.98.
Fighting With My Family
Family is worth fighting for in the inspiring underdog story, "Fighting With My Family," arriving on Blu-ray, DVD and On Demand Tuesday May 14, from Metro Goldwyn Mayer Pictures (MGM) and Universal Pictures Home Entertainment. The film also is available now on Digital formats.
Set in the competitive world of wrestling, "Fighting With My Family" stars Florence Pugh ("Lady Macbeth"), Lena Headey ("Game of Thrones"), Jack Lowden ("Mary Queen of Scots"), Nick Frost ("Shaun of the Dead"), Vince Vaughn ("Swingers") and Dwayne Johnson ("Fast and Furious" franchise), who also produced the film.
Written and directed by Emmy Award winner Stephen Merchant ("The Office"), the dramedy is based on the incredible true story of WWE Superstar Paige (Pugh). Born into a tight-knit wrestling family, Paige and her brother Zak (Lowden) are ecstatic when they get the once-in-a-lifetime opportunity to try out for WWE. But when only Paige earns a spot in the competitive training program, she must leave her family and face this new, cut-throat world alone. Paige's journey pushes her to dig deep, fight for her family, and ultimately prove to the world that what makes her different is the very thing that can make her a star.
"Fighting With My Family: Director's Cut," on Blu-ray and DVD comes with action-packed bonus features that invite viewers into the world of wrestling and take a deeper dive into Paige's real larger-than-life family. The Blu-ray combo pack also includes a Director's Cut filled with new and extended scenes not seen in theaters.
Life Like
An idealistic attractive young couple acquires a stunning, lifelike robot for guilt free help, but as the three grow closer, their perception of humanity will be altered forever in "Life Like," arriving on DVD, Digital, and On Demand Tuesday May 14 from Lionsgate. From a producer of "Salt" and "Premonition," this sci-fi thriller stars Drew Van Acker, Addison Timlin, James D'Arcy and Steven Strait.
In this futuristic thriller, Sophie (Addison Timlin, "Californication") and James (Drew Van Acker, "Pretty Little Liars") purchase a lifelike robot to cook and clean at their sprawling new home. At first, android Henry is quiet and hard-working. But as his artificial-intelligence programming kicks in, Henry starts to anticipate the couple's needs and desires, ones they themselves cannot fully understand. Henry's terrifying behavior could destroy Sophie and Julian's relationship as well as their lives.
The "Life Like" DVD includes a behind-the-scenes featurette and will be available for the suggested retail price (SRP) of $19.98.
Never Look Away
In his third feature film, Florian Henckel von Donnersmarck, writer/director of Academy Award-winning Best Foreign Language Film "The Lives of Others," returns to his native Germany with "Never Look Away" arriving on Blu-ray, DVD and digital Tuesday May 14, from Sony Pictures Home Entertainment.
The romantic historical drama is inspired by real events and the life of legendary artist Gerhard Richter, as it follows two German students who fall in love and soon realize the girl's father has a devastating secret and vows to end their relationship.
The film that earned cinematographer Caleb Deschanel his sixth Academy Award nomination, "Never Look Away" stars Tom Schilling ("Who Am I," "Coffee in Berlin"), Sebastian Koch ("Bridge of Spies," "The Lives of Others"), Paula Beer ("Bad Banks") and Saskia Rosendahl. The Blu-ray release of "Never Look Away" includes a Q&A featuring the writer/director as he details the film's inspirations, production, and deeper themes of the film.
You don't have to be a WWE fan to enjoy Front Row Features' latest giveaway. We're giving away a copy of WWE Superstar Paige's hilarious and inspirational true story, "Fighting With My Family," on Blu-ray/DVD Combo Pack to three lucky readers. To enter the contest, simply email socalmovieeditor@aol.com by May 20 for your chance to win. Good luck!