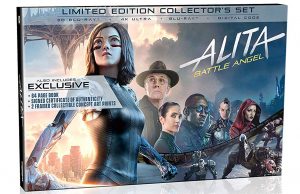 By ANGELA DAWSON
Front Row Features
Movies
"Alita: Battle Angel
Alita: Battle Angel" arrives on 4K Ultra HD (plus Blu-ray 3D), Blu-ray and DVD Tuesday July 23 from 20th Century Fox Home Entertainment. It also is available now on Movies Anywhere.
Academy Award winners James Cameron, Jon Landau, and filmmaker Robert Rodriguez deliver this inspiring message of hope and empowerment in an epic adventure. When Alita (Rosa Salazar) awakens with no memory of who she is in a future world she does not recognize, she is taken in by Ido (Christoph Waltz), a compassionate doctor who realizes that somewhere in this discarded cyborg shell is the heart and soul of a young woman with an extraordinary past. When deadly and corrupt forces come after Alita, she discovers a clue to her past—she has unique fighting abilities that those in power will stop at nothing to control. If she can stay out of their grasp, she could be the key to saving her friends, her family and the world she's grown to love.
The action-packed film, also starring Jennifer Connelly, Mahershala Ali, Ed Skrein, Jackie Earle Haley, and Keenan Johnson, has raked in more than $400 million at the global box-office.
Packed with hours of extensive special features, the home entertainment release takes viewers behind-the-scenes with Cameron and Rodriguez to see the journey from Manga-to-screen and what it took to bring Alita to life. Plus, go deeper into the universe of "Alita: Battle Angel," where viewers can learn about the past, the characters of the present and the sport of Motorball.
Hellboy
"Hellboy" arrives on 4K Ultra HD Combo Pack (plus Blu-ray and Digital), Blu-ray Combo Pack (plus DVD and Digital), DVD, and On Demand Tuesday July 23 from Lionsgate.
Based on Mike Mignola's smash-hit comic book series from Dark Horse and written for the screen by Andrew Cosby ("Eureka"), the horrifying vision filled with monsters and mayhem is directed by Neil Marshall ("The Descent," "Game of Thrones") and stars Golden Globenominee David Harbour ("Stranger Things") as the iconic half-demon titular superhero.
Hellboy is called to the English countryside to battle a trio of rampaging giants. There he discovers The Blood Queen, Nimue (Milla Jovovich), a resurrected ancient sorceress thirsting to avenge a past betrayal. Suddenly caught in a clash between the supernatural and the human, Hellboy is now hell-bent on stopping Nimue without triggering the end of the world.
The film also stars Ian McShane ("Deadwood"), Sasha Lane ("American Honey"), Daniel Dae Kim ("Lost," "Hawaii Five-O") and Academy Award nominee Thomas Haden Church ("Sideways").
The home entertainment editions of "Hellboy" include exclusive special features, including a three-part documentary, never-before-seen deleted scenes, and more. Experience four times the resolution of full HD with the 4K Ultra HD Combo Pack, which includes Dolby Vision HDR. Additionally, the 4K Ultra HD Combo Pack features Dolby Atmos audio mixed specifically for the home. The "Hellboy" 4K Ultra HD Combo Pack, Blu-ray Combo Pack, and DVD will be available for the suggested retail price (SRP) of $42.99, $39.99, and $29.95, respectively. "Hellboy" also is available now on Digital platforms.
Rock, Paper, Scissors
Rock, Paper, Scissors arrives on Blu-ray, DVD and Digital Tuesday July 23 from Lionsgate. Luke Macfarlane, Michael Madsen and Oscar winner Tatum O'Neal ("Paper Moon") star in this horrifying take on the hand game that pits a rehabilitated serial killer against his female neighbor.

Released from a mental hospital, Peter (Macfarlane, "Brothers & Sisters") is haunted by memories of childhood abuse and murder victims while being menaced by the cop who put him away (Madsen, "The Hateful Eight"). His only friend is pretty neighbor Monica, who says she wants to interview him for a book but may have something more sinister in mind.
Written by Kerry Fleming ("Friday the 13th") Victor Miller and directed by Tom Holland ("Child's Play"), the "Rock, Paper, Scissors" Blu-ray and DVD will be available for $24.99 (SRP) and $19.98 (SRP), respectively.
The Fate of Lee Khan
Hot on the heels of John Woo's digitally remastered "Heroes Shed No Tears" comes another unforgettable Far East classic from trailblazing Chinese filmmaker King Hu, "The Fate of Lee Khan" arrives on Blu-ray in North America for the very first time, from Film Movement Classics in a new 2K digital restoration.
In the 1973 follow-up to his critically-acclaimed "A Touch of Zen," Hu—the foremost genius of the high-flying, sword-swinging wuxia film—brings together an all-star female cast, including Hong Kong cinema stalwart Li Li-hua and ingenue Angela "Lady Whirlwind" Mao, in this lively martial arts adventure.
When Lee Khan, an official working for Mongolian Emperor Yuan of the Yuan Dynasty procures the battle map of the Chinese rebel army, Chinese resistance fighters, aided by an undercover girl-gang, strive to corner him at an inn. Featuring stunning action sequences choreographed by Jackie Chan's "kung fu elder brother" Sammo Hung and a generous mix of intrigue and humor "The Fate of Lee Khan" is a legendary martial arts masterpiece. Bonus features include a NYAFF video chat and a new essay by Chinese film expert/author Stephen Teo.
The Blu-ray has a suggested retail price (SRP) of $39.95 and the DVD is available for $29.95 (SRP).
TV Shows
Manifest: The Complete First Season
"Manifest," the acclaimed new NBC series, arrives on DVD Tuesday July 23 from Warner Bros Home Entertainment.
The sci-fi series is from Oscar-winning filmmaker Robert Zemeckis ("Forrest Gump," "Cast Away") and executive producers Jeff Rake ("The Mysteries of Laura"), Jack Rapke ("Flight," "Cast Away"), Jackie Levine ("Allied," "The Walk"), and Len Golstein ("Hart of Dixie," "Roadies").
The series begins with a plane inexplicably disappearing on a trans-oceanic flight and returns five years later after being presumed lost at sea. While no time has passed for those onboard the flight, years have gone by for their loved ones who have learned to live with their loss. In addition to the outward mystery of what happened on that flight, there's also an inward mystery of what happened to the passengers and why.
Starring Melissa Roxburgh ("Valor," "Supernatural"), Josh Dallas ("Once Upon a Time"), Athena Karkanis ("House of Cards," "Zoo"), J.R. Ramirez ("Power"), Luna Blaise ("Fresh Off the Boat"), Jack Messina ("The Marvelous Mrs. Maisel") and Parveen Kaur ("The Strain," "Saving Hope"), "Manifest" is produced by Jeff Rake Productions and Compari Entertainment in association with Warner Bros. Television and Universal Television.
All 16 episodes of the first season are available in a box set and available for $29.98 (SRP) in the U.S., $34.99 (SRP) in Canada.