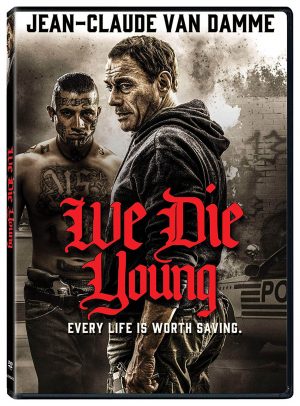 By ANGELA DAWSON
Front Row Features
We Die Young
Action legend Jean-Claude Van Damme ("Double Impact," "Bloodsport") takes a powerful dramatic turn as a war veteran with PTSD helping two boys get revenge on a violent drug lord in the gritty crime thriller, "We Die Young," arriving on Blu-ray and DVD Tuesday April 9. The film also is available now On Demand from Lionsgate. Van Damme shines in this gritty action thriller set in a crime-ridden barrio of Washington, D.C.
Based on the award-winning short film "Roads," which screened at over 70 international film festival, "We Die Young" focuses on the struggles of gang life in the Nation's Capital.
When ruthless drug lord Rincon (Castaneda) and his MS-13 gang recruit 10-year-old Miguel to work as a runner, big brother Lucas (Rodriguez) is desperate to keep Miguel safe. Fleeing for their lives, the boys are rescued by a veteran with PTSD named Daniel (Van Damme), who helps them find their revenge.
"We Die Young" also stars Elijah Rodriguez ("The Book of Life," "Sicario: Day of the Soldado"), Joana Metrass ("Once Upon a Time"), and David Castaneda ("Sicario: Day of the Soldado," "End of Watch"). It was written and directed by Lior Gellar ("Roads") and was produced by Sagiv Diamant ("God the Father") and Gabriel Georgiev ("The Hurricane Heist").
On the Basis of Sex
Follow the real-life story of lawyer turned U.S. Supreme Court Justice Ruth Bader Ginsburg, as she fights to overturn over a century of gender discrimination in the "riveting" (Pete Hammond, Deadline) and uplifting drama "On the Basis of Sex," arriving on Blu-ray, DVD and On Demand on Tuesday April 9,, from Universal Pictures Home Entertainment. Directed by Mimi Leder ("The Leftovers"), the film showcases award-worthy performances where Academy Award nominee Felicity Jones ("The Theory of Everything") in her role as a young Ruth Bader Ginsburg, alongside Armie Hammer ("Call Me By Your Name") as Ruth's husband, Marty Ginsburg, and a supporting cast including Justin Theroux ("The Leftovers"), Jack Reynor ("Glassland"), Cailee Spaeny ("Bad Times at the El Royale"), with Academy Award nominee Sam Waterston ("The Killing Fields)" and Oscar winner Kathy Bates ("Misery").
Inspired by the true story of Justice Ginsburg (Jones), Participant Media's "On the Basis of Sex," distributed by Focus Features, depicts a then-struggling attorney and new mother facing adversity in her fight for equal rights. As a young lawyer, she takes on a ground-breaking case, aware that the outcome could alter the courts' view of gender discrimination. Stronger together, Ruth teams up with her husband, tax attorney Martin Ginsburg (Hammer), to fight for the case that catapults her to become one of the most important public figures of our time. Featuring the Oscar-nominated single, "Here Comes the Change," from platinum-selling singer and songwriter Kesha, and packed with bonus content, "On the Basis of Sex" on Blu-ray, DVD and Digital includes a special piece about the making of the film as well as an inside look into Ruth and Marty's affectionate relationship, taking viewers behind the scenes of this illuminating film. It also is available now on Digital and Movies Anywhere.
Matriarch
When the victims of a car crash stumble upon a farmhouse, miles from civilization, they think they're safe, but the farm's strange inhabitants have other ideas in "Matriarch," arriving on DVD, Digital, and On Demand Tuesday April 9 from Lionsgate. Charlie Blackwood, Scott Vickers, Julie Hannan and Alan Cuthbert star in this chilling horror film that Vickers also wrote and directed. The "Matriarch" DVD will be available for the suggested retail price (SRP) of $19.98.
This terrifying thriller unfolds as pregnant Rachel and her husband, Matt, are stranded after wrecking their car on a remote Scottish road. Though hostile at first, a nearby farmer and his wife welcome them in after learning that Rachel is with child. Suddenly, Rachel realizes the family's "daughter" is a local girl who'd gone missing years before, but when she and Matt attempt to escape, they're held at gunpoint—just as Rachel goes into labor. Will their child's first day on earth be the couple's last?
The Charmer
From director Milad Alami, "The Charmer" arrives Tuesday April 9 on DVD and Digital. An absorbing, slow-burning thriller, exploring class, race and immigrant identity, the film centers on Esmail (Ardalan Esmaili) is a darkly handsome Iranian immigrant to Denmark, on the verge of being thrown out of the country if he can't find a Danish woman to marry.
He dresses well and frequents posh bars, easily ingratiating himself with attractive Danes who are seduced by his good looks, gentle manners and apparent decency. But he's a man caught between his self-interest and self-respect. Things get a lot more complicated when he meets a beautiful fellow countryman (Iranian singer Soho Rezanejad) who immediately grasps his game plan, but finds herself attracted to him nonetheless.
"The Charmer" is a debut movie by a director who understands that a psychological thriller need not focus on violent crime. Rather, it wraps its head around the notion that small, seemingly insignificant acts may cause pain and trauma to those who become players in our lives. The DVD and Digital are available for $24.95 (SRP).
Cam Girl
The Italian film "Cam Girl" arrives on DVD and Digital Tuesday April 9 from Omnibus Entertainment.
After being passed over for an advertising agency job, Alice (Antonia Liskova) launches a sexy webcam site with three of her best friends. Using her marketing savvy, the site becomes an instant hit and expands rapidly. But what stars out as a lucrative business venture quickly spirals out of control as the cam girls enter a world of dangerous risk, violent excesses and bitter rivalries. The film is available for $24.95 (SRP). It's in Italian with English subtitles.
This week, Front Row Features is giving readers a chance to win a copy of the inspirational true story "On the Basis of Sex." Three lucky readers will be chosen to receive a Blu-ray copy of the Ruth Bader Ginsburg biopic. All you have to do to enter the contest is email socalmovieeditor@aol.com by April 14 for your chance to win. Good luck!