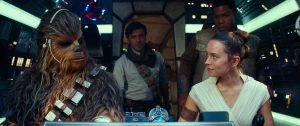 By ANGELA DAWSON
Front Row Features
PASADENA—After 42 years and nine films, the "Star Wars" Skywalker saga is finally at its journey's end with "Star Wars: The Rise of Skywalker," opening Dec. 20.
The filmmakers and principal cast members of the finale—both new and seasoned—were on hand to discuss the sci-fi phenomenon that began "A long time ago in a galaxy far, far away."
Anthony Daniels, who has played the 'droid C-3P0 since the beginning likened being in every episode (film) in the saga to "having a nose up against the planet."
"You can't see how big that planet is," the British actor explains of his experience. "And, gradually, now I'm beginning to get a perspective on it. And that comes from talking to fans, to people who say what 'Star Wars' has meant to them over the years. It's meant something completely different to me. It's a job. It's kind of fun. It's kind of awkward sometimes. As we all know, it's not a smooth ride. But finally, I'm getting to see it almost from the other perspective."
Daniels, along with fellow "Star Wars" veteran Billy Dee Williams, reprising his role as the enigmatic space gambler/smuggler Lando Calrissian from 1980's "The Empire Strikes Back," offered his perspective about returning to the franchise.
"I didn't think that it would happen," he says. "I just wrote it off, you know, and said, 'well, I did what I had to do.'"
Williams credits the film's director/co-writer J.J. Abrams, who accepted the reins from "Star Wars" creator George Lucas with 2015's "The Force Awakens," for inviting him back to helm the final installment.
"When I worked with George, it was an opportunity to work with somebody who was really extraordinary and here again, I had the opportunity to work with somebody who was really extraordinary," he graciously says.
Abrams explains that the pressure he felt making "A Force Awakens" was different from how he felt tackling "Rise of Skywalker."
"We didn't know at the beginning of 'Force Awakens' exactly what it would look like to have Daisy Ridley, Adam Driver, Oscar Isaac and John Boyega," he says.
Casting the lead roles with mostly unknown actors for the final trilogy was a top concern of the filmmaker, adding, "we had to figure it out and discover it."
Luckily, there was little need for concern. "The Force Awakens" and it's follow up "The Last Jedi," directed by Rian Johnson, were both box office hits, taking in $2 billion and $1.3 billion, respectively. "The Rise of Skywalker" is expected to smash those records.
With the casting question resolved, new questions loomed for "Rise of Skywalker."
"We knew those things were working; what we didn't know was everything else," says Abrams. "This was wrapping up not one film, not three films, but nine. And so, the responsibility was significant and the movie—this is a pretty big picture—the scale of the movie is pretty enormous. We knew that none of that would matter and none of it would work if you didn't care deeply and track with the people. So, the most important thing—the people— we were good with. We knew we had this incredible cast who I think have gone above and beyond anyone's expectations and are truly spectacular in the film."
Without revealing any spoilers, Abrams points out that Johnson set up some ideas from his turn helming "The Last Jedi" that helped screenwriter Chris Terrio plot the final installment, bringing the cast together for one last group adventure.
"One of the things being that the cast was separated; the characters weren't together for the entire movie essentially," Abrams says. "My job as the director was to make sure that all the pressures of all the obvious things, fan expectations and studio and all those practical, logistical issues as well, weren't brought to set. We needed to keep the thing feeling as human as possible and not like a massive machine."
Asked to explain the legacy of "Star Wars," Abrams offers a philosophical response.
'"Star Wars' was about hope and community," he says. "It was about the underdog and about bringing people together. Seeing all oddballs represented in and the most unlikely friends in the most unlikely places and the family that you make is really your family. It's about hope and unity. If 'Star Wars' can't do that for us I don't know what can."
John Boyega, who reprises his role as the rogue Stormtrooper turned resistance hero, credits Abrams not only for taking a chance on him but also in following through on a promise when they first met at a different audition.
"I remember (Abrams) coming out of the editing room with Tom Cruise—I really didn't know who J.J. was, to be honest—but that's Tom Cruise right there. I remember him saying, 'I really liked you in "Attack the Block," and we're going to get you in something." I was thinking 'Cute. I'll see you in 20 years, mate." … I had to audition there several times before Star Wars for TV shows we were doing and other stuff and it just so happens that 'Star Wars' is what I was right for."
For Ridley, who plays the scavenger turned Jedi-in-training Rey, being part of the final trilogy has been rewarding for bringing in an assortment of people from diverse backgrounds together and for delivering a message of hope.
"A lot of people in cinema are talking about representation and change," she says. "In itself, being part of a team of people that look a little different, that are from different places in whatever form that is—gender, race, whatever it is—I think that, in itself, is a legacy to be proud of. Like J.J. was saying, this is a film of hope and I think we are reflective of the world at-large. There are a lot of people up against magnificent forces that are fighting the good fight. We know the characters aren't real but what they're doing is perilous in cinema, so to be able to portray even a tiny part of that in this crazy world is very special."
Besides the established cast of characters, "Rise of Skywalker introduces new faces including Keri Russell, who plays a masked character named Zorii Bliss, and Richard E. Grant, who plays the villainous Allegiant General Pryde.
Russell previously starred in Abrams' TV series "Felicity," so when he called her to ask her to join the "Star Wars" cast, she was immediately onboard.
'Then he told me about the idea of the mask and, yeah, personally I loved the mask," she says. "That's my fantasy dream sequence that I can see everyone in a super tough version of myself costume and no one can see me. It's a real power play, in a way, because no one can really see what you're thinking but you can see everyone else."
She says she relished the opportunity to work with Abrams again.
"I've known J.J. for so long and I feel like we have a shorthand," Russell says. "We speak the same language in a way and I just love that J.J. got to finish a piece of history in a way by getting to do this. He did such a great job."
For Grant, who was a theater student when the original "Star Wars" premiered and became a pop culture phenomenon, getting a chance to be in the franchise was a cherish accomplishment.
"Having seen the first one when I was 20 years old, before any of the younger cast were even born, it's an extraordinarily emotional thing to see just the passing of time that goes through all of these movies," he says. "It's like a compilation of everything I've read in the Bible, Greek mythology (and) 'The Wizard of Oz,' all rolled into one. This is an extraordinary summation of the whole story that gives an emotional wallop at the end that I was totally unprepared for."
Another new character is played by Naomi Ackie. She plays Jannah, a fearless resistance fighter and, like Finn, was a onetime Stormtrooper who grew a conscience.
"I felt like it was really through her physicality," notes the British actress. "I felt like Jonnah's strength was in her body. She's a very grounded character. So, when I got to training, that's when I felt like okay (I've got it). I was able to do pull-ups and horse riding and, I guess, with that came a confidence I hadn't previously experienced and luckily, J.J. was figuring out what the balance was between strength of the character but also a vulnerable side; someone with a heart. You don't always have to be like strong and fierce but sometimes vulnerability is strength at the same time. Trying to find that balance was interesting."
Kelly Marie Tran, who returns was introduced in "The Last Jedi," reprises her role as bright tactician Rose Tico.
"It was really wonderful," she says. "I think, from the last movie, there seems to be such a bond between everyone and also the new guys. It sounds so cheesy and so cliché but it is. It truly feels like everyone's a family and we're just there to have fun and be part of something that is so much bigger than us as individuals and that's a really cool thing to share with people."
Joonas Suotamo, the Finnish actor who took over the role of Chewbacca from Peter Mayhew, who retired from the films after "The Force Awakens" and died earlier this year, explained why he thinks the giant hairy Wookiee is so beloved by fans.
"We have to go back to 1977 when George found Peter Mayhew to play this character, nobody knew what it was going to be," he says. "You don't know going into these things how it is going to look. Chewbacca's endurance has to do with the fact that there is a unique physicality that I sort of inherited and I try to bring on the screen. (Mayhew) created this character that moves, not quite like a human. It's very unique the way Chewbacca appears on screen. That's what created the memorability of that character.
"Even if people haven't seen 'Star Wars,' they might remember what Chewbacca is and that is what I'm a custodian of. That's what I've taken and when Peter passed this year I was heartbroken but I'd like to think that, in this film, I attempted to do him justice while working with this incredible cast. I'm really happy that we're part of something that is so much bigger than ourselves that we still get to play and have fun in."
Reprising Poe was also a delight for Isaac, who called his swashbuckling character "a wild card."
"J.J. and I talked about dirtying up the squeaky image he's had for a bit and revealing a bit more of a personality," he says of his character's arc in the new film. "That comes out because I've been taken away from my little box in space. I get to join my friends this time. We get to see the interaction with the three and the hope that I think he, in particular, brings to this one is a kind of relentless, almost aggressive optimism that he has and how that is tests and how he tries to be there for his friends and tries to push them along even when it seems quite hopeless.
"Then, I also think the way that we approached shooting a lot of these scenes, there was a looseness to it. There were things shot in big beautiful choreographed takes that were just astounding to watch where you will follow one character walking through this maze on an amazing planet with all these Stormtroopers and aliens and you realize it's all this one continuous take within us talking over each other so it was that kind of trust that allowed a real spark of vitality."
Boyega described the relationship between Poe and Finn as "juicy."
"It was just natural from Day One; when Oscar first came in—there were other actors that I read with—but the chemistry was blatant and there was a natural vibe between me and Oscar," he recalls. "I don't know why. I just liked the guy."
Isaac recalls, "He walked into my dressing room and he was so sweet and asked, 'Do you want to run the scene?' (So, I said) 'Yeah.' We were in the dressing room, like, butt to butt, running the scene together and from then on we've been in that position."
Boyega adds that from the making the final episode in the "Star Wars" saga, he has discovered the importance of loyalty.
"I find very, very important in my personal life," he says. "It's super important to be loyal and understanding the way people want to be communicated with and loved is (important). Proactive love is something that Finn does on a day to day basis. Throughout the film, a lot of times, Rey is going off on this really hard journey as a character blessed with so much power and Finn tries to support her in that journey and sometimes it's hard. In my real life, if I've tried to get caught up with you (to Daisy) three or four times, and you're going off and I'm going to need you alone. Finn's going to come for you and try to make it work regardless. That's some Jesus shit. I'm not built like that. Over the years, I've learned that more and more. In general, I'm a nice guy. Obviously, I'm not always nice but I guess that consistency of niceness from Finn gives me questions in my head over the years."
Driver, who play morally conflicted Kylo Ren again, says his may have brought the Solo legacy into the performance subconsciously throughout.
"When people are actively trying to deny a certain part of their lives, I think they can do it pretty successfully," he says. "It turns into what is happening around them that brings it out in them. Maybe but I don't think it is something that we actively talked about playing. But, it definitely is a thought to have. Again, I think that is a testament to the writing. From the beginning (the first film in this trilogy) being called 'The Force Awakens,' it was intentional in that it was the Force awakening for both sides, the light and the dark, and J.J., even is those first meetings was talking about someone who is unformed, the quintessential (man) in control of his faculties, knowing where he fits in. It is helpful to me as an actor because we are figuring out the same thing.
"It totally echoes what is going on in the story, especially the first one, a new cast figuring out where you fit in a legacy that spans so much time. That was helpful but I guess it's similar in that I guess it is a subconscious thought in playing it. It's also a subconscious thought in me as an actor thinking about it."