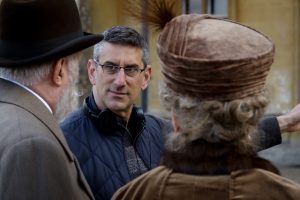 By ANGELA DAWSON
Front Row Features
HOLLYWOOD—The day that the highly anticipated period drama "Downton Abbey" arrives in North American theaters, the film's director Michael Engler is still hard at work promoting the picture, which is likely to have a built-in audience of rabid fans.
Since it was officially announced last year that the beloved PBS TV series, which wrapped at the end of 2015 after six remarkable seasons, was making the big leap to the big screen, fans have wondered what had become of the beloved characters and where would series creator/writer Julian Fellowes take them next.
The TV series "Downton Abbey" followed the lives of the fictional upper-class Crawley family and the servants who worked for them at the early part of the 20th century in an Edwardian English country home.
It became a phenomenal worldwide success, garnered three Golden Globe Awards, 15 Primetime Emmy Awards, a Special BAFTA award and 69 Emmy nominations in total, making "Downton Abbey" the most nominated non-U.S. television show in the history of the Emmys. It even earned a Guinness World Record for the highest critically rated TV show during its run. Even more notable is how the series gained millions of fans from around the world that felt a deep connection with the characters.
The original principal cast, including Dame Maggie Smith, Hugh Bonneville, Michelle Dockery, Laura Carmichael, Elizabeth McGovern, Jim Carter, Joanne Froggatt and others from the acclaimed television series are all back for one possible final chapter—as the Crawleys and their servants prepare for the arrival of none other than Britain's King George V and Queen Mary for a visit. The film is set in 1927, approximately a year-and-a-half after the conclusion of the TV series. In anticipation of the royal visit, most of the Downton staff are excited about the opportunity to serve their special guests. But when an advance team arrives from London and attempts to take over the duties at Downton, the staff rally to take back their duties for the big event.
Meanwhile, the arrival of Robert's previously unseen cousin Lady Maud Bagshaw (played by Imelda Staunton, the real-life wife of Jim Carter, who reprises his role as stoic Mr. Carson, the butler) casts a shadow over the inheritance of the family home as she considers leaving it to unexpected heir. Dame Maggie Smith returns as the feisty Dowager Countess Violet Crawley, the earl of Grantham's mother, who has to try to head off the change so that her children and grandchildren will continue to run the estate.
Returning from the series is its creator Academy-Award winner Julian Fellowes who wrote the film's screenplay and produced it alongside Gareth Neame and Liz Trubridge.
Though probably exhausted from having to talk endlessly about the new film, Engler, an American who directed four episodes of the series, including the finale, appears to be none the worse for wear.
Q: Opening day in the U.S.—how exciting is that?
Engler: Very exciting.
Q: And just a week after it opened in the U.K. How was that experience?
Engler: I was gone before it opened in the U.K. They have us running around (the world promoting the movie). It's been fun. We had a premiere and a big party and all that but then I had to do more press the next day. I'm also working on this other project so I had some auditions for that. I came back and then two days later was the actual opening day in London. It was great to hear all about it. There's so much excitement. They're excited too but it's very different here.
Q: How are "Downton Abbey" fans in the U.K. versus U.S. fans?
Engler: They're crazier here—in the best sense. They're much more vocal and enthusiastic and just overt. The British reserve is an actual thing. It's not that they aren't really excited fans. At the (premiere), you really got the feeling of that. But here it feels more foreign. There's that extra element of it being not just a favorite show that they love, but it's a world that's so exotic and glamorous, so I think it adds more to the feeling of it being more of a treasured jewel.
Q: When did the producers talk to you about directing this?
Engler: Very late in the game. Brian Percival, who (directed) the pilot was originally intending to do it but then, for personal reasons, had to pull out, and then they asked me. I was always a huge fan of the series but I had no expectation that I would be directing the film. I have to say there was some trepidation. I thought there's so many ways this could go wrong. We had to make it feel like we weren't just taking this thing out of mothballs and letting people try it on again, but that we were really bringing it back to life, and giving it new life, moving it forward and doing things we couldn't do in the series.
Q: Was "The Chaperone" you directed kind of a test drive for the "Downton Abbey" movie?
Engler: There's clearly overlap. I did learn a lot of things about that period. But that was such a tight, fast and much smaller-budget film, even less than the budget of an episode of "Downton." Part of it was just seeing where things show up on the big screen and where it's worth putting your money or not. It was interesting to see those things. We shot that film in 20 days, which is crazy for a period film set in New York City, where every single thing has to be precise. On "Downton," we had a 50-day shoot.
In the process of doing research on 1923 (for "The Chaperone"), I learned a lot of things about the period. I had directed the last episode of the series so the continuity of it was pretty natural because it was a year-and-a-half later, and anything we said happens, happened in backstory.
Q: When was it decided to pick up a year or so after the end of the series and not, say, at the start of World War II?
Engler: Julian (Fellowes, the creator and writer) didn't want to get into putting the actors in old-age makeup, where you have to turn people into other people or other versions of themselves. It felt like a year and a half was enough time for all the stories and elements to settle from the end of the series that you could have a new chapter that would feel familiar and connected to it but also moving on enough that it could be its own story. Edith (played by Laura Carmichael) has settled into her new marriage and starting to know what it feels like, and things like that. Some things never change there and some things go through various cycles and ups and downs.
Q: How was it wrangling all the actors to get back together for this? They've all moved on to other projects, of course.
Engler: They had. While we were shooting, Leslie Nicol (who plays Mrs. Patmore, the cook) was shooting a miniseries in India. She came back and forth a couple of times. She'd come for three days of shooting and go back and shoot (in India) for a week, and then come to (England) for a few days and then go back again. So much of the scheduling had to be around everybody's (schedule) because (the TV show) made all of them world-famous. Some of them were just at the beginning of their careers. Some of them were already well-known. They had wonderful opportunities. They were on Broadway and on the West End and in Hollywood, and all over the world. That was the trickiest part, actually. Artistically, it's hard to make a good big film but logistically for (the producers) Carnival that was the miracle that they figured out how to do it. It mattered, though, that when everybody read the script, they knew this was the reason to come back. So, they wanted to make it work. They agreed to fly in at the last minute and do it, even if they might have been tired.
Q: Each of the characters get a chance to shine in this. Molesley (the footman portrayed by Kevin Doyle) has become a fan favorite.
Engler: Yes, because he's such an underdog, he's become a fan favorite. He never gives up. He's an optimistic person even though he's so often defeated. Yet, he aspires. In a wonderful way, this idea of paying tribute to the king and queen—that being the greatest opportunity of your life being to serve the king and queen—we have to look at that today with a little bit of distance. The way he tells that story, you admire it because you see who he is in that world but you also have a sense of humor about it. You have to think it's ridiculous to be that concerned about the opportunity to pour wine for the king and queen. It's not only their job but it's their identity.
Q: Though it's a period piece, audiences can relate to the relationships between the various characters like the grandmother-granddaughter relationship between Violet (Dame Maggie Smith) and Mary (played by Michelle Dockery).
Engler: Yes. It's not only a period piece but also a family drama and there's a grandmother and granddaughter who mean the world to each other is always going to be relatable. Everybody has that, ideally, that one special person in their life. The same thing with the downstairs staff—it's a workplace drama, and everybody knows what that's like, when suddenly everybody has to pull together. Some people are more into it than others. That's why it's so fun to watch and why fans love it so much. There's that feeling that, "it's always been like this." There's a sense of you can take pride in it or you could just get it done.
Q: The lighting and color palate in the film is a bit different from the series?
Engler: It's the same palate but it has a little more depth, a little more variety. Partly, it's the quality of the print. We shot it in 6K, which is very dense digital, and then we manipulated it a lot. It plays in most theaters in 2K or 4K so we have a huge more amount of information in it so the color range is much broader as well as much more specific. We didn't want to change it into something else, but we wanted to deepen and enrich it. So, things like Mary's beautiful green bedroom the furniture and everything's the same—the lamps, the sconces—but the green walls, instead of being painted as they were in the series, it's like a cut-green velvet (treatment). Edith's room has a gold silk brocade. It's the same color but you see more variation and sheen. You're just seeing more detail in it. It feels like you're in those rooms.
Q: When did you shoot this?
Engler: We started about a year ago. For 10 weeks, we had the most extraordinary weather in the history of England. We got so lucky. There's a line in the film after that horrible rainy night before the king and queen arrive where Mary says, "Well, the day has dawned and the weather has proved once again that God is a monarchist." On the days that we really needed the sun for a scene like the royal troupe, because we couldn't have rescheduled that, we'd say, "Well, God is a 'Downton' fan." (He laughs.)
Q: Were any of the sets from the series intact, or did you have to completely rebuild them?
Engler: There were pieces of the downstairs set that still existed and had been saved. Pretty much everything else was rebuilt. Plus, we used a lot more locations than on the show. There were new sets like the wine cellar and the silver servery (butler's pantry). The things that were rebuilt were rebuilt the same. Rather than change the set, it was extended. The hallways were a little longer. There was the entrance servery prep area outside the dining room. The storage room where they kept all the vegetables. Those were sets we never had in the series. We thought one of the ways to make it bigger was to go to more places than we had during the series.
Q: Down the road, will there be more "Downton Abbey?"
Engler: Hopefully. Who knows?